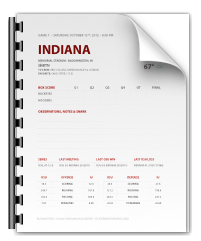 Bucknotes are your pocket guide for the game. Print them off and amaze your friends with your knowledge and insight.
Indiana is a ridiculously young team with 14 freshmen and sophomores in their starting 22, but it's largely the same team that gave Ohio State a half scare in Columbus last fall.
Quarterback Tre Roberson, an excellent dual-threat quarterback in his own right, was part of that 2011 team, but his 2012 ended a month ago when he suffered a broken leg against UMass. Sophomore Cameron Coffman has stepped in and thrown the ball well, but he's not quite the running threat Roberson is.
The Hoosiers lead the Big Ten in passing yards per game, which should be another test for a secondary that's still coming together. Conversely, Indiana ranks dead last in total defense. Don't scoff, your favorite team is 10th.
IU's offensive line features a freshman and a sophomore on each side of senior center Will Matte, but they don't allow a lot of sacks (1.6/game). Then again, they've managed to avoid John Simon until now.
What we do know is it will be a prime time kickoff at Horseshoe West, a place the Buckeyes have gone 24-2-1, and 32-bit patriot J Leman will be roaming the sideline, bringing you updates.
Sounds like a perfect Saturday night.