The Buckeyes keep rolling and so do we. It's time for another edition of the 11W RoundTable featuring your favorite Dubster Analysts.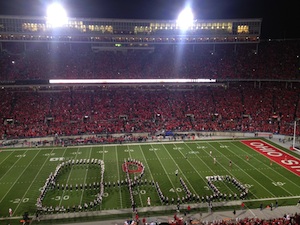 This week, we have Derek, Miles and Chad for some intense discussion about Ohio State and their upcoming game with the Indiana Hoosiers.
Without hesitation, here we go.
After the Nebraska victory and looking forward to the Indiana game, what are your current thoughts about this Buckeye team?
Chad: I really like this team - they show consistent growth at key spots each week, Braxton is always good for a few dropped jaws, and the players seem more excited this year than in previous years. The early weaknesses on defense are still there, but I think they've shown enough growth (assuming no more injuries) to actually shoot for 12-0.
Miles: I think the Buckeyes are a good, not great team in a very, very weak conference. There are still many things that need improvement, especially on the defensive side of the ball, if they want to run the table.
Derek: It is a team that continues to improve, week to week. For a team that has not shared that kind of success in a while—a convincing victory over a Big Ten contender—this Saturday has the recipe to be one of those "letdown" games.
Do you see this Indiana game as a trap game of any sorts? How do the Buckeyes avoid the big-game hangover effect?
Chad: I'm still up in the air on whether there will be a slight hangover, though I think there's a very high probability that Ohio State wins. On the one hand, Urban understand incentives and motivation and has done a great job keeping this team hungry. The players have all said the right things this week, e.g. Hyde talking about MSU's close one with Indiana last week. On the other hand, Indiana does run the type of quick screen offense that gave the Buckeyes trouble in the first 3 games. Meyer admitted this, however, which makes me think they'll adjust on defense and do just fine.
Miles: I don't think the Indiana game is in any way a trap game. Indiana is simply a terrible team that the Buckeyes should have no problem beating in what's kind of a home game as I think the Buckeye fans could outnumber Hoosier fans.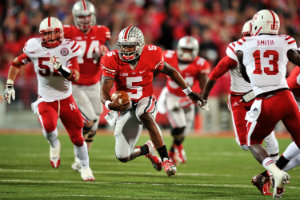 Derek: I mentioned already that this could be a "letdown" game for Ohio State. I think Urban Meyer is too good of a coach to allow that to happen.  Hangovers usually occur if they lack focus and preparation throughout the week and that won't be tolerable under Meyer. The message the staff has sent all year is that they are a long way from where they want to be and I think the team believes that.
How do the Buckeyes fill in for an injured Etienne Sabino? Who gets the majority of his playing time in his absence?
Chad: It looks like Joshua Perry will get the start, but I'd imagine we see more of the nickel defense with CJ Barnett, OJ, Doran Grant, and Corey Brown all playing more.
Miles: Losing Sabino is tough especially since there aren't many experienced linebackers on this team. I expect true freshmen Joshua Perry will get the bulk of the playing time is Sabino's place. Sophomore Curtis Grant and true freshman Jamal Marcus could also see additional playing time.
Derek: The defense will be running a lot of nickel against the Indiana spread offense, meaning only two linebackers will see the field much. I'd expect those two linebackers to be Storm Klein and Ryan Shazier. When in the base defense, I'd expect true freshman Josh Perry to see the field.
OSU did score 63 points but gave up 38 against Nebraska. 38 is a boatload of points. What must the defense do to not give up as many points from this point forward?
Chad: Well, they did play a pretty good offense in Nebraska - they're rated as the 18th-best scoring offense. I think they need time to really settle in to Cover-4 coverages and disguise their blitzes a bit better schematically. Apart from that, they really need to keep improving in their defense of short passes and screens, as well as improve their tackling angles.
Miles: Easy: Tackle. The tackling has been flat out terrible this year and has led to other teams getting scores they shouldn't be getting (see Cal and MSU games). Once they learn how to tackle the right way, I think there will be an improvement.
Derek: Just as in every game so far, the Buckeyes lapsed and were unable to make tackles at key junctures that turned into plays far bigger than they ever should have been. That remains a concern.
It may sound crazy but the more times I watched that game, and the more I dwelled on it, I have a rough time saying the defense didn't play well.  Obviously giving up 38 points is unacceptable and not a winning recipe, but it seemed like they played much better than the score would indicate.  The defensive line dominated most of that game, and if they do so against the rest of the Big Ten teams, I doubt 38 ever gets reached by the opponent.
Braxton Miller is once again on that Heisman shortlist with WVU QB Geno Smith at the top, of course. What would it mean to OSU to get the invite to NYC for the ceremony?
Chad: Two things come to mind: 1. It would mean that he's set up well for a real Heisman run next year. 2. It would help with recruiting elite quarterbacks. Imagine telling recruits, "Look what this guy did in his first year in the Urban Meyer offense!"
Miles: I think it would be great to see Braxton invited to the ceremony in NYC. It would show the country the Buckeyes are "back", the new offense is working, and OSU will be a national threat as long as Braxton is at QB.
Derek: I don't think it really means anything to Ohio State if he doesn't win it, which I do not expect him to. At the end of the day, the most important thing for this team is to keep getting familiar with the new staff and their expectations.
Bloomington is often referred to as Columbus West when the Buckeyes come to town. Of the 55K, how many will be scarlet and gray clad?
Chad: 15-20K, I'd guess.
Miles: I think the majority of the fans will be wearing scarlet and gray.
Derek: I'll predict about 25-30K of the stadium to be Buckeye fans Saturday night. I'm not sure if the 8:00 start will alter past precedent.
Indiana gave Michigan State a scare last Saturday. What must OSU do to get off to a faster start than MSU did against the Hoosiers?
Chad: Indiana struggles with run defense, giving up an average of 195 yards per game. We have at least 2.5 (.5 for Rod Smith, who I want to see more of to evaluate) fantastic runners on offense. I let them run wild, then use play-action, run/pass options, and deep passes to give Braxton and the receivers some work. I think Devin Smith and Stoney are probably eager for some touches after Nebraska.
Miles: Tackle and limit penalties.
Derek: It sounds "cliche" but if it wants to avoid a slow start against the Hoosiers, the simple thing would be to let Braxton be Braxton. Indiana doesn't have the athletes on defense to contain him.
It'll be interesting to see if Ohio State decides to unleash Braxton early, or try to get him going in the passing game and develop that part of his game more.
Bonus: Will the Buckeyes run the table? What is the biggest remaining road block?
Chad: I don't want to be a homer, but I think things look pretty good right now for a run. I think Purdue and Penn State will be tougher than many realize, but Michigan is obviously our toughest remaining opponent.
Miles: I can't answer this question with any confidence either way. I certainly think there's a chance, but with the way the defense has played this year, I'm really not sure. Gun to my head, I'd say yes, with the biggest road block being Wisconsin.
Derek: Heading into the season I had Ohio State going 10-2. Those two losses were to Michigan State and Wisconsin on the road. Wisconsin hasn't looked as scary as some may have thought they'd be, but that is the biggest road block in my eyes. Wisconsin gets the Buckeyes at home looking for revenge from last year. I'll say Ohio State goes 11-1, losing that game.