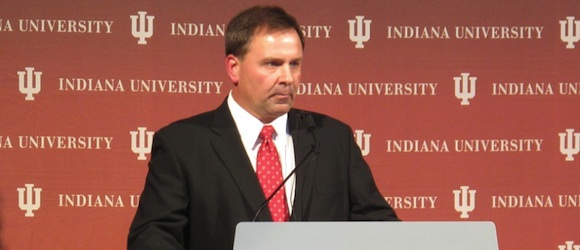 After weeks of victories that came in less than thrilling fashion, Ohio State finally came out with a statement performance, putting up 63 points against a ranked conference opponent in Nebraska. Even the coaching staff apparently hadn't expected the offense to progress as quickly as it displayed on Saturday night. And thus, along with the struggle that the Hoosiers gave Sparty last week, Saturday's game, according to some, has the trappings of a letdown game. 
What is there to watch out for, as the Buckeyes head to Bloomington to take on the Hoosiers? Adam Jacobi, Lead Big Ten Writer for Bleacher Report was kind enough to let us know. 
Indiana is 2-3 this year, and their losses haven't been terrible. Does where Indiana stands now differ at all from your preseason expectations for them?
This is about what I expected. Indiana was horrific last year, and there's just so much ground the Hoosiers had to make up between where they were and where a winning program is. They're making progress on that front, and you see it not only in the final scores but the team stats. The total defense is ranked 94th in the nation this year and the scoring defense is 75th. Not great numbers, but last year neither were even on the verge of cracking the top 100. And that's out of 120. Moreover, the offense looks way better than last year, and that's even with Tre Roberson gone for the year. That's a borderline Top 25 offense as it stands right now, and that's going to Kevin Wilson's baseline from here on out.
Indiana hasn't won a conference game since 2010. Though he wasn't given much to work with, how would you grade the job Kevin Wilson has done so far, and where do you see this program going in the next couple years?
I have to give Kevin Wilson an A. There isn't a coach in America that can take what Indiana was 2 years ago and make it a winner by now. But the improvement is palpable, and as long as Wilson sticks around there's probably a bowl bid in his near future. Not a great one, mind you, but 6-6 (3-5) in a division with Illinois and the crater that will be Penn State is wholly reasonable for a program that's going to be putting up big numbers on offense for the foreseeable future.
The Hoosiers played Sparty tough in the first half last Saturday, and managed to hang in there for a while. What are the takeaways from their performance last week that the Buckeyes should watch out for on Saturday?
Ohio State's defense has to be ready for that up-tempo attack from Indiana, and if the defense gets burnt, it had better have a short memory, because Indiana won't hesitate to line up quickly and go right back downfield again. It's a lot of fun to watch...when it's not your secondary.
I don't want to take anything away from the job Wilson has done preparing Roberson and backup Cameron Coffman to be big-time throwers, but the reason Indiana is leading the Big Ten in passing is because nobody else in the Big Ten is going pass-heavy this year. Penn State is second in the Big Ten in passing yardage, and it's ranked 48th in the nation. So there's that.
Despite losing starting QB Tre Roberson in Week 2, the Hoosiers lead the B1G in Passing Offense. What can we credit for their success in the passing game?
That said, Indiana is reaping the benefits of a deep, experienced receiving corps this year. Indiana has seven receivers with 12 or more catches this year. Ohio State has two. So this isn't a "shut one guy down, shut down the offense" situation that Ohio State is facing this week—it's going to be a 60-minute team effort. That's not to say that's impossible, because look at what Michigan State did to the Hoosier passing offense in the second half. But it's going to be a challenge.
Can you give two Hoosiers, on each side of the ball, for OSU fans to look for on Saturday?
I feel compelled to mention center Will Matte, because being a four-year starter on the line for a terrible team seems like a terrible effort-to-recognition ratio. But the guy is the leader of the line and he might give OSU's men in the middle a hard time. WR Shane Wynn is basically Hoosier Wes Welker and he is going to drive you insane.
On defense, DT Adam Replogle is leading the team in tackles, tackles-for-loss and sacks so far this year. Again: defensive tackle. He's not exactly Lee Roy Selmon, but he's having a monster year all the same and he's a big reason why Michigan State struggled so much to get Le'Veon Bell rolling. Also, I really like the job Brian Williams is doing at cornerback. He's got seven pass breakups already to go with one pick.
Some are saying that after the way Indiana played against Michigan State, and OSU coming off two emotional wins, the Buckeyes should watch out for the upset this week. Do you think there's any truth to that?
This does have all the trappings of a letdown game, but the second half of the Indiana-MSU game demonstrated pretty effectively that once a top-level team has its bearings against the Hoosiers, it's still an unfair fight. Expect Indiana to hang around more than you'd like, but don't expect a serious run at an upset.
Final prediction for the game?
44-20 in a game that's much closer than that at the break. Braxton Miller should break at least one long run and Indiana's front seven should tire out down the stretch, but it's going to be a serious game.
---
Thanks again to Adam Jacobi of Bleacher Report for sharing his insights on the Hoosiers and Saturday's game. You can read more from Adam by checking out the links below:
Bleacher Report: Adam Jacobi
Twitter: @Adam_Jacobi