At one point in time, this award was known as the Buckeye NFLer of the Week. Thanks to a typo and the ensuing LOLsession from the commentariat, it was renamed as the Houndie. Same intent, but now with a better name.
Another week, and another Buckeye on the New York Jets had to leave his game due to an injury. Unlike the foot injury that sidelined wide receiver Santonio Holmes for the season last week, center Nick Mangold was able to return to Monday night's loss to the Houston Texans with an ankle wrap.
Clearly Rex Ryan's foot fetish is to blame for this.
Another former Buckeye offensive lineman is making unexpected waves for one of the NFL's best teams. Take it away, Peter King:
The award for the offensive lineman who was the biggest factor for his team in the weekend's games, named for my friend Paul Zimmerman, the longtime SI football writer struggling in New Jersey to recover from three strokes in November 2008. Zim, a former collegiate offensive lineman himself, loved watching offensive line play.

Alex Boone, guard, San Francisco. OK, so holding the Bills' interior defensive line without a sniff all of a sudden is not such a big accomplishment. But Boone, the fourth-year college free agent from Ohio State with the big wingspan, played every snap for the Niners Sunday and allowed no quarterback hits or sacks on Alex Smith or Colin Kaepernick -- and he helped pave the way for one of the great offensive days in 49ers history, a 621-yard monster. He's strong enough to have neutralized Marcell Dareus when they competed, and even though his 6-foot-8, 300-pound frame is not a classic guard body, he's been an upgrade at a spot that frustrated San Francisco the last couple of years.
While there was a lot of good riddance tossed Boone's way after his Ohio State career ended—largely for being part of a core group of linemen, including Ben Person and Steve Rehring, that failed to deliver on the hype they had earned before two-straight national championship game collapses—it's great to see that he has turned his life around following an arrest for jumping on the hood of a car, ultimately leading the tackle to sign as an NFL free agent. He now finds himself as a starter on the NFL's best team.
Among former Buckeyes that accumulated stats in week five (beyond the nebulous pancake), receivers Brian Hartline and Michael Jenkins turned in decent, if not exceptional, performances.
Hartline, the NFL's leading receiver, thanks to a 253-yard performance that broke the Dolphin's single game record, finished with four catches for 59 yards in a 17-13 win over the Bengals. His hot start to the 2012 season is all the more impressive when you consider his run of bad luck heading into the year, which included having an appendix removed three months before the season, a calf injury on the first day of training camp and missing the entire preseason.
Jenkins, now in his second year in Minnesota, hauled in three receptions for 35 yards in the Vikings' 30-7 win over hapless Tennessee.
Dane Sanzenbacher, like the rest of the Chicago receiver corps, is adjusting to life with Brandon Marshall as the team's first legitimate outside threat since Marty Booker a decade ago, recorded his first catch of the year in the Bears' 41-3 thumping of Jacksonville.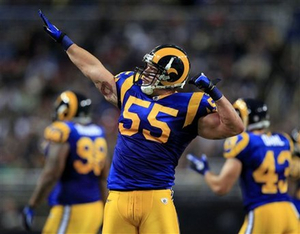 Kicker Mike Nugent—NUUUUUUUUUUUUGE—was good on two field goals, one from 24 and the other from 42 yards in Cincinnati's loss to Miami, though he did miss from 41 (wide right) with 3:05 remaining that would have cut Miami's lead to one. It was Nugent's first miss of the season.
In a sloppy affair, safety Kurt Coleman finished with four tackles and one PBU in Philadelphia's 16-14 loss to Pittsburgh, while corner Nate Clements recorded four tackles, five assists and a forced fumble in Cincinnati's aforementioned loss to the Dolphins.
Linebacker A.J. Hawk had a solid day with eight tackles in Green Bay's 30-27 loss to Indy. On pace for a career year, Hawk already has 41 tackles through five games for the Packers.
Your week five Houndie winner, however, is fellow backer James Laurinaitis of the St. Louis Rams. Little Animal had seven solos, three assists and a sack as the Rams handed Arizona its first loss of the season, 17-3, on Thursday night. Laurinaitis, like Hawk, is on a torrid pace, averaging nearly 10 tackles per game so far for the Rams.