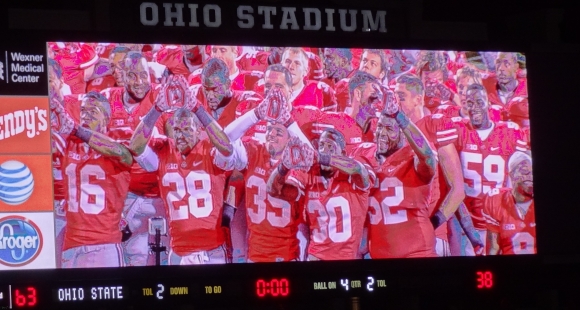 Sixty-three points.
It had been 29 years since Ohio State had put up that many points in a conference game. The win improved Ohio State to 8-3 in night games at the 'Shoe and gave Eat Too, Brutus a perfect 3-0 record. Featuring a dominating offensive line, a breakout game from Carlos Hyde, another ridiculous night for Braxton Miller and a handful of big plays from a defense that surrendered another 400+ yards of offense, the Buckeyes kept hopes of an undefeated season intact with a 63-38 pasting of Nebraska.  
I could devote one of my Five Things to Braxton every week but with a few others items I want to touch on, I'll just briefly remind you the dude set another record, this time breaking his own QB rushing yards in a game record with 186 on 16 carries. He added just 127 passing via seven completions but with Nebraska unable to stop the run, it made no sense to take too many chances through the air. 
Improving to 6-0, the Buckeyes moved to 8th in the AP Poll and now set their sights on another night game, this time in "Horseshoe West" against the 2-3 Indiana Hoosiers. 
Before the Buckeyes do that, let's take a look at Five Things that stood out yesterday. 
a fine line
Besides Braxton and Simon, the members of the offensive line are quickly becoming Urban's favorite players. He gushed about them last week after they controlled the line of scrimmage in East Lansing and felt strongly about their performance last night: 
"We don't have a lot of depth, but Coach Warner and those guys have something going now. They're changing the line of scrimmage against some very good defensive lines. The last two we played, those are very good defensive lines."
Against those two best defensive lines they've seen in back to back weeks, the offensive line has helped Braxton, Carlos Hyde and company rack up an amazing 575 rushing yards including a ridiculous 371 last night.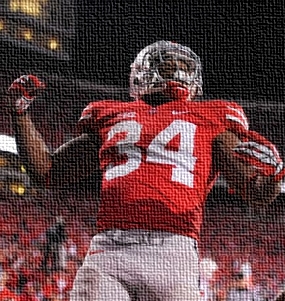 After a 1st quarter which the Buckeyes ran for just 12 yards on eight carries, the floodgates opened as OSU ran for 359 yards on 40 carries.
The takeover of the line of scrimmage ensured Braxton had another career night on the ground and helped Hyde do the same as the big back amassed 140 yards on 28 carries (5.0 ypc) and four touchdowns. 
Hyde's four trips to paydirt were the most by a Buckeye RB since Eddie did it to Iowa back in '95. 
To be clear, the rushing performance wasn't just Miller or Hyde getting wide and outrunning defenders. 
The line created huge lanes and simply pushed back the Husker front so that the first point of contact for ball carriers was often at least three yards down the field. 
As Urban noted, that type of surge is huge for a guy like Hyde who, if allowed time to get a head of steam going, can really be a force when he's virtually contact free until it's time to engage the second level of the defense. 
On a fairly breezy night in which a shootout was emerging, it was huge for the offensive line to help keep the offense moving and eventually break the spirit of the Husker defense. 
Of course, nobody will mistake Nebraska's D with the Purple People Eaters but as Meyer noted, Warinner's group has flat out owned the supposedly best two defensive fronts they've faced. Hats off that group, once again. 
tim brewster would be so proud
After years spent clamoring for an Ohio State offense to use the tight end to exploit the middle of the field instead of being reduced to nothing more than a glorified tackle, both Jeff Heuerman and Nick Vannett made huge plays through the air last night. 
The duo combined for three catches and 85 yards with a touchdown against Nebraska. On the surface, that might not seem like much but for context, Heuerman and Vannett accounted for nearly half the catches and 67% of the passing yards.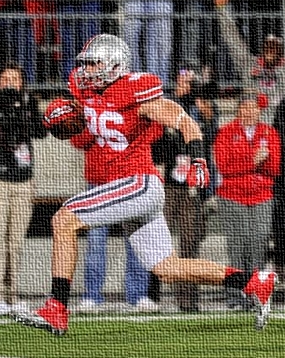 Actually being at the game and having the ability to more easily keep an eye on the wide receivers, it was clear to see they were able to create virtually zero separation all night long. As a result, Urban and Herman chose to use the tight ends in a few different ways to make the defense pay for keying so hard on the receivers split wide. 
All three TE grabs were criticial to scoring drives. 
After Bradley Roby came up with his 2nd interception giving OSU the ball at the Brasky 20 midway through the 2nd quarter on the wrong end of a 17-14 score, Braxton found Heuerman for an 18 yard TD and a 21-17 Buckeye lead. 
The play design was simply fantastic as Heuerman lined up in the left slot, just off the left shoulder of Mewhort, and cut behind the offensive line to the right flat as Miller rolled the same direction. With the two receivers split wide right running deep to create space, Miller hit Heuerman in stride and he raced untouched for six. 
Nebraska responded with a TD drive of their own to take the lead at 24-21 and once again, Miller went hunting for a tight end (!, dirty talk). 
On 1st and 10 at midfield, Braxton found Vannett down the seam for 32 yards to the Nebraska 19-yard line. OSU would score four plays later, reclaiming a lead they would never relinquish. 
The conventional play was executed perfectly as Vannett beat his man off the release and Miller froze the LB with a strong play-action fake off the read option.
Finally, early in the 3rd quarter after Nebraska trimmed the OSU lead to 35-31, Miller found Heuerman again, this time for 35 yards to the Husker one-yard line. Carlos Hyde would score two plays later, giving the Buckeyes some space at 42-31.
Again, OSU burned Nebraska with the seam route as Miller faked hard to Hyde, running right before looking back left and hitting Heuerman, who had walled off his defender, with a well-thrown strike. 
Impressive execution on all three big time plays by all involved. 
gashed yet opportunistic
The Silver Bullet defense continued to give up big yardage including another 437 to Nebraska, with 223 coming on the ground at 4.8 per carry but at the same time, they made their share of big plays on a night in which they yielded a season-high 38 points. 
Amid giving up 13 plays of 10 yards or more, including five plays of 20+ and two for over 70 yards, the defense also racked up three interceptions, a fumble recovery, nine TFL and four sacks. 
With the safeties and LBs, especially with Sabino out and Shazier not at 100% struggling to contain a Husker offense that looked to get skill players in the open field, Nebraska rolled up 21 first downs and averaged 6.2 yards per play (71). 
The secondary gave up 214 through the air on 15/25 for Taylor Martinez but Roby had some outstanding plays with two INT, including one for touchdown, and Orhian Johnson had a pick to keep the Huskers at bay. 
Michael Bennett also looked a lot better in his 2nd game back from injury and his fumble recovery late in the 4th helped ensure the Buckeyes would eclipse the 60 point barrier. 
Even with Roby's night, Shazier's 10 stops, two TFL and a sack, and a big night from Garrett Goebel (8 stops), it was John Simon who most often grabbed my attention. 
The senior who had been lost a bit in Big Hank's shadow the last few games came up large with seven tackles including a ridiculous five for loss with a forced fumble and two sacks.
Clearly, this defense is flat out not on par with what we've become accustomed to considering the play of the collective back seven and would surely struggle to contain elite offenses. That said, there are no elite offenses in the conference this year so as long as the Buckeyes keep Braxton healthy, avoid a huge disparity in Turnover Margin from here on out via an increasingly efficient offense and what's been a mediocre yet opportunistic defense, it's no longer a stretch to say Urban's Buckeyes have a legit shot to go undefeated. 
What a difference a year makes.
An evening in the 'shoe
As someone who typically avoids going to the 'Shoe based on a few too many bad experiences, whether it be being repeatedly yelled at to sit down, listening to idiots that I pray don't ever find 11W and dilute our community with their constant screaming of ridiculously stupid things or being forced to hold my urine for 3.5 hours because I refuse to miss a play, I gave it another try - for my 1st night game - and I must say I had a blast.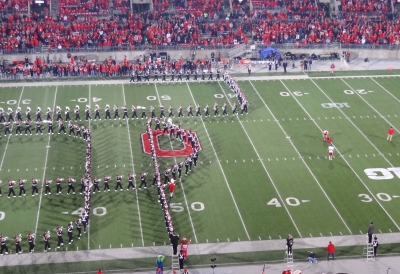 The crowd was into it even during pregame and the noise appeared to play a part in at least two false start flags on Nebraska as well as disrupting their timing on a few other snaps.
We had great seats pretty low in C-Deck on about the 43-yard line and we were able to stand whenever we wanted without any catcalls from behind.
Still, I wish everyone viewed the games like me. I feel they should be treated just like concerts where you stand the whole game with the exception of set break / halftime. 
Speaking of halftime, TBDBITL is simply amazing. 
They unveiled a super slick tribute to '80s arcade games, showing off their crisp formation marching and a creativity that still remained classic in its approach. 
I was afraid Johnny was going to storm the field in protest when it looked like the OSUMB was going to forego a tribute to Zelda but just when his ears began to steam, the band pulled off a rising pegasus to the delight of Mr. Ginter and the night was saved. 
After the segment ended with a cool "Game Over" scrolling toward the sideline, TBDBITL squared up for the incomparable Script Ohio. 
This one started off like their usual masterpiece but midway through, the Nebraska placekickers thought it made sense to come out from the half early and work on their field goals as shown at left. 
It was truly a classless act by the kickers and even with the boos raining down, they failed to realize the error of their ways. 
Weak. That display made the 25 point ass kicking all the more sweet. 
shoutout to our community
So, as you all know, our 3rd annual Drink Too, Brutus and Eat Too, Brutus events took place this weekend, and we are frankly overwhelmed by your response and generosity.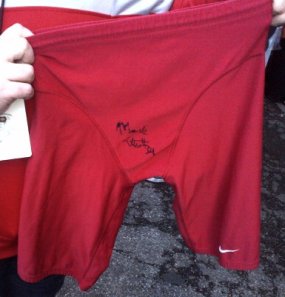 Seriously, as much as we appreciate your readership, we're even more touched by your charitable spirit. 
As the tailgate approached what had to be over 250 people leading up to the game, it felt incredibly rewarding to be a part of the 11W team and community. 
It was aweome to put some names with faces. I met a ton of you over the course of the weekend and can't stress enough how great it was to chat with readers that help make this site the machine it has become, evolving from the early days of me and Jason putting up one or two posts a day so our friends and families could lie, or at least stretch the truth, about the quality of our output. 
Just as fantastic was the opportunity to spend more time with fellow members of the staff that have taken our corner of the 'net to the next level. 
Alex, Ramzy, Ross, Johnny, Joe, Sarah, Walt, Elika, Kyle, Jeff, Miles and Brandon are absolute class acts. It felt good to see everyone in person instead of via video chat, twitter, email etc. As for Chad, David, Derek and Corey, here's to you all making it to next year's Spring Banger. 
Also, many thanks to everyone that made Eat Too, Brutus III such a success. Schmoo, Steve from Columbus Distributing / Yuengling, Adam and Walt from Land-Grant Brewing, the fine folks at City Barbecue, Cheryl's Cookies, Mia Cucina and various individual sponsors and donors including Matt Finkes, Mark Titus and Maurice Clarett were instrumental in pulling off the coolest charity tailgate party until next fall when we rev it up again. 
Finally, a hat tip to Ramzy as he helped take our initial tailgate vision from three years ago to the next level and beyond. 
What's the best thing about Eat Too, Brutus improving its record to 3-0? A chance to go 4-0 in 2013.