Around the Oval is our weekly look at the Ohio State sports that don't always get the coverage they deserve.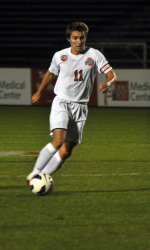 It was a great win for the football Buckeyes this past weekend, defeating Michigan State on the road, 17-16. An even bigger game looms this Saturday, but until then let's focus on some other Buckeyes in action.
It was a roller coaster week for the Ohio State men's soccer team. The Bucks started off the week with a 4-2 win over Butler on September 26, with senior Austin McAnena registering a hat trick. The four goals were a season high for the team, and the most since last year's 4-2 victory over Stetson.  
Following that, on September 30 the Buckeyes traveled to our hated neighbors to the north, Michigan, and lost a heartbreaking match 3-2 in double overtime. The only good news coming out of the loss is that reigning Big Ten Offensive Player of the Year Chris Hegngi finally scored his first goal, 11 games in to the season.McAnena assisted the goal, continuing his stellar play this week. Michigan's Jack Brown notched the game-winning goal in the 110th minute. His free kick from 65 yards out sailed into the upper left of the net, propelling the dreaded Wolverines to victory.
The loss dropped the Buckeyes to 4-6-1 on the season and 0-2 in Big Ten play.
Back to McAnena, the senior was named Big Ten Offensive Player of the Week. Now the leading scorer of the Buckeyes, McAnena tallied seven points on the week (three goals vs. Butler and one assist vs. Michigan). This is the second Big Ten weekly award for the California native and the first for OSU since Hegngi earned it earlier this season.
Next up on dock for Ohio State is Michigan State at noon on Sunday at Jesse Owens Memorial Stadium.
WOMEN'S SOCCER
There's a popular phrase that goes, "Home is where the heart is." Well, being home wasn't so kind to the Ohio State women's soccer team in the past week.
The Buckeyes' week started off with the eighth ranked Penn State squad on September 27 at Jesse Owens Memorial Stadium and the Buckeyes fell 3-0 in that contest.  
Wisconsin then came into town on the 30th and that game came down to the wire, ending in a 0-0 draw. There were numerous chances for goals for OSU, as they held a 15-12 advantage in shots, 6-2 on frame. Tiffany Cameron notched five shots, putting four on goal, but it wasn't enough as the team couldn't capitalize on opportunities.
"We saw two teams that played extremely hard Thursday and that became obvious late in our game," head coach Lori Walker said. "There were a lot of tired legs on both sides...."
Ohio State (7-4-1, 2-2-1 Big Ten) is off until it hosts Purdue at 3 pm. on Oct. 7 at Jesse Owens Memorial Stadium.
women's volleyball
The 22nd-ranked Ohio State women's volleyball team traveled to Minnesota on September 28 in a battle of ranked Big Ten teams. It was a tough match for the Bucks and it seemed like they could never get really going. They dropped the match, 3-0, but the true test would be how they would respond when they traveled to Wisconsin the next day in what could have been an easy letdown match.
The upperclassmen led the way and made sure there would be no such thing, as OSU beat the Badgers, 3-1 (25-21, 25-11, 19-25, 25-20), and improved to 11-5 overall and 2-2 in the Big Ten.
Senior Mari Hole and junior Kaitlyn Leary combined for 44 kills to lead the squad while junior Davionna DiSalvatore recorded a career-best 25 digs. Wisconsin was no easy task, as they were 13-3 heading into the match.
Ohio State continues its road trip this week, traveling to Illinois and Northwestern on October 5-6.
Men's hockey
The Ohio State men's hockey team had media day on Monday, and the team can't wait to get on the ice this year.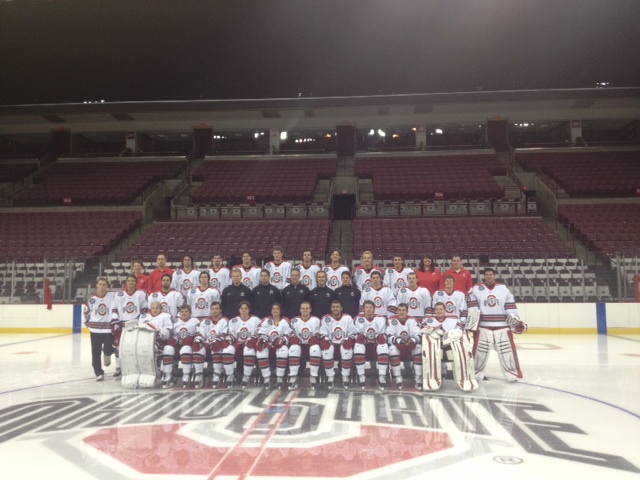 Although they are a younger team this season, head coach Mark Osiecki has high expectations for the team this year. There is no team captain but rather a lead-by-committee type of approach to this season and the third-year head coach is hoping that will bring things together this year, as the last few campaigns have ended in disappointment.
The team was 15-15-5 last year, including a ten game unbeaten streak. The icers just could not find that same magic down the stretch, and something OSU hopes to improve on this year is consistency throughout the entire run.
Although they graduated a few key players, such as Sean Duddy and Danny Dries, they also return key players such as Devon Krogh, Chris Crane, and goalkeeper Brady Hjelle, so there is certainly still a core of talent remaining on the roster.
The freshman class is six players deep, and one player that has caught Coach Osiecki's attention has been Anthony Grego, who he said is already one of the fastest skaters on the team. It should be exciting to see how Grego and his other classmates impact this year's squad.
The Buckeyes open up with games at Minnesota Duluth, a place Hjelle is all too familiar with—he played there two years before coming to Ohio State.
Random Bits
The Ohio State men's golf team did not compete this past week.Tthey return to action at the Jack Nicklaus Invitational in Dublin, Ohio, on October 8-9.
The women's golf team is currently competing at the Windy City Collegiate Classic Invitational in Chicago, Illinois.
The 18th ranked field hockey team won their sixth consecutive game with a 6-0 shutout over Robert Morris at Buckeye Varsity Field on September 26.
Ohio State fencing wrapped up the 2012 OSU Duals with a combined 14-0 record after defeating all seven of its opponents on September 29 at the French Field House.