Last week we took time off from the 11W Recruiting Notebook to go to our roundtable format and it yielded a 17-16 road victory against the Michigan State Spartans.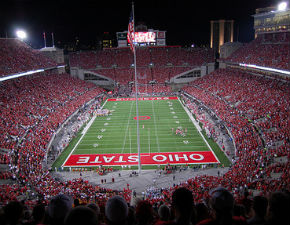 This week, the stakes are raised even higher, as a 4-1 Nebraska team rolls into town and will try to put the first dent in Ohio State's undefeated season. With some game-changers on the offensive side of the ball and a scheme that leads to high-octane scoring when clicking on all cylinders, the Cornhuskers are a dangerous match-up for the Buckeyes, but OSU has a built-in advantage with the game being played at home with an 8 PM EST kickoff time.
While the rocking crowd should serve as a helper to the Buckeyes on the field during the game, it will also serve another purpose. Ohio State is set to host its biggest recruiting weekend yet, as prospects from all over the country are heading to Columbus this weekend to check out the prime-time contest between two ranked teams.
For this special occasion, we return this week with the notebook and give you an inside look on what we're hearing on the recruiting trail, how Buckeye prospects performed in their games last week, who's coming to town for the big game, and more.
Join us after the jump to get the latest Ohio State recruiting news in this version of the 11W Recruiting Notebook.
The Buzz
One big time prospect on Ohio State's recruiting board is S Vonn Bell of Ridgeland High School in Rossville, Georgia.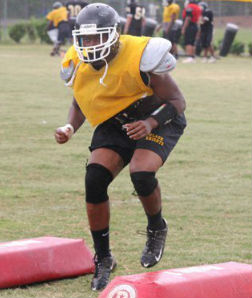 Bell was set to visit Columbus this weekend for the game against Nebraska, but decided to postpone that visit until after his football season is over.
Many fans are trying to analyze Bell's decision to postpone his official visit and read the meaning behind it, but as far as we know right now, the five-star defensive back just wants to concentrate on his senior season, as that has kept him busy enough in addition to fulfilling his academic requirements as a high school student.
Bell maintains he will make the trip to Columbus, but that will certainly be something to watch. Obviously if that visit doesn't happen or more emerges behind Bell's reason for delaying the visit, that would not be a good sign for the Bucks, who are in his final three along with Tennessee and Alabama, who he took a visit to last weekend.
Speaking of big time prospects from the South, one of the best in the region is Lawrenceville (GA) Central Gwinnett LB Trey Johnson.
The 6-2/218 Johnson has been committed to Auburn since the middle of August, but came out last week and said he will be taking at least four official visits. Those trips will be to see the Tigers, to USC, to Florida State, and to Columbus to check out the Buckeyes.
Johnson was a name fans talked about in the spring, but many figured he would stay in the South. When he committed to Gene Chizik those thoughts were confirmed, but rumors are heating up that he is more than just interested in taking free trips to see other programs, especially Ohio State.
The nation's third-ranked inside linebacker speaks to Urban Meyer at least once a week and has been in constant communication with Luke Fickell as well. The OSU coaches are telling him they need help at the linebacker position and that Johnson can have an immediate impact behind the excellent defensive line hauls brought in with the 2012 and 2013 recruiting classes.
Dates have yet to be determined for three of the visits, but Johnson has booked his Ohio State trip for the Michigan game. Keep an eye on this one as Urban Meyer is certainly pulling out all the stops to land one of the country's best linebackers.
Finally, news this week came that Ohio State WR Tyrone Williams has been dismissed from the team. While this means that the Buckeyes are now a man down at a position that is somewhat thin, it also means that another scholarship is now open for the class of 2013 to get closer to the 22 number we have been working with.
This also means that with that open scholarship, there is room for the Bucks to bring in more than the one receiver many were predicting would finish this class before news of Williams' dismissal broke. The candidates were Shelton Gibson, James Quick, Ryan Timmons, Sebastian LaRue, MarQuez North, Corn Elder, and a couple of other players.
I think Urban Meyer knows he needs more playmakers in this offense and the wide receiver position is a great place to start. Don't be surprised if the heat is turned up on a few of the prospects listed above and I know I certainly won't be shocked if two of those players end up in this class.
Right now if I had to guess I would say Shelton Gibson is in, with either James Quick, Corn Elder, or Ryan Timmons being next man up. If Charlie Strong ends up leaving Louisville at season's end, I say it is Quick. If not, I think Elder becomes a priority, although Timmons may finally get that OSU offer her has been waiting for.
High School Football Recap
JT Barrett appears to be the real deal and is proving it week in and week out. Last weekend he led Rider to another victory, this time by the score of 50-14 over Trophy Club Byron Nelson. The future Buckeye signal caller was 8/12 passing for 162 yards with a touchdown and also carried the ball 22 times for 130 yards and 2 scores in the win.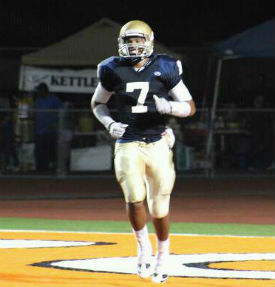 Ezekiel Elliott tried to one-up Barrett, running 20 times for 238 yards and 2 touchdowns in his team's 33-7 win over St. Louis (MO) Westminster Christian.
Taivon Jacobs continues to be a big time play maker for Suitland and helped his team to a 26-14 win over Springdale Flowers. The OSU commit compiled 142 receiving yards and two scores, while also returning a punt for a touchdown in the victory.
Marcus Baugh has made a full recovery from a concussion that sidelined him a few weeks back and caught 4 passes for 78 yards and a score in a 51-6 crushing win over Moreno Valley (CA) Vista del Lago.
Darron Lee has seen ups and downs this year from his New Albany squad, but this week was an up as they beat Delaware Hayes 26-13. Lee threw an eight yard touchdown to open the scoring in the game and set the pace to bring home the "W".
The aforementioned James Quick had a nice game for Louisville (KY) Trinity in a rivalry win. The four star prospect hauled in 8 catches for 144 yards and a touchdown to continue what has been an excellent season thus far.
Like Quick, Ryan Timmons is a stat machine and that didn't change despite some awful weather during last weekend's game. Timmons had 5 touches for 125 yards and 2 touchdowns on offense, while also showing he can do it on defense in returning an interception 50 yards for a score.
Not wanting to be left out, Corn Elder did work for Ensworth in rushing 13 times for 208 yards and 2 touchdowns in a win.
On the defensive side of the ball, the mystery man Mike Mitchell had an incredible 19 tackles, 2 sacks, and 3 forced fumbles in his team's win. Oh yeah, he also showed his freakish ability and returned a kick 100 yards for a score.
Wrapping up 2013 prospect performances, Christopher Worley did his part for Glenville, recording 13 tackles and deflecting two passes that led to interceptions. The Tarblooders didn't do so well, though, losing 35-7 to Cleveland (OH) St. Ignatius.
For 2014, Scottsdale (AZ) Desert Mountain QB Kyle Allen connected with fellow Buckeye prospect WR Mark Andrews all night long in what could be a great duo at the next level. Andrews finished the game 14/17 for 380 yards and 4 scores. Andrew caught 7 of those passes for 184 yards and 2 touchdowns.
Jalen Hurd may be the top running back in the nation for his class and did more to earn the title last weekend, rushing for 212 yards and 3 touchdowns on the ground, while also hauling in a 71 yard touchdown pass through the air. Hurd, who has Alabama and OSU on top early, also recorded an interception on defense.
Another very good 2014 back is Jonathan Haden, who wasn't too bad himself last week. The Washington DC Friendship Collegiate Academy star carried the ball 22 times for 235 yards and 2 touchdowns in his team's 60-10 win over Parkersburg (WV) South.
Last, but certainly not least, Raekwon McMillan had 10 tackles (2 for loss), a sack, and a forced fumble in Hinesville (GA) Liberty County's 41-19 win over Hephzibah. McMillan, a five star linebacker, also plays some offense for Liberty County and tallied 48 yards and 2 touchdowns on just 7 carries in the victory.
Week 7 Games to take note of include:
Solon at Mentor (Darian Hicks, Mitch Trubisky)
Lakewood St. Edward at Youngstown Cardinal Mooney (Solomon Warfield, Courtney Love, Marcus McWilson)
Marion Harding at Akron St. Vincent-St. Mary (LJ Scott, Dante Booker Jr.)
Avon at Midview (Ross Douglas)
Massillon Washington at Austintown Fitch (Gareon Conley, Marcus Whitfield, Nathaniel Devers, Billy Price)
Wichita Falls (TX) Rider at Brewer (TX) High School (JT Barrett)
Week 7 OHSAA Football Rankings
Weekend Visitors
As mentioned above, this is a very big weekend when it comes to recruiting for Ohio State. The "A-list" prospects are coming to town and not only is quality high, but quantity is too.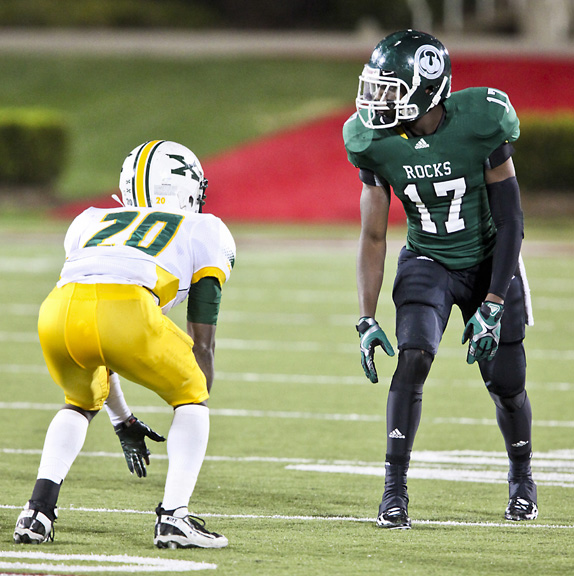 Starting with the Buckeye commits, it will certainly be a full house. RB Ezekiel Elliott, OL Evan Lisle, DL Billy Price, DL Joey Bosa, DL Tracy Sprinkle, CB Cam Burrows, CB Eli Woodard, S Jayme Thompson, ATH Jalin Marshall, and ATH Darron Lee are all expected to be in attendance. 
Like in past weeks it will certainly help to have these players in the 'Shoe, but it might have even more impact this week with the group that is coming in and with the atmosphere expected for Saturday evening inside the stadium.
Offensive players in the 2013 class that will be attending include RB William Houston, WR Shelton Gibson, WR James Quick, WR Ryan Timmons, and OL Dorian Johnson.
Houston, 6-0/232, is a big back from just outside Columbus and has been in touch with the OSU staff. It is unlikely he will earn a scholarship offer, but he has already spoken with the Buckeye coaches about being a preferred walk-on. Houston has an offer from Bowling Green, but if that doesn't change soon, I expect to see him on next year's Ohio State roster as a walk-on fullback.
Gibson and Quick have been talked about extensively on this site before and getting them around the other commits in the type of environment the game will bring is huge. From what I hear, Gibson is in if all off the field checks out. Quick, on the other hand, is favoring Louisville right now, but Saturday night's unofficial visit (he is returning for his official when OSU plays Michigan) can go a long way in changing that.
Timmons doesn't have an offer like the other two receivers, but he is very close. He is having an outstanding senior season and his interest in the Bucks is no secret. He is a dynamic play maker and it is becoming more apparent each day that he can play high level BCS football.
Finally, Johnson was originally committed to Penn State, but opened things up after sanctions were released. Pitt, the hometown school, is the favorite right now, but it speaks volumes that Johnson is making the trip to Columbus on his own dime with his mom and aunt this weekend. This could be the visit that opens his eyes to OSU, but we shall see what happens.
2013 defensive prospects that are expected in attendance include DL Donovan Munger and DB Christopher Worley.
I have long thought Munger had a spot in this class and it seems strange that he hasn't pulled the trigger at this point. My guess is either OSU has asked him to wait, or like Gibson, he needs some things to check out off the field. West Virginia, Michigan State, and Tennessee are the other players in this one, but I think given the green light Munger will commit to the Buckeyes.
Worley is another prospect who I see as a Buckeye lock as long as he gets the green light to commit. There were rumblings a few weeks ago that this Glenville product could be the next to keep the pipeline going and that it could happen soon. What better weekend than this one? Not saying it will happen, but be on commit watch after the game, as Worley is fond of Ohio State and the feeling is mutual.
As for 2014, some offensive prospects that have either committed to coming to the game or said it was a possibility are QB Drew Barker, QB DeShone Kizer, QB Reggie Bonafon, WR Nacarius Fant, TE Ian Bunting, OL Marcelys Jones, OL Kyle Trout, and OL/DL Brian Allen.
Barker has been to Columbus many times, but still does not have an offer from OSU. The staff said they wanted to review all film of 2014 quarterbacks before deciding who to offer, and if early returns are any indication, Barker may just add that one to his collection very soon. The Hebron (KY) Conner signal caller is at the top of my big board for his class and while he said he is a "maybe" for this weekend, I think it is important for the staff to continue to put themselves in a good position to land him if and when they do offer. I just hope they don't wait too long.
Kizer will head down to the game with teammate Jayme Thompson and continues to show great interest in the Buckeyes. From the start many thought this would be an OSU-Michigan battle, although neither program has yet to offer. Kizer is certainly gifted athletically, but is raw as a quarterback, so he will need to show development throughout his junior season to earn an offer over the likes of Barker, Caleb Henderson, Kyle Allen, William Crest, and other talented signal callers that Urban Meyer and Tom Herman are considering at the position.
Bonafon, Fant, Bunting, Trout, and Allen are also all without offers, but will come to try to show face in front of the coaches and build a relationship in the meantime. Trout, who was recently offered by Michigan State, seems to be the one in best position to get an offer first and as one of the top offensive linemen in Ohio, I could definitely see that happening in the not too far future.
Jones, another Glenville Tarblooder, was offered recently by the Buckeyes, but already looks like he can be on the field at 6-5/325. Jones will definitely have to get in better shape to play in the new OSU system, but he is definitely a prospect who can fill needs at guard and tackle for the Buckeyes moving forward, and the good news is he is a fan of the Scarlet and Gray.
On defense, some big names are going to be at the game in LB Gary Hosey, LB Tinashe Bere, LB Dante Booker Jr., and DB Todd Kelly Jr.
Booker is now tentative, but if he comes, he is hands down the best player amongst this group in attendance. As Ohio's number one linebacker and a Buckeye fan growing up, he is a must get for Urban Meyer and many believe he could be the first one to fall in 2014.
Hosey and Bere are also stellar linebackers, but neither holds an offer yet, although they are both certainly in consideration. Hosey has the better chance and is part of a larger group from the state up north receiving a lot of attention from the OSU staff.
Kelly is a superb athlete from Tennessee and is rated as an early four-star prospect by 247 Sports. Getting him on campus this early is huge and it should be an eye-opener for him that puts OSU near the top of his list going forward.
Some 2014 athletes that will be at the game include Marcus Whitfield, Dareian Watkins, and Marshon Lattimore.
Whitfield is an emerging star at Massillon Washington and could be a factor at either receiver or safety at the next level. He is a big time Ohio State fan and the Bucks would be hard to beat, despite the fact that good friend and teammate, Gareon Conley, is headed to Michigan next season. He doesn't have an offer yet, but one may be coming soon.
Watkins doesn't have an OSU offer yet either, but impressed the coaches during his time at camp this summer. He plays quarterback for Galion, but projects as someone who could play receiver or defensive back in college. Whether it's behind center, catching passes, or locking down opponents, there is no questioning Watkins' athleticism and game-changing ability. Illinois, Northwestern, and a bunch of MAC schools have already offered and it may not be too long before other power conference teams join the mix.
Lattimore does have an OSU offer and is another Glenville product that appears to be the real deal. While Worley and Jones are very good in their own right, Lattimore seems to be one level above and could be the best player in Ohio when it's all said and done. At 6-0/175, he stars at wide receiver and defensive back for Ted Ginn Sr. and already holds offers from Cincinnati, Georgia Tech, Illinois, Indiana, Toledo, and USC in addition to the Buckeyes. That list will only continue to grow and you can bet Urban Meyer is rolling out the red carpet for him this weekend.
Finally, Thad Matta will be doing some work this weekend when he hosts Nigel Hayes, Ishmail Wainwright, and BeeJay Anya.
Hayes, the brother of former Buckeye Kenny, is a 6-7/215 forward from Toledo Whitmer. He has high interest in OSU, Wisconsin, Stanford, and Minnesota, but this appears to be a battle between Brutus and Bucky. Hayes knows the atmosphere at OSU can get crazy, so this weekend will be big in building a relationship with Matta and the staff.
Wainwright is a 6-6/220 wing from Raytown (MO) Montrose Christian that holds an offer from Ohio State in addition to Baylor, St. John's, Texas, Duke, Arizona, Kansas, NC State, Florida, Syracuse, Missouri, and many others. He is a consensus four-star prospect and is ranked as high as 26th in the country by ESPN/Scout's Inc. and as the 45th best player in the nation by the 247 Composite rankings. His name has not been known amongst OSU fans, but this weekend's visit is certainly telling there is interest from both sides.
Anya is the higher rated recruit and the 6-8/270 center is someone the Bucks are going after hard. Rated as a consensus top 50 player in the nation, Anya is being targeted as the next great big man at Ohio State and it is a big step in getting him on campus. He has offers from some of the biggest programs in America and will take official visits to Indiana and NC State later this month after his stop in Columbus this weekend.