The game clock read four minutes, 10 seconds as the Ohio State offense took the field in the fourth quarter at Spartan Stadium. The biggest win of the season was in sight. Run out the clock and the Buckeyes wouldn't have to sweat a late-game drive by Michigan State.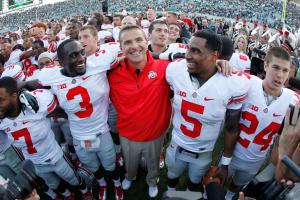 He didn't tell his team, but head coach Urban Meyer thought the defense would have to preserve the victory. He didn't necessarily doubt Braxton Miller, Carlos Hyde or the offensive line, but Meyer has seen his share of college football games and knew Michigan State would key on stopping the run. It was of little consequence, though, as Ohio State ran for three first downs and rendered the Spartan defense irrelevant.
Before the drive started, the offense got a talking to. It didn't come from Meyer or any of the offensive assistants. Instead, it came from Zach Boren. The veteran fullback has been in Big Ten slugfests before, and he wasn't about to come out on the losing end.
"His leadership and on the sideline was instrumental in this ballgame," Meyer said on Monday. "I don't want to call it legendary, but that's why we do what we do. I can't speak for every coach, every player. But…I hear what I hear, and saw what I saw, that's what it's all about. I would like to think we've had something to do with that as far as creating that competitive environment around here.
"I give a lot of credit to Zach Boren. He really showed his manhood in that game and not just the way he played, but the way he did some leadership. He really did a very good job."
It's one reason why Boren was named a captain prior to the season. Throughout his career, he's provided levelheaded encouragement and been a vocal presence in the locker room. Even as an underclassman, Boren had a dominant personality.
But Saturday wasn't about one person's leadership – Boren – nor was it defined by one person's play – Braxton Miller. It was about the team.
Low moments littered the 2011 season with a minute amount of happiness sprinkled in. So when the clock hit 0:00 on Saturday, elation was evident – with reason – on the Ohio State players' and coaches' faces. The celebration and smiles almost resembled national championship-esque revelry.
It went from the field to the locker room and continued on the flight back to Columbus. The whole time Meyer noticed the bond between the team become stronger.
"It was a team that matured," he said. "It's been a team that's been pushed around for a while. Lot of things have happened. Lot of things I'm probably not even aware of. But I could tell that it wasn't a close team. It was a team with a lot of excuses, and it materialized over the weekend. It was really interesting to watch it happen. We pushed the envelope as a coaching staff and they bought in."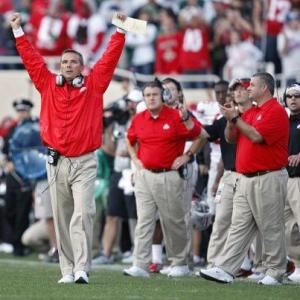 Meyer is in the midst of his 11th season as a head coach, but his entire coaching career spans 26 years, and teams coming together is not a given.
"I think six teams, seven teams," Meyer said. "That means there's a bunch of average football in there. How many great teams are there? I'm not saying we're a great team. We at least have a chance of going to do some good things together because I felt like they came together. Every team doesn't come together, no."
Offensive lineman Reid Fragel, who turned in an impressive performance at right tackle, said he was moved by Meyer's reaction in the locker room. It's not often a player reflects on the cheerfulness brimming from his coach.
"To see him in the locker room after that win almost brings tears to your eyes," Fragel said. "He was so joyful. It just felt like he was one of the guys. It was a really cool atmosphere."
Growing as a team provides a boost to Ohio State's confidence with a win on the road only adding to it. Units that have had heavy doses of criticism heaped upon them were major contributors on Saturday: Wide receiver Corey Brown caught 12 passes, fourth-most in OSU history; the offensive line played well all day, but upped the ante when mystery surrounding play calls was all but gone; and linebackers Etienne Sabino and Ryan Shazier performed at arguably the highest level of their careers.
The defensive performance, in particular, was something not foreseen. It was a weak link during the first four games, but give them the third-leading rusher to deal with and the Silver Bullets reemerged.
"When you really care about the guys around you, it makes the stakes higher," offensive lineman Jack Mewhort said.
The hope for the Buckeyes is carrying their momentum and team-building into Saturday's anticipated matchup with Nebraska. Night games at Ohio Stadium don't come around often, but when they do, they signify marquee games. This one is no different – No. 12 vs. No. 21.
"Tomorrow will be as hard a Tuesday as we've ever had," Meyer said. "It's not a punishment, it's just I feel we can get much better. We are a very close team right now, and close teams work really hard."
Ohio State remains a team with little margin for error. An off day for Miller could easily result in a loss, even against an unranked opponent. But when young teams start believing in themselves not only because of on-filed results but also due to a team-wide unity, special things happen.
"I think they are really starting to gain confidence," offensive line coach Ed Warinner said. "That could be a strength for us as we continue to get better – momentum and emotional edge."