Oklahoma and Texas play this weekend in the Red River Shootout, which if you weren't aware is played at the Cotton Bowl.
That neutral site is located within Dallas at Fair Park and the game is normally scheduled during the Texas State Fair, which makes this classic rivalry one of the best games of the year for your palate to attend.
Consider the snack pictured above: That is a deep-fried Buffalo Chicken flapjack from the Texas State Fair. It's served on a stick with a side of maple syrup. Fortunately, the recipe isn't a secret and we're here to help.
Quick and easy version: Marinate a chicken breast in Buffalo sauce, drop it in pancake batter and then roll it in bread crumbs and jalapeño bits. Now gently lay that in a pot of hot oil and wait until the threat of salmonella poisoning is gone.
Then remove it from the oil by impaling it with a kabob skewer, wait until it's cool enough to not burn your mouth into a scarred, fleshy mess and smother it in syrup. If you're at the fair you can chase it with Kool-Aid balls or a deep-fried frozen margarita. State fairs are to creative obesity what NASA is to space exploration.
Health, schmealth - the likelihood of death is 100% for all of us. Just don't eat this crap more than once a year and you should be okay. Not great; just okay.
Speaking of death, don't play the "drink every time the Oklahoma band plays Boomer Sooner" game - you will not live to see halftime.
The Buckeyes are 6-0, which makes them bowl eligiBLEACCHHHHH. Let's get Situational.
THE DEAD PRESIDENT

Five weeks ago we addressed the nonsense that keeps some proud Ohioans counting William Henry Harrison as a native POTUS despite the fact that he was born in Virginia and served the presidency for about 20 minutes before dying because he was too stubborn to wear a coat at his inaugural.
Well, one Harrison that legitimately counts toward the Ohio POTUS tally is his grandson Benjamin. Note that Ohio's Hoosier friends to the west also claim him, since he moved to Indiana when he was 21.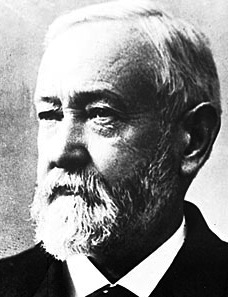 Harrison is the only president to serve from the state of Indiana, and he and his gramps are the only grandfather/grandson POTUS combo in American history.
These days, "beating Cleveland" refers to something one lucky NFL team gets to do each Sunday, but it had a vastly different meaning 120 years ago when doing so gave Harrison the presidency, as he took down incumbent Grover to get to Pennsylvania Ave.
His term in office is remembered mostly for having the first billion-dollar Congress as well as a series of ill-regarded moves involving tariffs and reciprocity regarding international trade that are still taught as watch-outs in macroeconomics courses. The good news is that while grandpa is viewed as a bottom-quintile POTUS, Benjamin is only a bottom-quartile POTUS. 
Which is why the vanquished Cleveland decided he wanted the White House back and ran against Harrison in his re-election bid - and beat him in the rematch.
What's not as well-remembered is that Harrison's wife, the First Lady, died from tuberculosis during his campaign and he stopped campaigning on his own behalf. He did not receive the mercy vote.
After Harrison was voted out of office, he moved to California and married his wife's former secretary. Later on he served on the Purdue Board of Trustees and got a building on campus named after him.
Harrison came down with influenza and had it beat, but it came back stronger and he died of pneumonia in 1901. Obviously he just wasn't very good with rematches.
---
THE SITUATIONAL WAGERS: THE BEAR, WRANGLER, MASKED RIDER, HOPELESSLY BANKRUPT, BRUIN


THE BEAR: UCLA BRUINS  (-6) over Utah, which gets its second dose of LA football in as many weeks.

THE WRANGLER: Oklahoma State Cowboys (-21) 0ver Kansas, because picking against Charlie Weis every week doesn't get old or less easy.

THE MASKED RIDER: Texas Tech Red Raiders (+5.5) against West Virginia because the Mountaineers have to hit an oil slick at some point, right?

THE HOPELESSLY BANKRUPT: Arkansas Razorbacks (-16) 0ver Kentucky but unfortunately for John L. Williams, creditors don't accept touchdowns as collateral.

THE  BRUIN: Baylor Bears (-6.5) against TCU. Have a hard time picking against a team that hasn't scored below 47 yet this year and just scored 63 and lost.

LAST WEEK: 2-3  | SEASON: 11-19
THE NOWLEDGE

This week we're paying homage to those heroes who put pen to parchment with hilarious results.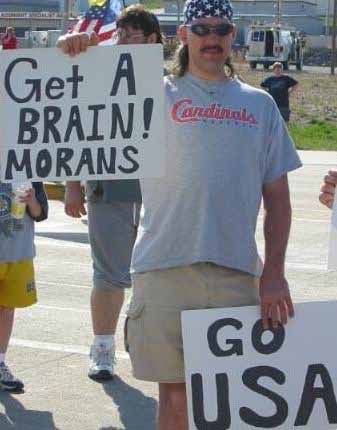 Not the apostrophe abusers or conjugation manglers, who deliberately commit assault on our beloved language, but those who might believe they have their letters in order but...well, don't.
This is more funny than it is eye-stabby or depressing. Political rallies are always good for this brand of accidental etymological horseplay, since anger generally has a comical effect on proofreading.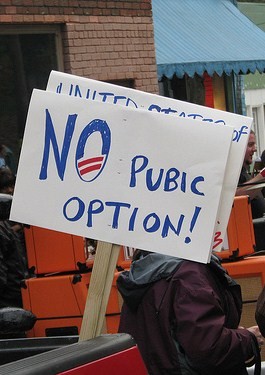 As a bystander to political rally-type events, the greatest value I draw from others' exercising their First Amendment rights is that of third-party pro-bono proofreader. 
The handsome gentleman pictured above was protesting protesters during the buildup to the Iraq war. In doing so without spellcheck, he pulled off two feats of amazement: 1) He unintentionally mocked the intelligence of people with a very common Irish surname and 2) he created and became a meme.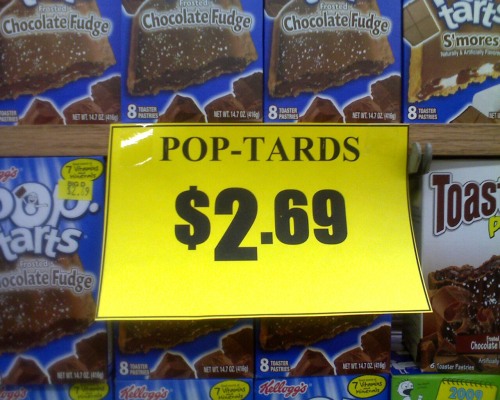 Moron and moran have since become interchangeable through the magic of one brilliant man's creative expression, as has one discarded component of the Affordable Care Act, which may or may not involve the genitalia of the electorate.
This Pubic Option has been seen on signage both for and against the legislation, which makes it a unique bipartisan dick joke, which is the best kind of dick joke.
While handmade signage is reliable for misspellings, printed signage might be more fun: Fonts and font sizes were deliberated, posters were printed, laminated, taped and posted. All through the process, however complicated, proofreading failed to enforce its mandate. The result is chaos we can all enjoy.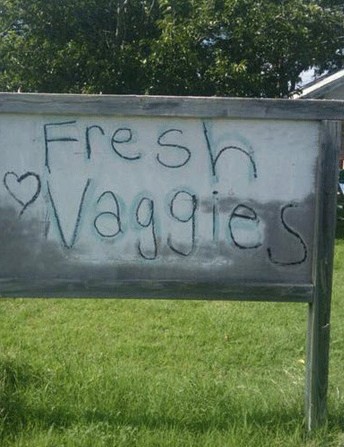 This is what makes those POP-TARDS so beautiful. D and T are not close enough to merit the fat-finger explanation, so we're left with speculation over the author's colloquial leanings. She or he might pronounce the product that way, yet that shouldn't have mattered because the correct spelling is printed on every box.
Speaking of accents, I have to admit I'm only familiar with two pronunciations of veggies, and that's veg-gees and vedge-gies. The version on that sign is new to me, which suggests I definitely need to see more of our great country.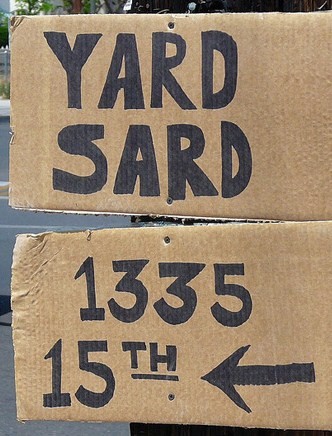 Vegetables don't come with their names printed directly on them the way that Pop-Tarts do, and that's unfortunate - especially for the customers who saw the sign and quickly stopped by the farm to buy something else entirely different from what was actually being sold.
Remember, 49 states have longstanding laws against the practice of selling vaggies. Unless you're in Nevada, any sign that promotes this product or service is either lying or begging for law enforcement.
As for the YARD SARD, that's a classic brain fart from the baroque era of brain flatulence. Sharpie fumes tend to be distracting, especially when you're laser-focused on coloring in the wrong damn letters. 
THE BOURBON

There is a bourbon for every situation. Sometimes the spirits and the events overlap, which means that where bourbon is concerned there is typically more than one worthy choice.
Bourbon is uniquely from Kentucky. When a fermented grain mash is processed and fermented anywhere other than the Bluegrass State, it's not bourbon - it's whiskey. This principle is not terribly different from the manner in which champagne-like beverages made outside of Champagne in France are actually sparkling wine.
Champagne is from Champagne. Bourbon is from Kentucky. Those are the rules.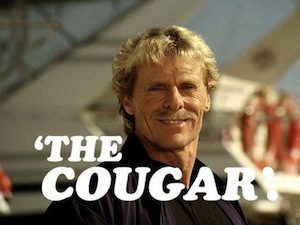 Lawrenceburg is about a 3-wood across the water hazard known as the Ohio River. Even though it's so close, it's on the Indiana side of the water and rules are rules. It's also the production home of an export-only whiskey brand marketed under the awesome name of Sam Cougar.
A trip to Australia is your best chance of sampling this Hoosier sauce, which to my palate tasted like any desperation discount whiskey normally found near the checkout counter of liquor stores with bars on their windows. There are better reasons to get on a plane for that long.
Sam Cougar calls itself bourbon because it can see Kentucky from its house. In Australia, just being whiskey from America is close enough to earn the bourbon title (can you correctly identify the province of Champagne on a map of France? Exactly).
The complexion of this otherwise forgettable spirit is brightened by its branding and commercials, which are distinctively Australian which means they're not intended to be campy. They're absolutely serious.
Its scarcity in our hemisphere relegates the Cougar to the status of a challenge bourbon whiskey. If you happen to notice a bottle in a collector's library it would be silly to decline a sample. Accept it, then pull up the adverts on Youtube because they're far more entertaining than what you're putting in your mouth.
But nevertheless: Champagne is from Champagne. Bourbon is from Kentucky. And Sam Cougar is from Australia. By way of Lawrenceburg.
THE PLAY-OFF

There are three common paths that a cover song can take: It can try to mimic the original, it can make minor melodic or rhythmic tweaks or it can undergo a full reinvention.
Normally that reinvention involves the music itself. Devo's version of Satisfaction is a complete technogeek departure from the rock staccato original. Dynamite Hack turned Boyz in the Hood into something more suitable for blasting on the streets of Eden Prairie, Minnesota.
While technically not a cover - it's a scene from the 2007 movie Dan in Real Life - this version of Pete Townshend's classic Let My Love Open the Door takes a decidedly different turn without changing much of anything:
Steve Carell, whose acting range is criminally unappreciated on account of his comedic ability, is a widowed father of three. That's Dane Cook playing the part of his goofy brother, serenading his girlfriend Juliette Binoche as part of a family talent show.
Carell's character has a thing for Binoche's. It's both mutual and, obviously, complicated.
So you've got some layers at play behind this living room performance: Unrequited love, sibling rivalry, an unwilling fraternal wingman who is still in the midst of coping with the loss of his wife while discovering feelings for another woman and it's all injected into to a song that is very frequently used in cinema to indicate a shift in tone toward the positive.
When Let My Love Open the Door shows up in a movie, it's a signal to the viewers that everything is going to be alright. In this case, it's not.
Instead you have Carell stacking the complexity of this tragic backstory and delivering coincidental lyrics that carry relevance that isn't lost on anyone in the room. It's a poignant and beautiful scene, despite the incomparably fratty Cook doing what made him wealthy right in the middle of it.
Just when you think there couldn't be any more entanglements in this sequence: This performance is actually a rendition of a cover manufactured for the soundtrack by Norwegian musician Sondre Lerche. It's a cover of a cover.
On the surface and musically, it's only slightly different from Townshend's original. But beneath the surface, there's a whole lot of kicking and screaming. You just can't hear it.
See you next week. Go eat a funnel cake. They're delicious.