Welcome fans to this edition of the 11W RoundTable.
This week, the Buckeyes face Michigan State in a primetime matchup. Yes, despite the poor performance of the Big Ten as a whole thus far, this game is the World Wide Leader's College Gameday site. How exciting.
I am pleased to present this week's Dubster Analysts and would like to thank Ramzy, Sarah and Alex for their participation.
A reminder: if you have any questions for the staff after Saturday Sparty matchup for next week's game vs. Nebraska, feel free to shoot them my way. Hit me up!
Let's get 'er started.
The Big Ten part of the schedule is finally here and the Buckeyes haven't looked anywhere close to stellar versus the non-conference opponents. Tell us how you currently feel about this Buckeye team.
Ramzy: They're in the throes of puberty and it's awkward and frustrating and against a more formidable schedule the loss column would not look the way it does. Mystified as to why Ohio State's back seven is so deficient. It was only two seasons ago the Buckeyes lost their top six DBs and still beat* pass-happy Arkansas in the Sugar Bowl.
Alex: I'm still in wait and see mode. There have been things to like through the first four games and also a lot to be concerned with. This team will have to grow throughout the season and right now it's really about how quickly they can adjust on the fly. I'm not sure they'll be able to fix everything in time for this weekend's game in East Lansing, but if there is more good than bad on the field then there is a chance to come away with a huge victory.
Sarah: What quarter is it? If it's the second or fourth, I'm probably a little swoony over how good this team can be when they're firing on all cylinders. If it's the first or third, I'm probably screaming, "MISTER FALCON" (edited for TV) and on the verge of defenestrating my laptop.
Overall, I look forward to watching this team play every week, but I also know they'll be baffling at times. In many ways, Christian Bryant epitomizes this team: he can make an exciting play one minute, a frustrating play the next.
Michigan State RB Le'Veon Bell has been beastly and has carried Sparty pretty much on his back with 610 yards and 5 touchdowns. What do the Buckeyes need to do to limit him in Saturday's game?
Alex: Stack the box and make Andrew Maxwell beat you. If the Spartans just ram it up the middle and the Bucks can't stop it, they don't deserve to win. If Dantonio tries to let Maxwell win the game through the air and it beats OSU, I'd feel a little better. It's kind of like playing Wisconsin and knowing they are going to run every time with Montee Ball. If you can't stop it, you don't deserve to win.
Sarah: Do whatever they did last season, when they held him to 50 yards. I don't actually know what the defense's game plan was then, since I've blocked most of that game from memory, but it seemed to work against the run.
At his press conference on Monday, Urban said that Michigan State's defense is "going to take away the run and force you to throw the ball down the field", which is the same strategy Ohio State should use and actually tackling Bell is a good place to start. Stopping him is by far the defense's #1 priority, so no whiffs and no arm tackles. I'll be in the stands, holding a wrap it up box, hoping that encourages the defense.
And if Bell starts giving piggyback rides to the Ohio State players, a la BJ Cunningham and Travis Howard, then I'll be the 100-and-however-much-I-weigh-pound crazy lady running on the field to tackle him myself.
Ramzy: Dantonio said he now realizes that deviating from the running game - their identity - against Notre Dame was a mistake. They stuck to it against Eastern Michigan last week. They need to be prepared for it for the entire game. It's unlikely they'll deviate from their identity again.
MSU QB Andrew Maxwell hasn't been great and contains many flaws throwing for just three TDs and three INTs. How must the Buckeyes expose him on defense?
Ramzy: Ohio State's terrible linebacking play in pass coverage is the great equalizer. Maxwell should have plenty of opportunities in the flat if he's hesitant to pick on the corners.
Alex: As I said, stack the box and challenge him to throw. The Buckeyes have three corners in Bradley Roby, Travis Howard, and Doran Grant that I feel comfortable with in man coverage. Use that to your advantage and send a blitzer or two to put Maxwell under pressure and make him make throws he hasn't made all season. Also, some press coverage on the boundaries would be nice, as you can bet MSU is going to try and use passes to the sideline to beat OSU as others team have this season.
Sarah: As I said above, force him to throw downfield. The defense will have to focus on Bell, so they can't afford to constantly send blitzers at Maxwell, but the occasional one, especially early, might fluster him. He's about as mobile as the Sparty statue and won't take off running, but he does seem like he could be influenced into turning the ball over,  and we know Ohio State's corners are adept at picking off opposing QBs.
Although Michigan State doesn't have much in the way of a receiving threat, Dion Sims is a quality tight end. He's the guy the defense has to account for most, after Bell. Keep him covered and dare Maxwell and his WRs to make plays through the air.
Does Coach Meyer "free Braxton" this week or will the staff limit his carries, like in the past few weeks?
Alex: I think he "frees" him moreso than in other games. I expect 20 carries from Braxton this game. He is the offense's most potent weapon. Use him.
Sarah: With Hall and Hyde in the backfield together, I think that gives the coaches more freedom and maybe they won't have to rely so heavily on Braxton's legs. On the other hand, if that's what it takes to win, they'll do it. They limited him against the likes of UAB to ease some of the burden off him and to establish the non-Braxton part of the running game, but when called upon, his feet haven't failed us yet this season.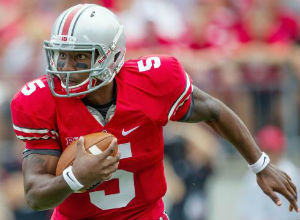 Then again, this is the toughest defense they'll face all year, one that isn't shy from committing a cheap shot every now and then, so Braxton will also have to be protected from taking too many hits.
Ramzy: I think he frees Braxton to start the game, then does that stuff we saw against UAB to develop some other options - with hopefully more success - and then frees him again situationally if necessary.
What is one thing you saw from the Buckeyes against UAB that they absolutely cannot do this week against the Spartans?
Alex: Dumb penalties. There was running into the kicker and then Christian Bryant running his mouth (although the replay didn't look worthy of a flag) that cost the Buckeyes in that game. Those mistakes happen against MSU and it may cost them the game.
Sarah:  They really need to stop taking entire quarters off. Too often this season, the team will go long stretches where it seems like all they know how to do is derp. The Buckeyes have to play much smarter against Michigan State and let their inherent Spartyness monopolize the boneheaded penalties and miscues.
Ramzy: The defense only forced UAB into one three-and-out all day. That's how you lose to any team that isn't UAB.
How many points do the Buckeyes need to score to win this game?
Sarah: Just like last year: first one to double digits wins. Well, maybe it won't be that offensively challenged. Seventeen points might win it for them, particularly if Sparty's WRs continue paying homage to the 2011 Ohio State receiving corps, but the defense has not earned my trust yet, so I'm thinking Ohio State will need to score at least 20.
Ramzy: Every time a matchup screams for the under, both defenses end up trolling everybody into a shootout. Getting to 31 feels safe, especially if Michigan State is forced to score with urgency later in the game. That scenario on the other sideline benefits the Buckeyes, who have shown big-play potential.
Alex: I think they can score anywhere above 21 and win. I really think it will be about the OSU defense slowing down Bell and shutting down the Sparty passing game, especially limiting big plays. The offense needs to be more consistent and stay on the field to limit MSU's opportunities and I certainly think they can do so, which will obviously lead to points.
How many yards do they need to limit Le'Veon Bell to win (averages 152 yards per game)?
Alex: Well it depends how many times he carries the ball, but I will say under 100 and I am happy.
Ramzy: Keep him under 100, but more importantly keep him under 4 ypc. That's how you force Dantonio to break their identity.
Sarah: I'm less concerned with how many yards Bell totals than how he gains them. Considering how blink-and-you'll-miss-it the Ohio State offense can be, either because they score quickly or go three-and-out, I don't think the team can withstand 8-minute long drives from Michigan State where they do almost nothing but hand the ball off to Bell.
But, he was mostly held in check by Ohio State last year, and Central Michigan kept him under 100 yards, so he's not impossible to stop. The defense's goal should be something similar, and if not under 100, at least limit him to below his season average.
Oh god, did I just suggest this defense should imitate last year's team and Central Michigan?
Bonus: #BraxtonYes or BraxtonNo (Big Ten Network's poll on whether or not he was a Heisman Candidate)?
Ramzy: #BraxtonYes
Alex: #BraxtonYes, the numbers don't lie, but this game goes a far way in telling us if he is a contender or pretender in the Heisman Trophy race.
Sarah: Cue the song "I've Seen All Good People" because yes, as of right now, he is. But, it's only September and if the race was decided this month, then Denard Robinson would have 50 Heismans. These next two weeks will very much impact whether Braxton gets that invite to New York. I'm not sure if he ultimately will this season. Next season, though, I think he'll be one of the frontrunners.