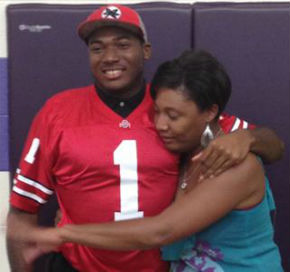 Back in August we brought you the first 11W Recruiting Staff Roundtable, pooling together the minds of Dave, Derek, Miles, and me to bring you the latest news on the recruiting trail.
We told you this would be a semi-regular segment and today, a little over a month later, we have the pleasure of coming back at you again now that Ohio State sits a third of the way through their season at 4-0.
While the 11W Recruiting Notebook takes a week off, we think you'll be pleased with what the Roundtable has to offer.
In this edition, we'll talk about our thoughts on the latest commitments for both football and hoops, what positions are most important to fill for 2013 after watching the team so far this season, where Mike Mitchell and Vonn Bell will end up, and more.
Join us after the jump to hear more from Dave, Miles, Derek, and me on all of these topics, and be sure to chime in with your opinions or inquiries in the comments section below so that we can answer any questions you may have as the fall recruiting season is just heating up.
Tyquan Lewis announced that he will sign with Ohio State last week and will play the VIPER (hybrid LB/DE) position in the Buckeye defense. How important was this commitment to OSU's 2013 class?
Dave: Lewis's commitment is fairly important, as it keeps the defensive line strength stellar and strengthens the linebacker position. I personally believe OSU is pretty set for the next few years on the defensive line and a few guys may leave once they realize they aren't going to be playing every down. Let the best player play.
Miles: Getting Lewis was important for the class. Ohio State is lacking talent at the linebacker position and picking up Lewis helps in that area. Lewis will also contribute along the defensive line as he will play the viper position (DE/LB) and should be a solid pass rusher during his time in Columbus.
Derek: It is more like the icing on the cake.  Ohio State got a great defensive line haul in last year's class, coupled with another outstanding group in this class.  Tyquan Lewis won't be a traditional defensive lineman for this team but he will just add to the pass rush.  More depth in the defensive front seven is always a good thing.
Alex: I am a huge fan of the Lewis commit. Not only does his tape look fantastic, but he looked great at camp back in June when he earned his committable offer in front of the staff, which is something not every prospect can say. He also is a three-time state champion, so the winning attitude is there already.
As for his impact on the field, I think he will be used as ultimately a 3-4 linebacker. He definitely has the frame to put on weight and slide down to defensive end full time, but I think what Meyer wants to see is a guy like Lewis play at 250-255 and maintain his speed and athleticism so that he can be an effective pass rusher off the edge, yet still stop the run and drop into coverage when needed.
Absolutely huge pick-up for where the staff wants this defense to go.
Switching gears for a second, OSU also got a 2013 basketball recruit last week in Kameron Williams from the Baltimore area. What can you tell us about Williams and how he will fit in to Thad Matta's program?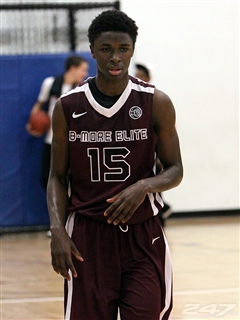 Dave: Williams will immediately fit in well at Ohio State for two simple reasons: he works extremely hard and puts the ball in the hoop. Many think that he should be rated much higher than what the recruiting sites give him, but he doesn't care. Williams does it all; he gets to the hoop for layups, can hit floaters and mid-range jumpers, sinks the three-point shots, and plays great defense.
Miles: The Buckeyes desperately need good classes in 2013 and 2014, after only bringing in one player in the 2012 class. Williams, along with Toledo (OH) St. John's SF Marc Loving, is a very good start to the 2013 class. Williams should fit in as a solid perimeter player in Columbus.
SF Nigel Hayes and PF Noah Vonleh, who just re-entered the 2013 class, are other realistic possibilities in the class.
Derek: He is not the typical Ohio State wing player that has been brought into the program in the past under Matta.  He is more of a outside shooter that doesn't possess some of the length many of the past commits have had, like David Lighty, Deshaun Thomas, or Sam Thompson.  With no superb or specialty shooters on the current team, he will fill a much needed role when his time comes.
Alex: I'm not going to lie and pretend I have seen much of Williams, but from what I have watched and read since he committed, it seems like a good pick-up.
I know he is considered a "wing", but it is my opinion he could play more of a combo-guard role while in Columbus, much like Je'Kel Foster did, or Jamar Butler did in 2006-2007 (or even Evan Turner did), during their time at OSU.
I think his shooting ability will definitely be an asset, but he seems like he's best with the ball in his hands so I expect him to play both the "one" and the "two" under Matta.
Back to the gridiron, with 17 commits on the board, how many do you think this class will end up with? What positions do you feel are a priority for the staff to fill with limited space remaining based on what you've seen this season?
Dave: I am thinking around 22, depending on how things shape up here. The Buckeyes need wide-outs/athletes badly. Jalin Marshall is awesome, but Urban would probably love to have a few options. In addition to offensive play makers, safeties are a must.
Miles: I think there will be anywhere from 20-22 players in the 2013 class and I feel the biggest needs are at wide receiver and linebacker.
Realistic receiver targets include the likes of Shelton Gibson, James Quick, MarQuez North, Devon Allen, Corn Elder, Ryan Timmons, and a couple of others.
Remaining linebacker targets include Mike Mitchell, Courtney Love (Nebraska commit), Daniel McMillan, Trey Johnson (Auburn commit), and a few others.
I think the main focus of the two in the 2013 class should be wide receiver, because the Buckeyes are in good position with several star 2014 linebackers.
Derek: I would estimate that there are probably four to five spots left, dependent upon attrition. The staff would probably like to add a linebacker or two, and a wide receiver or two. 
Looking at who is left, player ratings from all the scouting services, and what I saw when I was at the Ohio State camps back in June, Vonn Bell is the best player left on the board.  Kid is a stud that I am sure is of high priority to Ohio State at this point.
Alex: From what I have been hearing, the magic number is indeed 22. I think the most important positions are at wide receiver, linebacker, and defensive back.
We need playmakers at receiver to make Meyer's offense go the way he wants it to. Speed, speed, speed will be the name of the game, as you can't have enough in this system.
Linebacker is clearly an issue for OSU and while the 2012 commits will help, we need more in 2013 before the 2014 monster haul comes in. Tyquan Lewis is a good start, but I would like to see at least one more "true" linebacker in this class.
At defensive back, not only are there some holes in on-field play, but depth is not great right now. Eli Woodard, Cam Burrows, Jayme Thompson, and Darron Lee will help, but I think one more secondary prospect would definitely close this out strong, especially since Lee may end up lining up elsewhere.
Everyone is talking about Mike Mitchell and Vonn Bell as the two biggest targets left on the board. Where do you think each ends up?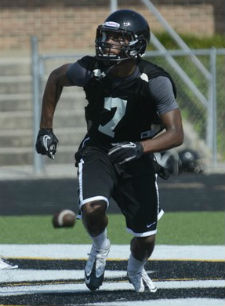 Dave: At a point, I thought Mitchell was an OSU-lock (so did many others), but I am feeling a bit less confident on that front. My guess is Mitchell will probably end up at Florida State, because of the hype around this year's success. Vonn Bell will shock the world (or at least those in Tennessee) and end up a Buckeye.
Miles: I still think Mitchell ends up a Buckeye when it's all said and done. Though he has recently cooled on committing, he still has the Buckeyes as one of his co-leaders along with Oklahoma and hasn't made a trip to Columbus, while he has been to Norman. When he does eventually visit, I expect him to be a Buckeye.
Moving on to Bell, I expect him to stay close to home with the Tennessee Volunteers. Many believe Bell has the Vols on top right now with the Bucks and Alabama trailing. I think things stay this way and he commits to Tennessee.
Derek: From information we have gathered it is hard to imagine Mike Mitchell not committing to the Scarlet and Gray once he makes his visit to Columbus. 
Vonn Bell is more of a wildcard and I'd be completely guessing if I projected his college destination.  My gut thinks it is more of an Ohio State and Tennessee battle, with Alabama not a likely choice. 
Bell grew up a Vols fan and lives within reasonable proximity of Knoxville so I believe he will give them every opportunity to impress him enough to win his signature, but if they fail to, Ohio State becomes the favorite in my eyes.
Alex: Talking about Mitchell, as Derek said, what we have heard still points to trending toward OSU. He has yet to make his visit yet and still holds OSU at the top of his list, a big sign considering he has visited his other favorites, as Miles mentioned. I think Mitchell is a Buckeye whenever that visit happens. If it never happens he will not be in scarlet and gray obviously, but chances of that don't seem great.
Bell is definitely someone who grew up a fan of Tennessee and it appears it was his childhood dream to play there. Problem for him is he knows better than to let his heart lead him to a decision and if the Vols keep going the way they have been in 2012, it looks like the end for Derek Dooley. 
Of course, someone like a Charlie Strong can come in and make an even better case for Bell to end up in Knoxville, but right now I am going with Bell to Ohio State.
Last year Urban Meyer came in and "flipped" numerous players from their commitments to other programs. Will Urban work his magic again and flip any prospects? If so, who?
Dave: I don't think so. 2012 was an interesting year because when Urban was named head coach many players that had OSU interest were committed elsewhere. So, many players re-opened their interest in the Buckeyes once Meyer came on board.
Miles: I think the Buckeyes will flip at least one, maybe two players committed elsewhere in this class.
Possibilities include Holland Fisher (Virginia Tech commit), Trey Johnson (Auburn commit), Daniel McMillan (Florida commit), Courtney Love (Nebraska commit), Sebastian LaRue (USC commit), Mike Heuerman (Notre Dame commit), Khaliel Rodgers (USC commit), and a few others.
I'm not going to guess who flips as it's always a surprise and usually pretty quiet. I think it's safe to expect one to two flips this year because so many players committed early, which is leading to a lot of committed players visiting other programs.
Derek: I think there will be options out there to do so, but it will be tough to maneuver given the limited number of spots available. To list any names as of right now would be premature, disrespectful to the kid (except for those on record claiming a likely official visit to Columbus), and without much merit. 
Alex: I think there will be at least one flip in this class.
I have been talking to a prospect committed elsewhere for some time and he tells me that he has been in daily contact with the Buckeyes' staff. I do not want to reveal the name just yet as it is not fair to the schools or the prospect, but I promise you once the decision is made one way or the other (flip or not) I will tell you who I was talking about. One hint is that he is an offensive player.
As for names to speculate, I think they have been listed above for the most part. Of course there are a few others, but as Dave said, I don't think it will be a free-for-all like last year, due to those being unique circumstances with Meyer coming on board and the whole Penn State fiasco emerging a month before Signing Day.
Keep your eyes and ears open as I think there will be one flip in the class.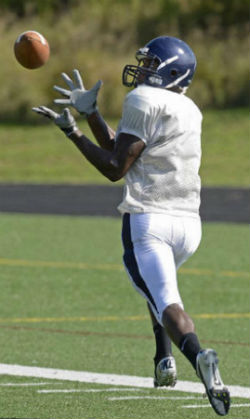 Wide receiver or just playmakers in general appear to be a need for the OSU offense. Which one player out there would be at the top of your wish list and who do you think realistically will come on board to take that role?
Dave: Not a receiver (although he may play some), but just a flat-out playmaker: Vonn Bell. The Buckeyes need safeties for down the line and Bell is the best one remaining. He is my top target and I think the Buckeyes land him.
Miles: The player on top of my wish list is Louisville (KY) Trinity WR James Quick.
Right now, Quick has his hometown school, Louisville, on top followed by the Bucks and Oregon. Quick is officially visiting OSU for the Michigan game where Urban and the staff will get the opportunity to impress the four-star playmaker. It won't be easy, but I think the Buckeyes have a solid shot at landing this one. In fact, if Louisville head coach Charlie Strong leaves the program after the season, Quick could end up to be a Buckeye lock.
More realistically, I expect Cleveland Heights (OH) WR Shelton Gibson to be part of this class and take that wide receiver spot.
Derek: Shelton Gibson seems likely so I would label Marquez North as fitting that description of a "wish list" type of player.  If the official visit does indeed happen for the Michigan game, he is the caliber playmaker the staff will try to lock down before he leaves Columbus.
Alex: At the top of my wish list for wide receiver would be Sebastian LaRue, the USC commit. He is a tremendous athlete and I think he would be the perfect fit in the new Ohio State offense.
While he says he is going to take an official visit, I don't see that flip happening. As a more realistic choice, I think Shelton Gibson ends up in this class if all things check out off the field and I think he will be really good during his time in Columbus.
Finally, who finishes out your 2013 recruiting class?
Dave: WR Shelton Gibson, WR James Quick, S Vonn Bell, then perhaps a late offer to OH OL Lovell Peterson and a surprise like ATH Cornelius Elder.
Miles: I'll say there will be five more players in the class. Offensively, I think Shelton Gibson and James Quick join the class. Defensively, Mike Mitchell and Christopher Worley. For the last spot I'll take a shot in the dark on a potential flip, Courtney Love. Things can obviously change, but these are the five that I'll predict for now.
Derek: Shelton Gibson, Christopher Worley, and Mike Mitchell are who I am pretty comfortable in going with.  With that leaving one or two spots left, it is tough to pinpoint any others with confidence at this point.  Guessing on a pure gut instinct, my last two are Dorian Johnson and Marquez North.
Alex: It's tough because it is early and so much can change, but I will give it a stab.
On offense, I think the Bucks end up with one more receiver in the form of Shelton Gibson. I also think they land the player committed elsewhere that I cannot name at this point in time (sorry again).
On defense, I think Meyer brings in Vonn Bell and Mike Mitchell as already mentioned. I also think Chris Worley of Glenville and Donovan Munger of Shaker Heights are right there. I'm not sure what they are waiting on, but I see one of those two in this class.