A couple of weeks ago we were celebrating the normalcy of a Rich Rod fast start with Arizona's 59-point outburst all over Oklahoma State.
The only problem with that emission is that it occurred nocturnally: Two-thirds of the country slept right through Rod's surprise blowout.
But two weeks following that glorious explosion, Rod's cats were blanked by Oregon, 49-0. Maybe that pleasure cruise with the Cowboys was just an awesome dream.
The Duck defense was rigid and stiff, not nearly as open or accommodating as Oklahoma State's had been. Arizona's offense was sticky all night, unable to get anything flowing. 
Rod's boys could not get up the field to score. Their best attempt was a John Bonano FG attempt that was in the second quarter. Poor guy got kick-blocked.
If there's a silver lining to Rod's massacre, it's that beautiful screen cap: Coach is disappoint. Hopefully his Bonano will be able to get it up next time when the pressure is on.
And once again all that scoring happened while two-thirds of you were sleeping, which means you can pretend it was all a dream. Or perhaps...a phallusy.
Dick joke limit exceeded: It's time to get Situational.
THE DEAD PRESIDENT

Give Sir Anthony Hopkins some facial hair, a whole bunch of Ohio stories and a name nobody has anymore and you'll have a pretty good impersonator for our 19th President.
Rutherford B. Hayes was the son of Rutherford Hayes as well as the brother of...Rutherford Hayes (!) but sadly he never met his namesake or his other namesake as they both passed away before he was born. Tragically, Papa Hayes died during Mama Hayes' third trimester with baby Rutherford. The second one. Or third.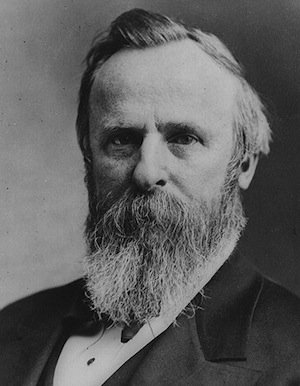 To make matters even more sad, brother Rutherford wasn't even the only one of Rutherford's siblings who died in childhood. That pre-vaccine/pre-Safety Town era was unkind to our youngest citizens on a scale that would be absolutely terrifying today.
Hayes was not related to Woody, but Woody owes a significant portion of his professional career to Rutherford: The then-future POTUS was Ohio's governor when he persuaded his General Assembly to pass the bill that berthed a certain land grant university in Columbus which eventually hired Woody to coach the football team.
He won one of the most controversial presidential elections in history, losing the popular vote but winning the Electoral College in a manner that would send today's cable news monstrosities into a hyper-speed tailspin.
Luckily for the good people of that era, cable news - like vaccines and Safety Town - didn't exist. The societal pests of that era - cholera, tuberculosis, polio - were far less destructive than the cable news of today is.
After serving just one term in the White House - he pledged from the beginning that he would not run again and made good on that promise - Hayes returned to Ohio and served on the OSU Board of Trustees. If you think Les Wexner had juice on the BoT, just imagine a former POTUS making his opinion known in one of their meetings.
History smiles on Hayes and ranks him among the top half of POTUSes, as his presidency is associated with reconciliation with the South, championing civil rights and knocking down that tricky pre-suffrage barrier that kept female prosecutors from arguing SCOTUS cases. 
And, on account of his political muscle, we have The Ohio State University. Well done, sir. Well done.
---
THE SITUATIONAL WAGERS: FICTIONAL BIRD, ANIMAL HORDE, FICTIONAL STORM, SLED PULLER, NON-FICTIONAL STORM


THE FICTIONAL BIRD: Miami Redhawks (-6) over Akron, who just finished charming everyone by hanging with Tennessee which is obviously a really bad te-(scratching noise) SEC! SEC! SEC!

 

THE ANIMAL HORDE: Nevada Wolf Pack (-21) 0ver Texas State, which hasn't given up 60 points in a game yet this season, but they're flirting with it and there's no quit in them.

 

THE FICTIONAL STORM: Tulsa Golden Hurricane (-17) 0ver UAB. Because UAB really is who they were supposed to be last Saturday, and that's a little depressing.

 

THE SLED PULLER: Northern Illinois Huskies (-12) 0ver Central Michigan, who is only good enough to win at Iowa City. Winning at Dekalb in the MAC opener is an entirely different animal.

 

THE NON-FICTIONAL STORM: Iowa State Cyclones (+1) against Texas Tech in Ames, which is where Gameday would have gone if they wanted the most interesting football matchup of the week and were less concerned with ratings. 

LAST WEEK: 1-4 (nailed CMU over Iowa WOOO!) | SEASON: 7-13 (ah, furk)
THE NOWLEDGE

Chances are that you doughnut think about homophones vary often. Chan says are you don't bother them and they don't bother ewe.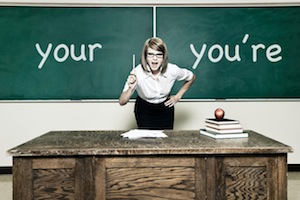 Chances are that the previous to sentences are giving you a my grain. Make that three cent tenses.
Homophones are words that are pronounced the same but carry different meanings. The lady in the picture to the left is not lecturing on homophones; she's probably yelling at her class about pronouns and proper verb conjugation. That, or just pretending to for a stock photo.
If she's an American teacher she's yelling at third graders, many of whom will either forget or ignore the your/you're lesson on account of its homophonic properties.
I openly suffer from homophonia where your and you're are concerned. When coworkers, friends or anyone else fails to properly utilize that third-grade lesson, I judge them harshly, perhaps unfairly. It's a judgment that carries the same scorn as adults who like Hello Kitty or boy bands, even if ironically.
And while homophonia only sounds like it might be a condition rooted in ignorance, it isn't. It's rooted in literacy appreciation. To wit:
My kids call me "Daddy". If this happens to you, then #your a role model S/O to #Dads instagr.am/p/Pt4viyIDZb/

— Crutchfield (@Crutchfield78) September 18, 2012
Hashtagging what should be you're is Crutchfield's not-so-subtle way of poking you in the eye. He knows exactly what he's doing. After all, how many children call their daddies "Daddy?"
@bryandfischer Your not very smart

— John Pittman (@JohnGPittman) September 20, 2012
Mr. Pittman expertly demonstrates the passive-aggressive execution of your an idiot to perfection. This is a professional hit.
#your RT @gtownswapdaddy: f--k off your a tool anyway so it's all good #gobrownies

— Bomani Jones (@bomani_jones) September 25, 2012
Whereas Crutchfield was merely poking you in the eye, Bomani uses the same hashtag to poke all of his followers, as the meaning is likely lost on gtownswapdaddy - whose children call him Daddy for short - or, possibly - gtownswap depending on his role-model aspirations.
I seriously can not stand when people are in a relationship & have it all over Facebook & Twitter.#Your'reAnnoying #NoOneCares

— ⭐ Urbana ✌ (@_Brookke_) September 26, 2012
Poor Brookke is eating her feelings and creating new active-possessive conjugations that are so cutting edge they don't even exist yet.
Imperfect Man you made oh lord..... But yet your still the Same!!!! #your simply Amazing!!

— lakesha mayes (@keshamayes05) September 26, 2012
Lakesha with the Biblical cliffhanger: #your simply Amazing...what? Your Amazing blessings? Your Amazing wrath? Hopefully it's His blessings.
I wouldnt forget you're eyes even if they became as dark as the bottom of the sea instagr.am/p/QDDfLZsxAz/

— Lexus Amanda (@lexusamanda) September 26, 2012
Lexus closes out the sampling with a your/you're reversal layered with an unpressurized, moist simile. Fellow homophones: Don't be ashamed that you hold deep feelings for sanctity of the written word. Identical sounds are limited to speech, which is why phonetic is spelled like that (not really, but it's fun to point that out).
The written word also helps avoid confusion over words like homophone and homo phone. Not sure what the latter is, but I wouldn't recommend doing a Google image search for it.
[does one anyway]
[immediately regrets it]
[clears browser history]
[sets laptop on fire]
THE BOURBON

There is a bourbon for every situation. Sometimes the spirits and the events overlap, which means that where bourbon is concerned there is typically more than one worthy choice.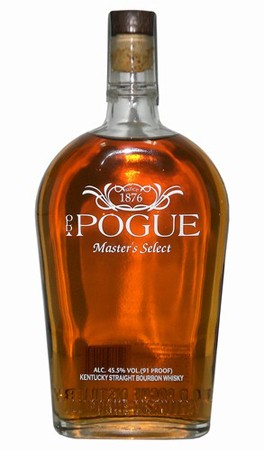 We're on the brink of October, which is the best month on the calendar due to its football saturation and meaningful baseball games. October also features two genuine holidays: Halloween (candy!) and Columbus Day (O-H!).
It's also the #1 month for fake holidays, like Canadian Thanksgiving, National Boss Day, United Nations Day and Sweetest Day, the last of which is known as a Hallmark holiday artificially manufactured to sell more greeting cards.
Well, Sweetest Day may be a fake holiday but it's still real to me, damn it. That's because Sweetest Day a) doesn't have to be about greeting cards, and b) you get to be the Sweetest too, sweetheart.
And since cards are lame gifts, let's talk about the gift that gives back: Gift bourbon.
Gift bourbon follows the same principles as gift wine: You can't go too high due to avoid setting an expensive precedent, and you shouldn't bring anything too mainstream or cheap because it reflects poorly on you - though note that the difference between gifting wine and bourbon is the difference between giving someone a bottle of wine or a bottle of win.
Which is why Old Pogue is the gift bourbon of choice. I've never bought OP for myself yet I cannot remember the last time my bourbon library was without a bottle. All those Canadian Thanksgivings add up, apparently.
Pogue is that reliable utility infielder that bats .280 every year. If you were to smell suntan lotion while thinking about a giant pancake breakfast, that's what Old Pogue does to your palate. It costs enough to clearly demonstrate that you took your gift up a notch, but not three notches.
So celebrate Sweetest Day this October. Buy your lady the gift of Old Pogue - and then help her drink it.
THE PLAY-OFF

One of the most underrated, weirdly situational and oddly delightful hip-hop songs of all time:
Same Song was Digital Underground's marquee track on the soundtrack for one of the worst movies ever made, Nothing But Trouble. America didn't need a funky, layered and superficial butt-shaker for a star-studded movie that everyone knew was going to suck, but it got one. 
This organ-driven masterpiece clashed mightily with the music of that calendar year, which was overwhelmingly dark, terrific and historic: Nirvana's Nevermind, Pearl Jam's Ten, U2's Achtung Baby, Metallica's black album and Red Hot Chili Peppers' Blood Sugar Sex Magic all came out in 1991.
The hip-hop album of the year was the timeless The Low End Theory by A Tribe Called Quest. It was a banner year for music.
Meanwhile, Same Song was simultaneously released on both that dumb movie soundtrack and on DU's EP that year. Its official music video featured Dan Aykroyd in bad prosthetics, because nothing screams funk and street cred - at the dawn of the West Coast gangster rap explosion, no less - like an overweight Canadian actor in decline fumbling around "comedically."
DU was a funkadelic spinoff-slash-improv drama troupe disguised as a hip-hop ensemble. That made it a transitional group between acts like Parliament Funkadelic and that burgeoning gangster rap sound, putting DU on an island by itself between eras, like a California version of NYC's Digable Planets but with approximately 10,000 fewer pounds of marijuana per performer.
Greg Jacobs was two members of the group: Shock G and Humpty. Yet despite one guy playing two parts, the "two" rappers often appeared together what the are you kidding what is this sorcery? They're both the same guy. Jacobs wasn't just rapping his ass off, he was acting as two vastly different characters and rapping two asses off. Actually, one ass doing double-ass duty.
Jim Dright, Kenny Waters and future solo artist Tupac Shakur rounded out the group, which earned its big payday for The Humpty Dance but recorded enough incredible material to merit the title of Most Underappreciated Rap Group in History. <-- according to me, and I'm prepared to debate this in parliamentary fashion
It only peaked at 65 on the dance charts, didn't register on the pop charts and is largely forgotten compared to other notable DU hits like Kiss You Back and I Get Around, which appeared on Shakur's first solo album.
Same Song lacked both easily-definable genre and release timing, but worst of all its most charismatic protagonist - Shakur - was relegated to bit player. He was basically Leonardo DiCaprio on Growing Pains. You can't give Leo a supporting role. They gave Tupac a supporting role.
Which makes it one of those hip-hop songs that time has steadily upgraded, not unlike most of the tracks on the Beastie Boys' poorly-charting Paul's Boutique. And that's what makes good rap great: When it's underrated, weirdly situational and oddly delightful.
See you next week - don't fall asleep on Rich Rod. Again.