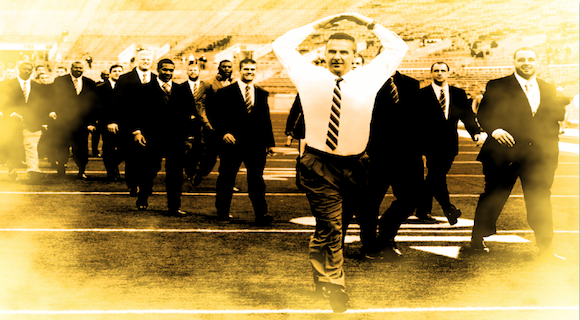 You've witnessed a third of Ohio State's season and it looks far from perfect, unless you focus only on that 4-0 record.
At the same time, you've peeked ahead at the final eight opponents and all of them are severely flawed. Each already carries at least one loss, ranging from bad to worst.
The Buckeyes, deficient as they looked on Saturday against their 37-point underdog visitor, are still in line to accomplish all of their goals.
However, one has taken on more value over the last few weeks of nationally-ridiculed B1G bloodletting: Ohio State's absence in the B1G title game looming menacingly over Jim Delany's crown jewel is no longer a potential embarrassment. It's now the conference's only shot at salvation.
It's that simple. The Buckeyes have to steal the virtual conference title.
Ohio State's tentatively-scheduled but mandatory title game forfeit has been on the books since last November. Finishing atop the Leaders Division and sending a runner-up in its place didn't suddenly emerge as Plan B for a season abbreviated by NCAA sanctions.  
But the circumstances have changed. Simply rebounding from that 6-7 aberration has taken on less importance now that the conference has already piled up over a dozen losses. The B1G might actually be worse than you're willing to accept.
The Leaders Division features just two offenses among the top 50, and they both play their home games in the state of Indiana. The Legends' top offense comes in at 63rd nationally, which is the bottom half of the FBS. Congratulations, Northwestern.
Across the conference, teams are either mediocre or not nearly as strong as expected: Wisconsin's offense is actually tracking worse than Jim Bollman's historically atrocious unit from last season despite having a Heisman finalist in its backfield.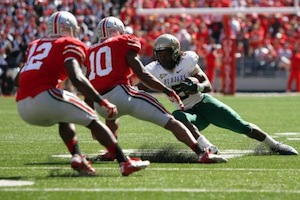 Michigan has looked horrible in prime time twice on national television. Denard Robinson drops back to pass has swiftly become a phrase that brings comfort to opposing defenses. He was supposed to see New York City in December.
The Wolverines were expected to take a conspicuous step back, but Robinson was not supposed to squander Michigan's streak of September Heismans™. If anything he was being counted on to extend it.
Penn State is at the precipice of its inevitable decline. Illinois was just brained at home by a WAC team. Iowa lost to CMU at home. Minnesota is vastly improved to the point where it's back to being on the cusp of a fringe bowl team again. 
Nebraska has a shot at being formidable. This is what passes for upper crust in 2012.
Saturday's ESPN College Gameday Showcase and Ohio State opponent Michigan State already lost at home to a team that has been incapable of scoring more than 20 points against any non-service academy. The Spartans struggled with Eastern Michigan last week the same way the Buckeyes shamefully danced with UAB for far too long.
What this all means in an era where media outlets have successfully aggregated fan bases into Conference-versus-Conference matchups to improve the marketability of individual games is that the successes and failures of individual teams are now being shared. 
So the byproduct of how college football is now delivered is that conference perceptions are either spreading their wealth or sharing in their sicknesses. The dominant trait is what carries the reputation.
A largely-undistinguished SEC is benefiting from its formidable strength at the top. A pedestrian ACC is drafting behind Florida State's resurgence. The Pac-12 has strong tailwinds from Oregon, USC and Stanford along with teams like Oregon State and Arizona State that have already taken BCS scalps - from guess where.
The Big Ten in 2012 does not appear to have a single aristocrat available to carry the flag. Jim Tressel was adept in executing this task for most of the past decade through the bowl season, with the exception of one unfortunate three-year stretch.
This was scheduled to be the second half of a two-year window for any B1G team other than Ohio State to take Tressel's abandoned torch while Urban Meyer used the season to construct his own dynasty. There doesn't appear to be a single taker.
Which is why it has to be Ohio State. They've got to take it back a year ahead of schedule, for the sake of the entire conference.
The Buckeyes' postseason-eligible conference mates are being led to a slaughter this winter. Every team is moving up as many as two bowl slots into an enormous mismatch that will come adorned with all of the standard promotional trimmings the B1G definitely doesn't want this year.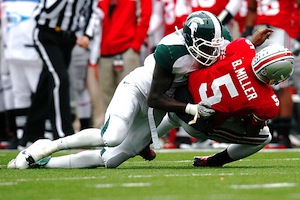 Only one shot at salvation exists, and that's Ohio State taking command of the regular season.
It adds a layer of complexity to the series of gruesome postseason shamings that await what's certain to be several 7-5 B1G teams: The strongest program - the one that still has the most BCS bowl appearances and BCS bowl wins - had to take a flyer this year. That is what created these matchups. 
Sure, the teams are still bad, but the Buckeyes storming through the next eight games would go a long way to balancing the narrative. It would complete the best honeymoon season in Columbus since Earle Bruce brought home Ohio State's most recent Big Ten Coach of the Year award 33 seasons ago, and (if sanity finally prevails) should result in Meyer putting an end to that absurd streak.
The college football landscape is now defined by conferences rather than programs. Ohio State was the conference for most of the last decade. This season, despite its struggles en route to that oddly unsatisfying perfect record, it's positioned to be the conference once again, despite the lack of a 13th game.
So there's only one thing left to do and it will have to be delivered over the course of eight Saturdays: Get the hell out of 2012 with some dignity intact.
This year was already predetermined to be imperfect anyway. If the Buckeyes can simply avoid tripping over the B1G's carcass, they can plunder the narrative and declare victory in November.