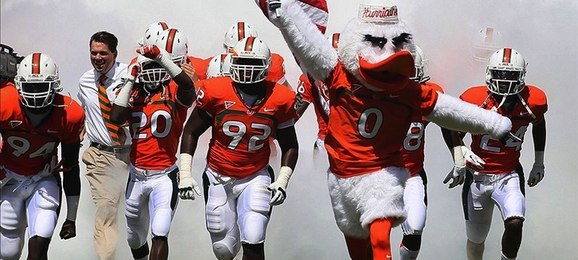 It's been 13 months since Yahoo's Charles Robinson took the scalp of Miami's football program when he published a story dealing an 11-month investigation into booster Nevin Shapiro and his claim of "thousands of impermissible benefits to at least 72 Miami athletes."
The NCAA is still working the case—when they'll arrive at punishment is anyone's guess—but more details have been added thanks to an interview CBS' Bruce Feldman conducted with Shapiro's runner Sean Allen, who also happens to be a former staffer in the Miami equipment room.
While a lot of the details add texture to what is already known about the scandal, there are a few new revelations.
For one, current head coach Al Golden, who claimed to have been blindsided by the scandal, used Allen on the recruiting front. Nothing completely nefarious, but enough to add a few more sparks to a pretty large fire:
Allen testified that on Dec. 17, 2010, less than a week after Golden was hired as UM's coach, he attended a dinner at Dan Marino's restaurant. Allen had been asked by a Miami staffer to bring Teddy Bridgewater -- then a blue-chip high school recruit who had been previously committed to Miami -- to the restaurant, where Golden was eating.

Someone at the table suggested Bridgewater, who was there on an unofficial visit, should order some food, but Allen says, "Golden then turned to me and said, 'That's probably not a good idea. Just feed him on your way home.'
To his credit, former coach Randy Shannon told his players to steer clear from Shapiro:
Allen did say former UM head coach Randy Shannon did try to warn people, both players and staff, about Shapiro: "Randy would say, 'You guys better not be hanging around this guy. He's bad news,'" Allen recalls. "Randy hated Nevin. He told me to stay away from him, but I ignored it. I'd shake my head, 'Yes, uh-huh,' and then go ahead and make more bad decisions."
Feldman's story also sheds some light on the NCAA's case against Miami, particularly why things are moving so slowly:
It is a complicated case, where he says there are many details that are tough to sort out when you're hearing so many different accounts of stories. It also didn't help that two of the three NCAA investigators that Allen initially met with have left the organization.
The best quote from Allen may be this one, however:
Allen says Shapiro wasn't trying to buy recruits. According to Allen, there was a five-star defensive back recruit in the class of 2003 who Shapiro told him he'd spent a lot of money on. The kid ended up signing with another school. "I'm not doing that anymore," Allen recalled Shapiro saying. "We can't outbid these [expletive] SEC schools."
I have this dream and in it, all of the SEC dirt from the past decade will eventually spill out and the six-straight BCS Championships that Mike Slive is so proud of will eventually be viewed as college football's steroid era.
---
The game kicks off at noon today – we'll be live-blogging it up starting at 11:45am – but in other games, it's looking like a pretty meh afternoon before some fireworks at night.
The Big Ten has a real chance of going 8-2 or better, so that should clue you in as far as the competition the league's teams will face today. If Michigan can top Notre Dame and Minnesota can remain unbeaten with a home win over Syracuse, 10-0 is a real possibility, though Illinois giving just 2.5 points to Louisiana Tech is kind of telling in terms of how far the conference has fallen.
Cal at USC will get the evening started but it's on the Pac-12 Network, so you, nor anyone you know will be able to watch it. Still, it will be interesting to see how USC bounces back from their loss to Stanford and whether the show Cal put on in the Horseshoe last weekend was an indictor of things to come or just a sorry team teeing off on a bad defense.
LSU will then murder Auburn, cranking up the heat on Gene Chizik, before Michigan and Notre Dame kickoff from South Bend. Kansas State at Oklahoma and Clemson at Florida State will give us two top-15 matchups in primetime, which is always a good thing™. Finally, Arizona will face Oregon in your nightcap. All in for RichRod!
The full lineup of today's games of note:
| Time | GAME | TV | INTERNET | FAVORITE |
| --- | --- | --- | --- | --- |
| 12:00pm | Maryland at #7 West Virginia | FX | -- | WVU (-26) |
| 12:00pm | Kentucky at #13 Florida | ESPN (Regional) | ESPN3 | UF (-23.5) |
| 12:00pm | Virginia at #17 TCU | ESPN | WatchESPN | TCU (-18.5) |
| 12:00pm | UTEP at Wisconsin | ESPN2 | WatchESPN | WISC (-18) |
| 12:00pm | Central Michigan at Iowa | BTN | BTN2GO | IOWA (-14.5) |
| 3:00pm | Miami (FL) at Georgia Tech | -- | ESPN3 | GT (-14) |
| 3:30pm | Missouri at #9 South Carolina | CBS | -- | SC (-10.5) |
| 3:30pm | Oregon State at #18 UCLA | ABC (Map) | WatchESPN | UCLA (-7.5) |
| 3:30pm | Eastern Michigan at #22 Michigan State | BTN | BTN2GO | MSU (-32) |
| 3:30pm | Idaho State at Nebraska | BTN | BTN2GO | -- |
| 3:30pm | South Dakota at #23 Northwestern | BTN | BTN2GO | -- |
| 3:30pm | Temple at Penn State | ABC (Map) | WatchESPN | -- |
| 6:00pm | Cal at #16 USC | Pac-12 Network | -- | PSU (-7) |
| 7:00pm | #2 LSU at Auburn | ESPN | WatchESPN | LSU (-20.5) |
| 7:30pm | #21 Michigan at #11 Notre Dame | NBC | -- | ND (-6) |
| 7:45pm | Vanderbilt at #4 Georgia | ESPN2 | WatchESPN | UGA (-15) |
| 7:50pm | #14 Kansas State at #6 Oklahoma | FOX | -- | OU (-15) |
| 8:00pm | #10 Clemson at #5 Florida State | ABC | -- | FSU (-14) |
| 8:00pm | Syracuse at Minnesota | BTN | BTN2GO | SYR (-1) |
| 8:00pm | Louisiana Tech at Illinois | BTN | BTN2GO | ILL (-2.5) |
| 10:30pm | #20 Arizona at #3 Oregon | ESPN | WatchESPN | UO (-22.5) |