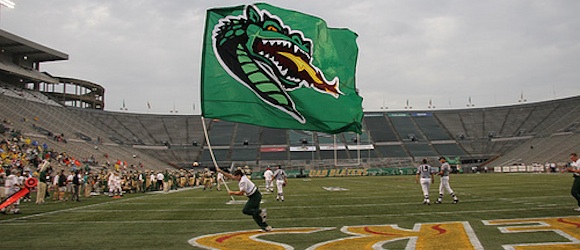 Fun fact: Ricky Williams' son and the Alabama-Birmingham mascot, Blaze, have the same name. No, not kidding. Though I don't believe Blaze Williams is a fire-breathing dragon. And I have reason to believe this is a complete coincidence.
After a disappointing second half against the Cal Bears, Ohio State has one final warm-up game before starting conference play and taking on Michigan State in East Lansing. Steve Irvine, of The Birmingham News, joins us to give an inside look into the UAB Blazers, and what to look for on Saturday.
UAB is 0-2 so far this season, with losses to Troy and South Carolina. How have those two games fared against preseason predictions you may have had for this team so far?
I thought UAB would beat Troy but figured it would be close. I think UAB showed its youth in that game. Obviously, I figured the South Carolina game would go the way it did. I do think the UAB team that lost to South Carolina would have beat Troy.
Fans may not be too familiar with UAB, so what are three quick things you would tell them about the 2012 team to get them up to speed?
1. Garrick McGee, a Broyles Award finalist last season as Arkansas' offensive coordinator, is in his first season as a college head coach.
2. UAB is very, very young with a rotation filled with freshmen and sophomores.
3. Sophomore kicker Ty Long has made nine consecutive field goals dating back to last season.
Can you give us a couple key players on each side of the ball that Ohio State fans should look out for this weekend? 
Linebacker Marvin Burdette is the unquestioned leader on defense. Burdette could finish as the school's all-time leader in tackles and has a team-best 17 tackles in two games this season. Fellow senior linebacker Greg Irvin has 16 tackles thus far. Irvin had four fumble recoveries in one game last season. Wide receiver Jackie Williams has at least one catch in every college game he's played. Williams has 11 catches for 202 yards in two games this season.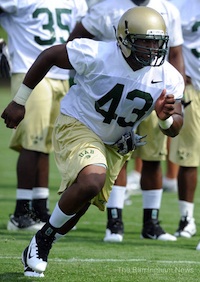 What are the biggest weaknesses of this UAB team that opponents will likely look to exploit the most this season?
I think the biggest weakness is inexperience. They have been hurt by untimely mistakes in the first two games. Another problem in the first two games has been the running game, which is surprising considering they have four capable running backs.
What are the biggest strength of this UAB team that will serve them well this year?
The linebackers are solid and the receivers are top notch. I also think that Ty Long is a strength.
Ohio State struggled in the 2nd half against Cal last week, and ranks 101st nationally in passing defense, while UAB ranks 30th in passing offense. Is this the key to the Blazers' best chance to pull the upset?
Does prayer count as an option? I think getting the passing game going is important. It's extremely important for quarterback Jonathan Perry to start hitting some long balls. He's had open receivers down the field but has not connected. To be honest, though, I think getting a stagnant running game working is what UAB really needs. If they do that, then the play-action passing game will begin having success.
What are your expectations for the rest of this season, and what would you consider a successful season for the Blazers this year?
It's hard to pinpoint the expectations because you don't know how long it will take them to mature and become consistent. I think a successful season would be reaching bowl eligibility. That's only happened once in the program's history and that came in 2004.
Do you have a game prediction for this Saturday?
It will probably be similar to last week's loss to South Carolina. UAB will hang in for a while before finally getting worn down.
---
Thanks to Steve Irvine of The Birmingham News. You can read more from Steve here:
Twitter: @steveirvine04