Under a deep blue sky with rays of sunshine splashing Ohio Stadium's 105,092 occupants with a golden hue, freshman linebacker Storm Klein took the field.
A four-star recruit, Klein was rated the 11th-best linebacker in the country for the Class of 2009 and hailed from just up the road in Newark. Committing to Ohio State was a no-brainer.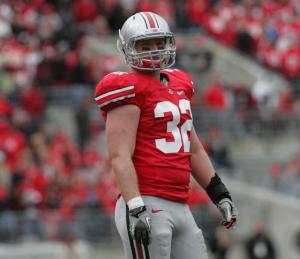 Now, on the opening kickoff of the 2009 season with Ohio State ranked No. 6 in the country, Klein was receiving his college football baptism.
Last Saturday against California, in his senior season, the same sensation rushed over Klein.
"It was an amazing feeling," he said about being back on the field. "It felt like the first time I was running back in there again, just making the most of the opportunity."
Expectations were high for Ohio State and the defense this season. Entering his senior year, Klein was battling for the starting job at middle linebacker after Curtis Grant supplanted him in the spring.
During his career, Klein has appeared in 39 games, including 10 starts at linebacker in 2011. He has 75 career tackles and two interceptions. But last season was by far his most productive season on the field.
Klein finished with 45 tackles (two tackles for loss and a sack), an interception, a forced fumble and a fumble recovery. Perhaps his finest moment came against Penn State when he had a hand in four consecutive tackles as Penn State tried to score on 1st-and-goal from the two-yard line. Klein had a career-high six tackles in the losing effort. 
But on a warm, muggy night in July, Klein's career caved in on itself. 
In the late hours of July 6, an ex-girlfriend, who's also the mother of Klein's child, showed up at the linebacker's off-campus apartment. An argument ensued and Klein asked the woman to leave. That's when the altercation that would put his playing days on hold was said to have turned physical.
Hours later, Klein was charged with domestic violence and assault against the former girlfriend. Making matters worse, he was dismissed from the Ohio State football team shortly thereafter.
"The charges filed against Klein violate the core values of the Ohio State football program," head coach Urban Meyer said in a release after his decision. "As a result, Storm has been removed from the team. It has been made very clear that this type of charge will result in dismissal.
"If there are any changes in the charges, we will re-evaluate his status."
The swift action from Meyer came a month after Jake Stoneburner and Jack Mewhort were arrested for obstruction of official business after urinating in public and then fleeing from police. They were suspended from the team during the summer and relieved of their scholarships. After completing unspecified tasks, the duo was reinstated to the team ahead of fall camp.
Meyer's no-nonsense approach to violence against women made his decision rather easy. But it would become more complicated in the coming weeks.
Klein maintained his innocence from the outset of the case. At his arraignment he pleaded not guilty, and his attorney vocally supported Klein throughout the process. 
"A lot of prayer went into it," Klein said. "I stayed focused and hoped for the best."
Six weeks later, Klein pleaded guilty to a lesser charge and was reinstated to the football team. His attorney said the charge was the equivalent of "making excessive noise." Klein was sentenced to 18 months of probation.
"As I had indicated previously, if there are any changes in the charges against Storm, I would re-evaluate his status," Meyer said. "The charges that would have violated our core values have been totally dismissed. I have spoken extensively to members of both families and that has prompted me to reassess his situation and allow him back."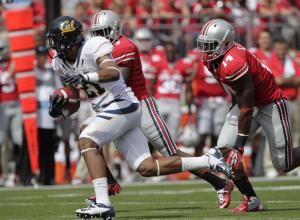 There was a caveat, however. Klein would be suspended at least the first two games. Practice time would also be spent with the scout team. Not only would he be serving in a reserve role, Klein was low man on the totem pole. But after nearly a month of practice time, he surpassed Connor Crowell and entered the California game as Grant's backup.
"Is he going to play more? Yeah,"  co-defensive coordinator/linebackers coach Luke Fickell said. "We've got to get him back in the mix some more.
"This team needs him. We need him. We're going to continue to put the best 11 guys out there we can."
On the Golden Bears' second possession, Grant fell victim to the whiff as Cal running back Isi Sofele eluded most of the Ohio State defense. Mistakes, especially missed tackles, are not tolerated, so Klein was inserted into the game. He ended up seeing action in about a dozen plays, nearly splitting reps evenly with Grant while Ohio State ran its base defense. Klein finished with two tackles.
"I picked up right where I left off," he said. "We're just trying to get a win every week and I'm trying to help the younger guys get better.
"I feel really good. There are a lot of guys that are able to play this year, so we are splitting some reps and it's not hard on our bodies. We're doing a good job."
It's usually on Senior Day when emotions rise for fourth- and fifth-year players. For Klein, that experience – an overwhelming mix of appreciation and excitement – will take place twice, last week and Nov. 24 against Michigan.
The walk to St. John Arena and then across Woody Hayes Drive, through the rotunda and down the ramp into Ohio Stadium was not foreign to Klein – he had traced those steps on 22 previous occasions. It carries more meaning, though, once it's been taken away.
"Coming in to the stadium was really special," Klein said. "I didn't know if I was ever going to be able to do it again. Just to come in, it was touching.
"Even warming up before the game, it was surreal."
When Klein rejoined the team in late August, it didn't take him much time to get up to speed and become conditioned. During his hiatus, he worked out at his high school whenever the opportunity presented itself. The terminology and schemes on the defense are also similar to the last three seasons, so his learning curve was expedited.
"There are a couple different checks, but I came back in and knew what I was doing," Klein said. "It was pretty simple. It's football."
The elation and adrenaline wear off eventually. And it was no different with Klein. When he was asked about all the missed tackles – several of which he was responsible for – the conversation had a tone of realism. 
"I believe in our guys," Klein said. "Our D-Line is great, our linebackers, everyone through. There were a couple plays where they hit some big plays on us. It was just a couple missed tackles.
"That's part of football. When you're playing against good teams, you're going to play against backs that can make you miss. That's why we have to have 11 guys go to the ball so if someone does miss someone else is there."
Klein said the players have done a poor job at executing when the coaches put them in a position to make plays.
Prompted to give himself a grade, Klein chose to concentrate on what can improve, not highlight what he did well.
"I can get better," he said. "I played all right. There were a couple plays I over-pursued. There are definitely areas we need to work on. The defense needs to take away big plays.
"Hopefully we just keep winning."
Returning to the playing field is already the biggest victory of Klein's season.