Sometimes statistics don't tell the whole story. One look at the stat sheet on Saturday may have led someone to believe Ohio State lost to California.
The Golden Bears racked up 512 yards and outgained the Buckeyes by 100 yards. Ohio State had 11 penalties for 101 yards, including five personal fouls. Cal's third-string running back, Brendan Bigelow, had 160 yards on four carries, reaching the end zone twice.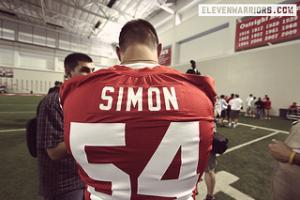 That's just a sample of the myriad numbers that were not in the Buckeyes' favor. It doesn't tell the story of Ohio State's 35-28 victory.
One look at the defensive stats indicate, perhaps, that All-American candidate John Simon was irrelevant. His lone tackle was a drive-killing sack in the third quarter, though. And head coach Urban Meyer said after the game that Simon's jersey should be retired.
Hyperbolic statements about Simon aren't out of the norm from Meyer, however, so the shock value was low when the love was espoused once again. That is until Meyer mentioned the impassioned speech that Simon, with tears flowing down his cheeks, delivered to his teammates in the locker room following the win.
"John Simon played hurt today," Meyer said. "(He) gave a little emotional speech in there.
"Boy, he just lost it in the locker room as far as just sharing, opening up his soul for this team. I've done this a long time, and he's as good (as they come). You mark that down. Can you put a jersey up there or something that says John Simon because that's a grown ass man, excuse my language. That's a guy."
It's another chapter in the lore of Simon.

The injury was treated like the United States' nuclear launch codes and kept under wraps during the week. Meyer said the defensive coaches just told him Simon was battling a shoulder injury and that he'd be fine for the game. In reality, the situation was much more serious. Simon was a game-time decision, though it likely would have taken a torn rotator cuff to keep the senior captain off the field.
As Meyer put it, "When you say sore, for most human beings, they're probably laid up in the Ohio State Medical Center, because that's how tough he is. And he goes so hard."
Aside from his sack, Simon pressured Cal quarterback Zach Maynard throughout the game and helped attract extra defenders at times. He also rendered the baby names book useless for Urban and Shelley Meyer.
"If we have another child I want to name him Urban John Simon Meyer," Urban said. "That's how much I love the guy. I'm not ashamed to say I love him. Love that guy."
As Meyer stood at the podium listening to the media pepper him with questions about the escape act performed a little more than an hour earlier, the victory bell in the southeast corner of Ohio Stadium rang. There was another thud in the room – Meyer's fists against the wooden dais. But if it weren't for Simon, the 28 points and 500-plus yards may have been much worse.
"(Simon) makes all of us look in the mirror and say, 'Are we doing enough for our team?'" Meyer said. "Are we doing as much as he's doing? No. We've got to do more. Got to do more, got to get you fired up. And that's what this great game teaches you."
So what did Simon say that stirred everyone's emotions, especially after the defense allowed its most yards since 2005 and the most at Ohio Stadium this millennium? It was the same team-first, hard-working mentality that spilled over. Few players in Ohio State's long, illustrious history have been as dedicated to the betterment of the program like Simon.
"I wanted to go out there with the team and help any way I could," he said. "I felt like I had to be in the game. I'm not that dinged up. I feel pretty good right now. It's college football. It's your job, especially as a leader, to be out there on the field."
Simon said he thanked his teammates for allowing him to be on the field. But the glad-handing should be the other way around, like Meyer exhibited in his postgame press conference.
"I try to say things that are important," Simon said. "If I feel I don't have anything very important to say, I probably wouldn't say it, so that makes everyone listen when you speak.
"In the spirit of the moment and all the emotion that went into the game, I wanted to tell them how I felt. I tend to show my emotions pretty often, maybe not so much with you guys. The team knows how I am and I'm always there for them no matter what."
It wasn't just the head coach that responded to Simon's words with motivation and reflection; his teammates were also moved. At 4:30 p.m. on Saturday afternoon, the Buckeyes were already eager for noon seven days later. Poor Alabama-Birmingham.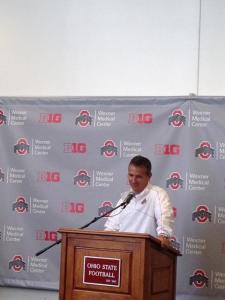 "We need a guy like (Simon) to calm us down," senior defensive end Nathan Williams said. "It shows he's giving his best and that he'll always be there for us. It's the same for everyone that plays. We've got to count on each other and stick together. You know he's always going to be first in line."
Simon's Sermon could be the season-changing discussion that needed to happen for the Buckeyes, most notably on defense. Ohio State missed tackles by the bushel on Saturday and allowed Cal to execute a number of plays that gained 20 or more yards.
No, he isn't a coach. But he's a two-time captain that commands respect not only from the head coach but also from his peers.
"John Simon is the heart and soul of the defense," said safety Christian Bryant, who had the game-clinching interception. 
Even the offense was inspired by Simon's no-nonsense, blue-collar approach. It's usually reserved for the rugged in-the-trenches life on defense, but wide receiver Devin Smith uses Simon as a blueprint for individual and team success.
"You love that guy," Smith said. "It motivates me, seeing a guy who's going to play in the NFL and the way he works. I want to emulate some of the things he does so I can make it there."
While everyone was swept up by moving words and a motherly dedication, Simon shied away after questioners grilled him on the postgame scene. His euphoria was centered on winning a game and continuing on undefeated.
"I was so excited for that win," Simon said. "That was a great win for us. Guys showing they'll fight to the end and handle the adversity. We're a scrappy team."
The way the schedule falls Simon can probably afford to miss the UAB game, if needed. The Blazers are an annual cellar dweller in the Football Bowl Subdivision. And if he doesn't suit up, don't expect him to sit calmly on the sideline. He'll be right there next to Luke Fickell and Mike Vrabel encouraging – or is it yelling? – the defense.
Simon lives like a gargoyle. Outside Ohio Stadium, he's a calm individual who keeps his emotions in check. But when he steps into that concrete-shaped horseshoe, his outer shell cracks away and a new Simon emerges.
"John is the type of dude who is typically stoned-faced and stoic," offensive lineman Jack Mewhort said. "He's not excitable and he leads by example. He just broke down and opened up to us. It was cool to see that from someone like him, a leader, captain and guy we all admire.
"It is something I know I'll remember for a long time."