The 2012 football season is a special one for Ohio State.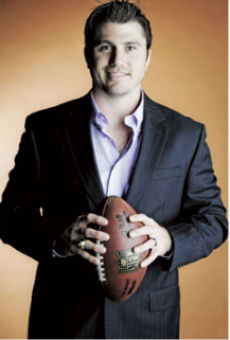 Not only is the Urban Meyer Era beginning for the Buckeyes, but this year also marks the tenth anniversary for the program of the 2002 National Championship team.
After much chatter on Twitter last week, it seems all but official that the team's members will be invited back to Columbus for the Michigan game on November 24, where they will be honored either before the game or at halftime for their efforts a decade ago in achieving a perfect 14-0 mark and bringing the crystal football to Columbus.
One of the players who will be there to receive the honor is former Ohio State defensive back, Dustin Fox.
Fox, a Canton native and GlenOak alumnus, was a four-year starter during his time in Columbus, including his sophomore season in 2002. He, along with Chris Gamble, formed one of the best cornerback tandems in the nation that year, and was an important part in the magical title run.
We were fortunate to catch up with Dustin to talk about his time in the NFL, discuss his current career in sports media, look back on the national championship season, and more.
Join us after the jump to hear more from former Ohio State defensive back, Dustin Fox.
I think everyone here remembers your great career at Ohio State, but can you walk us through your time leaving Columbus up until your current position?
I got married during my senior year and then was fortunate enough to be drafted by the Minnesota Vikings in the third round in 2005. I broke my arm in training camp so I had to spend the season on the IR. The following season Brad Childress and his staff came in, but I got cut at the end of training camp.
I then signed with Philadelphia and was on their practice squad. I got activated for a few games that season, which was great, but was cut during the following season's training camp.
I finally found somewhat of a home with Buffalo and spent two and a half years with the Bills. I was cut in 2009 and tried to continue playing, but I knew it was time to start looking for a back-up plan.
My brother did medical sales and got me an interview with his company. They hired me and I did that through 2011, while also doing some TV and radio on the side for WEWS Channel 5 and WKNR AM 850. 
I knew I wanted to do broadcasting full time so I started looking around and a job came open on WKRK-FM 92.3 The Fan in Cleveland. I interviewed for the job after I was recommended to the station and caught a lucky break to be hired there in August 2011.
How are you enjoying your time as a full-time radio personality and member of the broadcast industry?
I love it. It's a lot of work being in the station and talking on-air for five hours every day, but it's great.
Anything outside of the job you're currently doing that you want fans to know about?
Yes, I'm a father. I have a daughter who is turning three in November and my wife and I are expecting our second child in February.
Obviously this is the 10 year anniversary for the 2002 National Championship team. Who do you still consistently talk to from that team?
I'm still friends with all the guys when I see them around, but the people I talk to all the time are Mike Doss, Brandon Joe, Simon Fraser, Tim Anderson, and Maurice Hall.
How excited are you for the reunion at the Michigan game? Are there any guys from that team you're really looking forward to seeing?
It's going to be fun. I didn't know about it until Doss told me it was happening for sure the other day, but I'm excited. I'm really looking forward to seeing everyone, but maybe Maurice Clarett, if I had to pick one. I haven't seen him in about 10 years. 
So Clarett will definitely be there? What about Jim Tressel?
Yeah, I spoke to Maurice on Twitter the other day and he'll be there. Tressel, I don't know. I know we're planning some other stuff that weekend like dinners and get togethers and I'd bet he'll definitely be there, but I'm not sure about the game. We'll see.
Looking back on that special season, what is the one play or moment that stands out to you?
Holy Buckeye, no question. I actually went back and watched it the other day.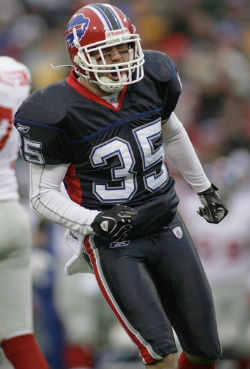 What were you thinking right before that play?
There was so little time left and fourth and one, I don't know, it happened so many times that year. I thought the game was going to be over, but when Krenzel threw the ball and it was in the air, I had a feeling something special was going to happen and it did.
Was there a play of yours that you look back on and think helped or played a big part in preserving perfection?
Oh man, there were a bunch of plays we all made that year. I'd probably have to say my interception in the Fiesta Bowl. That was a special moment for me.
Speaking of the championship game, what was the team's mindset heading into that contest?
We just took on the underdog mentality. We were disrespected and that put a chip on our shoulder. We wanted to prove everyone wrong.
Be honest, how much trash talking went on in that game?
It was pretty much all them. They were arrogant. Kellen Winslow talked so much smack that game.
During the season did Tressel talk about the undefeated season at all?
I don't remember really if Tress ever said anything about it during the season, I just knew we were always taking it game by game. Tress always said people will remember you by what you do in November, so we had to get to November first.
What was your take on Maurice Clarett as a teammate during the season? It had to be hard knowing how much he meant to the team on the field, yet that his off-field actions could cost the team one day.
I really don't think anybody thought much about it at the time. Of course I was a defensive guy so I didn't spend as much time with him as others did, but there were never any issues on my end with him.
What was Craig Krenzel like in the locker room?
Krenzel was a clown and kept us loose. He was a very smart and likeable guy. He was respected by all and we trusted him. We knew he would always get the job done when we needed him to. He was a great leader.
Who was faster: you or Chris Gamble?
I don't know, that's a good question. I'd say me, but I know he'd say him. In reality, the fastest guy on the team was actually Drew Carter.
Who was the best quarterback, college or pro, that you ever played against?
Aaron Rodgers.
What was the toughest jump from high school to college? College to the NFL?
From high school to college you are going from being a boy to becoming a man. From college to the NFL, everyone is big and is a man, but it's the speed of the game that is so different.
What are your thoughts on Urban Meyer at Ohio State?
We've had him on the show a few times and I've also been able to meet him a couple times. He's a winner. He's going to win a lot of games at Ohio State and man can he recruit.
Through the first couple games, what are your thoughts on the 2012 Buckeyes?
The Bucks are a good team. They're not there yet, though. I hear a lot of people talking about them going undefeated, but I'm not sure that's going to happen. The schedule is definitely favorable for them, but it's still going to be tough with some good opponents and tough road games ahead.
Big thanks to Dustin for his time. You can follow him on Twitter @DustinFox37 or listen to him every weekday Bull and Fox (@BullandFox) on 92.3 The Fan.