We're back for another RoundTable and this week's opponent: the University of California Golden Bears.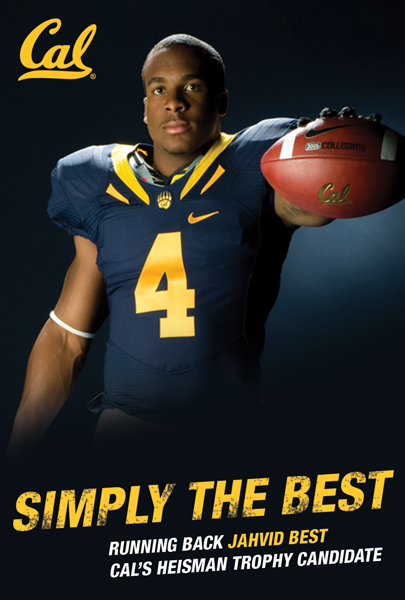 This week, we were able to hear from another triplet of Eleven Warriors' best and I'd like to thank Jason, Johnny and Ross for their participation.
 As Kel from Kenan and Kel—for those children of the 90's—liked to say, "Ahhh, here it goes!"
With two weeks in the books and on to an actual "BCS" opponent, what are your expectations for the Buckeyes against California this Saturday?
Johnny: My expectations are pretty much the same as they've been during the previous two games: steady improvement from the offense and a defense that puts pressure on the opponent's passing game. Last week was kind a regression in both of those areas, so I want to see basically the opposite of that. "Pro"-gress, as it were.
Ross: My hope is that we see a cleaner game, where OSU cleans up the mental mistakes they have been making on both sides of the football (running the wrong play on offense, blowing coverages on defense).  I also hope to see OSU play a full four quarters.  If they do that I think they should put in a solid showing against Cal.
Jason: I think we'll see Ohio State's best game of the young season. Players will be up to play a Pac-12 foe and the offense has had a few in-season weeks to study film and make tweaks. Defensively, Meyer is becoming more involved (see the insertion of Orhian Johnson) and I expect the secondary and coverage schemes were given a lot of love this week in practice.
Bri'onte Dunn is first on the depth chart this week with injuries to Carlos Hyde and Jordan Hall. What kind of load will the staff give Dunn? Will they trust him at the same capacity as Carlos Hyde?
Jason: Meyer's "next man up, be ready" attitude means that Dunn will likely see a similar load to what Hyde was seeing before his injury. It will be interesting to see if they attempt to run Miller less, but unless the game is a blowout, I imagine we'll see another 20 carries or so from him.
Johnny: Meyer and company seem to have different standards for trust in terms of carrying the football as Tressel did. I'm pretty sure that if Boren fumbled the ball last week with Tressel as coach, a giant red X would've popped up in Jimmy T's brainpan whenever it was suggested that Boren have another carry.
My point is, they're going to trust Dunn because he's one of the best remaining options; being young and/or inexperienced really doesn't factor into it.
Ross: Short answer—no.  My longer explanation is two-fold. First, while Dunn has shown a ton of promise carrying the football, he was responsible for many of those mental mistakes. I'm just not convinced he is ready to be a full-time starter. Second, I think that Jordan Hall will play extensively this Saturday. He was the starting tailback this spring for a reason, and is sorely missed by the Buckeyes, not only for his versatility but also his ability to carry the football in-between the tackles. As I answer this all signs are good that he is ready to go. I don't expect Hall to play all the snaps, but I do expect him to play significant minutes. As a side note, I'm not convinced that the coaching staff fully trusted Carlos Hyde to carry the football. His opportunities were fairly limited even before he was injured.
It seems like plenty of freshmen are getting a solid amount of playing time including (but not limited to) Adolphus Washington, Noah Spence, and of course Bri'onte Dunn. Which freshman or freshmen do you think will move to first on the depth chart by season's end?
Johnny: Washington and Spence are going to be fixtures on the d-line probably within the next couple of games, which is a combination of them being extremely talented and the rest of the line kind of looking like butt so far.
Ross: Well, Tommy Schutt literally started the game and was first team in the base defense, and Washington and Spence were first string in the nickel defense, so I guess I would say them, haha. I think those three are the ones that will continue to get the most time, but I think they will all play situationally because none of them are well-rounded enough yet to play every down.
Jason: That's a tough question because the defensive line platoons so often that even though Washington and Spence could be playing quite a bit by the end of the season, they may not necessarily be the ones on the depth chart. I still think we'll see Michael Thomas crack into the starting lineup before it's all said and done, whether via injury or talent/work ethic.
Braxton Miller was supposed to be limited in his carries this past weekend and Meyer has made the world aware that he needs to carry less of the load offensively. How can the staff spread the ball around the field to make Miller's life a bit easier?
Jason: We may see Meyer and Herman start to work more underneath routes, particularly to Stoneburner. It's a great way to take pressure off of Miller's legs while still moving the chains with relatively safe, easy plays. They may also work to get Corey Brown involved more with handoffs, reverses and the like.
Johnny: Tight ends, tight ends, tight ends. Popular at dance clubs and in Wisconsin offenses, I think that Meyer and company need to get those dudes more involved in the passing game. I'd almost like to see them function as ridiculously sized fullbacks, getting screens in the backfield and just plowing their way for 5-7 yards at a time.
Ross: Well (start shameless plus) I discuss some of this in my offensive breakdown this week (end shameless plug). As I said there, that number of carries is somewhat inflated by the fact that Miller had to eat the ball on 5+ broken plays. Further, I expect Miller to carry in the 15-18 range every game because that is the offense OSU is running and he is the biggest threat.  Nonetheless, I think some of those carries will be reduced by Hall's return as well as an increasingly bigger role for Corey Brown on option pitches, etc.
Through two weeks, if you could grade the defense, how would you grade the defensive line, the linebackers, and the defensive backs? Who needs the most work?
Ross: The back seven.  The pass rush problems are caused in some part by teams scheming around OSU's D-Line. While a better pass rush would help, that is not causing the primary issue, which is giving up plays of 20+ yards. That is being caused by breakdowns in the back seven in the form of blown coverages, poor pursuit angles, etc. That being said, I would say overall the defense has been a B right now. If they stop giving up those plays they can move up to an A-.
Johnny: The secondary is still out of position far too often, and the linebackers and d-line have been nothing special either. As a high school teacher, my personal grading system is a highly polished and refined calculus for assessing growth and achievement, and as such I give all three units a decided "Eh."
The DBs still need the most work. Lack of talent I can forgive, but constantly being out of position as they've been bugs the hell out of me.
Jason: The defensive line has been solid, if not spectacular -- let's call them a B+. The first two opponents featured quick drops and schemed to take away Ohio State's defensive line advantage. Not all teams will be able to do this so expect to hear some noise from them as the year progresses.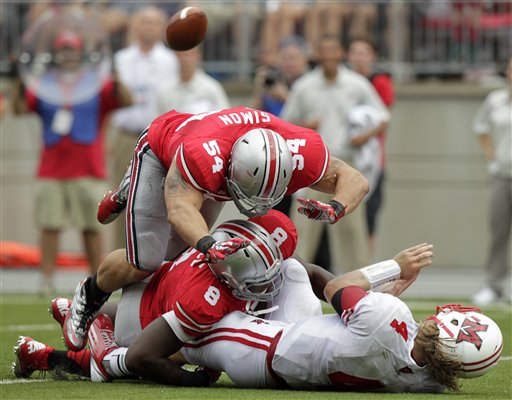 The linebackers have been good. Again, nothing exceptional, though. We're still waiting on Ryan Shazier to skyrocket, while Sabino has played well and Grant has been worthy of his starts in the middle. I'd give this group a B.
The secondary has been the polar opposite from what we saw under Tressel. His groups were fundamentally sound and were rarely caught out of coverage position, but they weren't exactly ball hawks. Contrast that with this group. The team is in the top 10 nationally for interceptions, yet we've seen numerous coverage breakdowns from what was expected to be a strength of this team. At this point, they probably rate a solid C.
Cal has given up 31 points in each of their last two games. If all works out well, how many points could the Buckeyes realistically score against the Golden Bears?
Johnny: If OSU is hitting on all cylinders, they should easily be able to put up 50 plus because if Southern Utah can ring up 31 then a blindfolded Kenny Guiton and a peglegged Jordan Hall should be able to equal that by their lonesome. Since things aren't THAT bad quite yet, I think the offense should put in a better performance than what we saw last week against an underrated UCF defense.
Ross: 40-50. OSU could have scored that last week but for their own mistakes. This offense can produce points quickly.
Jason: On a good day, this Buckeye team will drop 40-something on the Bears.
Who's one offensive player that you expected to have had a lot of production at this point who really hasn't met your expectations?
Ross: I don't like this question because expectations are all relative. But if I had to pick I suppose it would be Jake Stoneburner. That is not to say that Stoneburner has done anything wrong. He has caught everything thrown his way and has blocked really well on the edge.  Rather, I think the coaches are still trying to figure out where he fits. I'm not sure he's explosive enough off the line to play WR, but the problem for OSU is that they only have 1 H-Back spot, and Zach Boren needs to be on the field also. But right now Stoneburner is functioning as a solid B option rather than as a primary weapon.
Johnny: Stoneburner, easily. Maybe he's a shade slower than we thought, maybe he's suffering some poison ivy-related impairment, and maybe he's just not that good. Whatever the case is, he's not stepping up. Maybe we should've gotten the 40 times of the cops that were chasing him and tried to compare times. Really, that's our fault for not doing our due diligence.
Jason: Stoneburner would be an obvious choice. Four catches through two games? I don't think anyone anticipated that.
Bonus: Will Braxton Miller be on the Heisman short list at any point this year (I'm talking post week 8 discussion)? He currently has 7 total TDs and had 20 total last year.
Ross: No question about it simply because he will continue to compile an impressive stat line but he is nowhere near his ceiling yet, particularly as a passer.
Jason: Yes, absolutely. If he stays healthy.
Johnny: Maybe? The dude already has 300 yards rushing this year, and as Disco Stu once said, "If these trends continue... eeeyyyyy!" On the other hand, if those trends continue he'll probably be dead by midseason. My guess is, he's one of those goofy sleeper picks until the Michigan State game, where he falls back to earth a little bit and is just consistently awesome without a lot of attention for the rest of the year. Which, by the way, I'm 100% okay with.
---
There you have it. Another edition of the RoundTable. Stay tuned next Friday for the UAB part of the series.