Wednesdays are usually mundane and uneventful. But today's post-practice interview session was anticipated because of the uncertainty surrounding Ohio State.
Who will start at running back? Will Jordan Hall play? What is the status of Nathan Williams and Michael Bennett?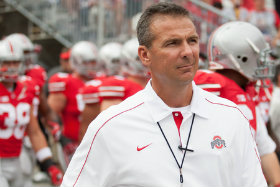 Answers to those questions were given.
Meyer said the starting running back will be announced Saturday.
Hall and Williams will play.
Bennett isn't likely to play.
Meyer reiterated what he said on Monday, saying Bri'onte Dunn, Rod Smith and Zach Boren are battling for carries. Hall is also in the mix, and Corey "Philly" Brown could get looks in the flat.
Thursday will be the biggest day of the week for Hall, Meyer said. He had a good Wednesday, which was his first day of practice.
Hall felt good after practice. It sounds like cutting and things of that nature aren't an issue.
Meyer said he's not concerned about ball security with Hall. He also said Hall is fine with conditioning and knowing the offense.
Smith will be a member of the "freak show" punt-block team this week. That is a huge step, according to Meyer. He said there are small victories as your career progresses and Smith being on the punt-block team is one of them.
Storm Klein is eligible to play this week and will see action.
Meyer said he's gotten to know Klein better the past few weeks. He said Klein's shown a great deal of humility.
Kyle Dodson is fine. He passed out on the field during practice Tuesday. Meyer called it a scary moment. He said Dodson had been ill earlier in the day and did not tell the trainers.
Feast or Famine. That's how Meyer described the Cal defense. They've led the Pac-12 in tackles for loss the last few seasons but are also prone to giving up big plays.
A few days into the week, Meyer said he still isn't happy with the pressure from the defensive line.
Asked what a good number of carries for Braxton Miller is, Meyer responded, "Fifteen."
Meyer said Bradley Roby will have to play "grown-man football" this week against Cal's Kennan Allen.
Blake Thomas and Tyvus Powell had their black stripes removed.
Miller said Dunn has looked good in practice. He said Dunn has been nervous and that there is a lot going on around him.
After 27 carries against Central Florida, Miller said his entire body was sore on Sunday. He came in that day and got treatment and sat in a cold tub.
Hall looked good in practice, according to Miller.
Getting Brown and Devin Smith the ball will be a priority this week, Miller said.
Smith said the offense has been working on a lot of pass plays this week in practice.
Brown has been the target of a number of throws.
Hall's presence on the field makes a big difference, according to Hall. He added that Dunn and Smith get better every day.
With the weird defensive sets Cal runs, Smith said they will test the OSU offense's "manhood."
Boren said he's encouraged by what Hall showed in practice.
Two games into the season, Boren said he doesn't really know his role in the offense. But he said it's exciting to go into a game and not know exactly what's in store.
Communication is the biggest thing for the offense to excel at this week against the Cal defense (or any defense), Boren said. The broken plays last week were a big problem. He said the offense just wasn't on the same page working together.
Boren said Brown's role has grown bigger.
Johnathan Hankins said Meyer tells them simply to beat their man when they come back to the sideline after not applying pressure.
Hankins said Meyer asked why they can do it in practice but not the games.
Bennett's absence has been a problem, according to Hankins. He said they need him out there soon.
On that topic, Hankins said, "Hopefully, we get him back this week."
Roby said going against one of the best receivers in the country motivates him.