The Central Florida game went in the win column for Ohio State, but that didn't stop head coach Urban Meyer from stewing over his team's lackluster performance in the 31-16 victory on Saturday.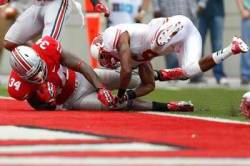 Two days removed from the game, Meyer pointed out how the team failed to properly execute his "Plan to Win."
"We did not play great defense," Meyer said on Monday at his weekly luncheon. "We did not want turnovers. Red zone we were three for four with three touchdowns but still not where we need to be. We are OK in the kicking game, but really one of the few times that I can remember in the last, years and years, is that it really didn't have much of an impact."
Part of the problem is the mounting injuries. In mid-September, the Buckeyes have the appearance of a bruised and battered November group. Already, they are down to their third-string tailback, and even he isn't a definite starter when California comes to Ohio Stadium this week.
"No, he doesn't have to play," Meyer said of Bri'onte Dunn. "He's going to have a very good Tuesday and Wednesday or he won't play. That's the only way I'm gaming it. It's one thing getting your mind right to go to be a backup for third string tailback for a game. It's another thing getting your mind right to be the guy that's going to jog out there with the first offense. There's no just go play.  Whoever has the best Tuesday and Wednesday is going to line up at tailback."
The reason Ohio State is so shorthanded stems from a preseason foot injury Jordan Hall suffered and a sprained MCL Carlos Hyde went down with in the second quarter versus UCF.
The status for both is mostly unknown.
"I don't know (about Hall)," Meyer said. "He's going to run today, and I'll know more. He was out there working a little bit yesterday, so there's a chance (he could play Saturday)."
While Hyde's injury is not something Ohio State wants to deal with, Meyer was upbeat with his prognosis. Knee injuries can be extremely severe, but it appears that Hyde is on the lower end of that spectrum.
"(I'm) positive on Carlos," Meyer said. "It's an MCL sprain. It actually did not swell, which I guess (is good) – I know things because I've dealt with so many MCLs. He's a tough guy. It's fairly positive as you can be for a serious MCL sprain. He won't play this week."
Following the UCF game, Meyer said he thought Hyde would miss two weeks.
The injuries aren't limited to just the backfield, however. Ohio State's defensive line is also down two players. Michael Bennett missed the season-opener when he aggravated a groin injury during warmups. He did more damage at last Wednesday's practice, thus he was held out of Saturday's game.
A week later, it sounds like Bennett's injury is more serious than previously thought. 
"That groin injury was more significant," Meyer said. "We MRI'd it and there was some damage there, so it's going to be a couple more weeks. I don't believe he'll be ready for this week."
Coming off microfracture surgery last October, Nathan Williams played 20-30 plays in the season-opening win. But he suffered the consequences of possibly overexerting. He didn't practice any in the lead up to the UCF game and wore sweats on Saturday.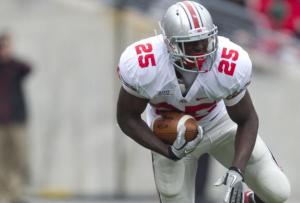 "It's the first time I've dealt with this type of injury," Meyer said of Williams. "I don't know Nate as well as the guys that have been around here a long time. The one thing is he loves football, loves Ohio State. So it's just a tough injury.
"From everything I hear, he's actually on schedule, so it just takes time. I'm hoping we have him for this week, but it's going to be, I think for the next ten weeks, it's going to be, 'how is Nathan Williams doing?' It's going to be probably the same response: I don't know. We'll see how he goes up this week."
The absence of two veterans opens the door for true freshmen Noah Spence, Adolphus Washington and Tommy Schutt. All three have already made an impact. Spence and Washington each have one sack – the Buckeyes only have three all season – and Schutt started in place of the injured Bennett against UCF.
"They are great, great guys," Meyer said. "They work their tails off, and then they are talented.
"Those are three good names that the Buckeye fans are going to like to watch for the next several years."
On Saturday, after Meyer spent time reviewing the aspects of the team that need worked on, he noted that Ohio State still won the "frickin'" game. He took that same approach Monday.
At the "Victory Meal," a mandatory Sunday meal attended by players and coaches, Meyer was sure to point out the pluses and minuses to his players.
"It was a good win for us," Meyer said. "I read one of our comments by one of our players about the difficulty of winning a major college football game, and we never want to take that for granted. We have too much respect for the game and too much respect for our opponents to ever do that."
Philly Brown graded out 95 percent and was named the offensive player of the game, Johnathan Hankins was the defensive player of the game and Jamal Marcus was the special teams player of the game. 
"Champions efforts on defense, John Simon, although they were doing some things to kind of take him out of the game, he was a champion. John Hankins also played very well, very disruptive in there. We actually started him in there at defensive end. Because of the size of the tight end, we thought there would be more power than the week before. (UCF) changed their entire game plan from the week before, and that's the reason we started Tommy Schutt inside and John Hankins on the defensive end. 
"On offense, Andrew Norwell played like a champion. Evan Spencer, a guy that we think is starting to earn the right to get more involved in the offense. He's very consistent. Devin Smith, very good to see. And Philly Brown was the offensive player of the game, graded out 95 percent, which is extremely high for a wide receiver. He's right now our best playmaker on offense.
"Jamal Marcus, a true freshman out of North Carolina, is kind of making a little name for himself on his effort."
Ohio State has taken a physical toll in the first two games. But defeated, they are not.