Whether it comes back to bite the Buckeyes at some point or not remains to be seen but once again Braxton Miller shouldered a heavy work load, rushing 27 times for 141 yards and 3 TD while tying a career high with 18 completions, including another TD, as Ohio State turned back a game UCF squad 31-16 yesterday afternoon in Ohio Stadium. 
The win improves the Buckeyes to 2-0 overall and despite not looking anywhere near dominant for the 2nd week in a row, continued improvement will allow the Buckeyes to make significant noise once conference play begins as the rest of the league appears dotted with mediocre football teams. 
No question, the lack of a pass rush, ongoing issues with busted coverages, three turnovers, 10 penalties and too much reliance on Miller are all legit causes for concern but at the same time, this is a young team adjusting to a new regime and dealing with some injuries. 
As I continue to tell myself, the bottom line is Ohio State has nine more games that serve as practice runs and player auditions ahead of when things truly begin to matter, i.e. beating That Team Up North and using it as a springboard back into the title picture in 2013. 
For now, however, let's take a look back at five key happenings in the victory over UCF. 
WHAT'S DUNN IS DUNN
With Jordan Hall still on the mend and Carlos Hyde suffering a sprained MCL late in the 1st half, the Buckeyes obviously have some issues at tailback.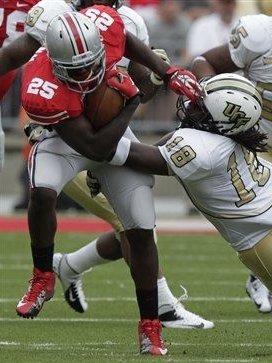 Needing to find a way to keep Braxton from taking as many hits, Ohio State must solve this problem before Miller is nothing but a bruised pile of awesome ahead of the trip to East Lansing.
The issue is twofold in that the lack of a respectable inside running game makes it harder for the Buckeyes to exploit the edges on top of the increasing concern of Miller's workload.
It sounds like Hall could return this week but even if he does, it's hard to imagine he'll be ready for 20+ touches and if they want to keep Miller from toting it 20-25 times, that's about what they'll need unless another reserve can step up.
Fullback Zach Boren has carried the ball more than a few times already this season and Urban loves his versatility, but he's nowhere near the threat Dunn can be nor would it be wise to shift him from doing what he does best, which is lead block.
Enter Bri'onte Dunn.
He took some flak today for either lining up incorrectly or running the wrong direction at the snap but with increased reps in practice, those miscues are correctable.
Further, I see no point in trotting out Rod Smith. His struggles with holding onto the ball are well documented and quite frankly, in what amounts to a throwaway year, the leftover carries should go to Dunn by default because he's actually in the long-term plans.
Plus, Dunn gives Urban the option to at least attempt establishing a power running game between the tackles (though Brax's QB draws up the gut are delicious).  It's a small sample size but he is averaging 5.0 yards per carry (12/60) and could evolve into a nice complement to Jordan Hall's scat-back body type and skill set.
If Dunn can prove serviceable, that will also give the staff a cushion to ensure Hyde has fully healed because I don't think there's any question the Buckeyes must be able to make defenses respect the inside running game to keep Braxton upright for the long haul.
LONG TIME COMING FOR "SHORT ASS BRAIDS"
Orhian Johnson's roller coaster of a career reached its pinnacle yesterday. I hate to reuse a line (not really) but frankly, OJ hadn't looked that good since the first Naked Gun.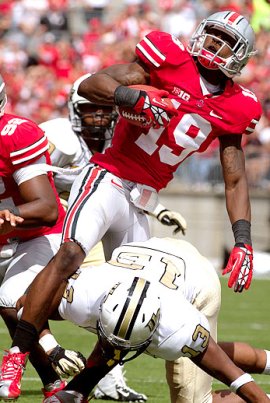 The senior saw tons of action at what appeared to be the nickel slot yesterday and responded with six tackles, an interception and a tipped pass that led to a Travis Howard pick.
Johnson announced his presence on the 2nd play of the game making an impressive open field tackle of Storm Johnson, setting up a 3rd down the Knights could not convert. As you'll recall, Johnson was a bit of a bullfighter in the open field for much of the last three years so seeing him make such a difficult stop on a decent RB in space was particularly awesome.
Two possessions later, after Ohio State turned it over on downs at midfield giving UCF a chance to seize momentum, Johnson came up huge on 3rd and goal from the 11. Channeling his inner Aaron Craft, Johnson used textbook form to deny the passing lane, batting the ball away on what looked to be a pretty well-thrown slant route to Quincy McDuffie. The play kept UCF to a field goal, allowing the Buckeyes to maintain the lead at 7-3.
Following a Boren fumble that gave UCF the ball near midfield – and a chance to take the lead - with just four minutes left in the half, Johnson struck again.
Lining up basically as a defensive end, Johnson dropped back in coverage and jumped another slant route. He didn't make the interception, which would've been a hell of a grab since the ball had some hair on it but he did get his mitts on leather, forcing the ball to change trajectory and land into the waiting arms of Howard for a key interception.
The turnover proved large as the offense promptly went on an eight-play, 3:03 drive to the end zone, taking a 17-10 lead with just seconds left in the half.
Good on, OJ. It was great to see him play so well knowing the Buckeyes needed that effort and by all accounts, he's one of the true character guys on the squad.
THE HELMET RULES
There's been lots of talk about the new helmet rules put in place to increase player safety and that noise only heated up yesterday after Jamie Wood was flagged for a personal foul after he continued to compete on the kickoff coverage following Ohio State's opening TD drive.
The rule in play here is obviously that a player cannot participate in a play once they've lost their headgear. Clearly, Wood was guilty of this infraction, competing for at least another four seconds after losing his helmet. He lost it upon engagement of a UCF blocker then proceeded to almost assist on the tackle some seven yards upfield.
I personally have no issue with that call, however I don't think there's any question there should have been offsetting personal fouls as the blocker essentially pancaked Wood after his helmet had popped off. As usual, the refs were slow to see what happened. The side saw the UCF player without a helmet backing away from the action, but what he didn't see was the UCF player pancaking Wood after he'd lost his own helmet before he decided to back away. Wood's continued participation likely made the UCF guy look that much more innocent.
While I don't like this rule interrupting the flow of a play, I'm 100% okay with it as the intent is to keep the players safe and obviously it's not safe to run in traffic and/or try to tackle a guy in a scrum without a helmet. I've read enough about concussions and NFL players' brains turning to mush to fully accept this rule. It's up to the officials, unfortunately, to properly monitor situations when this occurs.
Fully accepting this piece of the new helmet rules, the portion I do have a problem with is the blanket statement that a player must sit out a play if his helmet comes off.
For whatever reason, it seems like helmets today pop off "at the drop off a hat". I'm sure some of that is due to the increased velocity of collisions but other times the helmet seemingly comes off after very minimal contact.
Galloway remarked during the telecast that 26 helmets came off during play in the B1G games alone last week. I obviously didn't see all those instances but I'd be shocked if more than half were the result of some overly intense collision. The refs should have discretion to administer this rule when it is truly a health issue and not some fluke thing where a helmet comes off and the player is clearly unhurt.
At the same time, this is something we're likely just going to live with because (1) putting another judgment call in the hands of the refs likely won't help, (2) it'll just slow down the game and (3) player safety is such a hot button that the NCAA is probably more than willing to have a rule that overcompensates for the true intent.
brax power
A week after Urbz lamented that 17 rushes were too many for Braxton Miller, the 220-lb sophomore racked up 27 carries against the Knights.
The injury to Carlos Hyde certainly didn't help, and I certainly appreciate where Meyer is coming from, but the bottom line is this team is already woefully short on playmakers and Miller is arguably one of the top five playmakers in college football.
It's a no-brainer that he can't make plays if he's dinged up but just as obvious is the fact this offense would be a sputtering mess without Miller's magical footwork and slowly improving passing.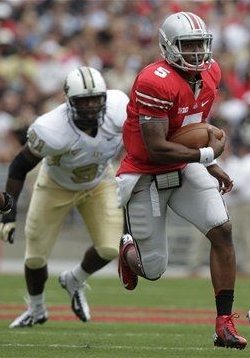 I think 17-19 carries could potentially be a sweet spot if the Buckeyes want to take advantage of a pathetic B1G conference, provided Braxton tries a little harder to avoid contact.
It's no easy chore to try to get such an instinctive player to think more in the run game but if he can be a little more selective on when to go for extra yards, he'll increase his chances of surviving 12 games.
Unless I'm seeing things, there have been a few times at the end of runs this year where he's tried to lower his shoulder and take on a defender coming at full speed. Other times, he's tried the spin move in heavy traffic or with more than a few defenders in backside pursuit, meaning that he likely would've made one guy miss but that still wouldn't have greatly altered the max yards of the play.
Like you, I appreciate his mentality as a football player but he could better help his team by trying to avoid a few hits in this manner. He needs to embrace that his coaches and teammates will not frown on such an approach. If anything, they will see it as a sign of growth as Braxton realizes just how much he means to the long-term success of Ohio State football.
Additionally, with the receivers showing growth (incredibly impressed with their downfield blocking but that's another story), I'm all for letting Miller attempt more passes. He tied his career high with 18 completions yesterday and if Herman/Meyer are going to continue with not trying to stretch the field vertically, I'm fine with increased bubble screens and other short-intermediate routes that come with a high completion percentage.
Hopefully, the return of Jordan Hall will help this problem take care of itself but personally, I don't see Hall being the game changer some are expecting. I like his game and think he'll undoubtedly add another dimension, but the bottom line remains that Braxton is far and away the most dangerous playmaker and needs the ball in his hands the majority of the time for Ohio State to win games. Managing the number of direct hits he takes is the key.
THE KIDS ARE ALL RIGHT
Urban made it clear that he doesn't recruit kids to redshirt them and that proved true when 14 true freshmen saw the field against Miami.
In a game against a tougher opponent, not as many saw the field but there's no question a few of them are evolving into legit rotational guys or starters that will only get better with the seasoning a high volume of repetition provides.
Noah Spence and Adolphus Washington were fairly quiet along the defensive front yesterday but they did see plenty of snaps, taking advantage of both Michael Bennett and Nathan Williams being held out of the lineup. 
The two that jumped out yesterday were David Perkins and Jamal Marcus. Two of the final guys to commit to Urban's first recruiting class in Columbus, the pair of freshman linebackers made some noise on special teams.
They both had two stops and I love how they run down the field with their hair on fire. Perkins grabbed my attention first, blowing up Rannell Hall as he struggled to collect the kickoff on the last play of the first half. Perkins brought the wood then executed a pretty fresh WWE-inspired celebratory move.
After Braxton led the Buckeyes on a scoring drive to start the 2nd half making it 24-10 good guys, Marcus got into the act beating his teammates down the field and making a nice open field stop on Hall, forcing UCF to set up shop at their own 16-yard line. Marcus did a nice job of flying down the field but then breaking down so he could be in a tackling position instead of overrunning the play.
Complete Game Coverage
Just minutes later, after a Sabino INT led to another Miller touchdown, Marcus and Perkins teamed up to once again stop Hall at the UCF 16-yard line.
Maybe not game-changing plays in the grand scheme of things but it's great to see a pair of true freshmen always being the first guys down the field and making such important plays. That point is further enhanced when you harken back to the last few years of Buckeye kickoff coverage.
And as we've seen in years past (Brian Rolle, anyone?), dominant play on special teams can often be a prelude to bigger things to come. With the current state of LB play in Columbus, I'll gladly put on my rose-colored glasses and expect Perkins and/or Marcus to do great things on defense in the coming years.