For 10 seasons under former head coach Jim Tressel, Ohio State players would file into the Woody Hayes Athletic Center and learn a great deal about their performance from the previous day.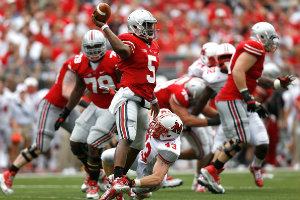 More often than not, what was viewed as a solid game on Saturday was seen through a different lens on Sunday. Tressel was infamous for having a grading scale that made upper-level Calculus classes appear easy. Terrelle Pryor, who turned in highlight-reel performances with regularity, never graded out a winner in a single game.
The scale of head coach Urban Meyer is decidedly friendlier, at least that is the perception after the Buckeyes' 56-10 victory over Miami (Ohio) in the season opener.
Meyer rattled off names by the dozen when describing winning performances. Those who were named are now members of the exclusive Champions Club.
While Pryor performed spectacularly on the field but not in the film room, Miller's record-setting day on the ground received due praise.
A 368-yard (all purpose) day earned Miller offensive player of the game honors. He finished with 207 yards passing and two touchdown passes, as well as an OSU quarterback record 161 yards rushing.
"He's as good a passer as I've ever seen," Meyer said. "When he pops open and wants to get out there so fast, his fundamentals kind of get away from him. One time he scrambled out of the pocket instead of hanging in there with a little option route we ran to Philly Brown. So he's going through some growing pains and we have to get him through those growing pains really fast, because we expect more out of our quarterback.
"He can play a lot better, but managed us through some tough situations."
As Meyer has done since spring practice, he showered Kenny Guiton with praise. The junior from Houston completed five of nine passes for 37 yards and also rushed for 14 yards.
When Meyer first arrived at Ohio State in November, he said Guiton was going down the wrong path, a story Guiton has confirmed. But the change in culture among the Buckeyes helped lift Guiton from his struggles. He has since become a leader and vocal presence among his teammates.
"His nickname from this point forward is Coach Guiton," Meyer said with a chuckle. "He does some things. He made a couple of checks out there, and he does it without the reps, so a lot of his things are mental reps, so I really appreciate Kenny Guiton. He did a nice job."
After last season's documented struggles at wide receiver, when 14 receptions led the team, Philly Brown got halfway to that total Saturday, hauling in seven receptions for 87 yards and a touchdown.
In the spring, the search for playmakers began, and one was found: Jordan Hall. But when he stepped on a piece of broken glass in July, tearing a tendon in his foot, Meyer and the offensive coaches had to re-open their exploration.
Finally, Brown emerged. Players and coaches both raved about his ability to get open and take the ball up field. For fans, the first glimpses came on Saturday.
Brown graded out 81 percent.
Other champions on the offense were Andrew Norwell, Jack Mewhort, Guiton, Carlos Hyde, Zach Boren and Devin Smith.
Meyer revealed that 70 percent of Hyde's yardage total came after contact – 58 of his 82 yards. Meyer was also especially complimentary of Smith, who made one of the best catches of the young season. When he came to the sideline, Meyer said Smith lingered awaiting a compliment from the head coach. Meyer, however, knew what Smith was up to and gave him the silent treatment.
"He's come a long way," Meyer said. "If you told me after our first week of spring practice he graded champion our first game, we'd have a little conversation about that. But I'm really proud of him. He's done a nice job and has improved."
Cornerback Bradley Roby didn't grade out the highest on the defensive side of the ball, but he still took home player of the game honors. Much of that has to do with the touchdown-saving tackle he made in the first quarter after a broken coverage in the secondary.
Roby graded out 83 percent. Meyer said of the 30 opportunities to make a play, Roby succeeded on 25 of them. Christian Bryant graded out 96 percent, while Howard received a grade of 90 percent, making plays on 18 of 22 chances.
"Our defensive backs, you need to be at least 80 percent (to be a winner)," Meyer said. "Any time a defensive back has an opportunity to make a play, that is a much more significant grade than an inside run. 
"Our two corners graded out against the throwing outfit pretty good."
Sophomore Adam Griffin, the son of two-time Heisman Trophy winner Archie Griffin, was deemed the special teams player of the game after making two tackles.
"I love the guy," Meyer said. "He goes really hard and tries really hard."
There was a dose of bad news to go along with Meyer's Saturday assessment; defensive lineman Michael Bennett aggravated a groin injury. Bennett was set to play against the RedHawks, but suffered the injury during warmups.
On Ohio State's official two-deep for this week's game against Central Florida, Bennett and Nathan Williams are listed as backups at defensive end to JT Moore. Meyer and defensive line coach Mike Vrabel did not have a timetable of when Bennett might return.
Adam Bellamy also won't be available – ever again. Meyer said the junior "lost his love of the game" and opted to leave the Ohio State football program.
"A year ago he went through a very similar thing," Meyer said. "He's a great kid. I love his family, good people. We wish him well. Nothing happened, he just didn't want to play football anymore."
The Buckeyes also know Hall likely won't be making his return this week. His target date was the Cal game, and that could remain the plan.
"I don't think he's available this week," Meyer said. "I'll know more today. He's got the look on his face like he's dying to get out there, so I think he might practice this week, but I'll let you know. I should know that, and I apologize I don't."
Both teams could be without their starting tailbacks, as UCF's Latavius Murray is battling a shoulder injury that he suffered in the Knights' 56-14 win over Akron. Murray rattled off 104 yards and a touchdown against the Zips in a little more than one quarter of play.
The product Ohio State sees from their opponent this week will contrast greatly from the fun-n-gun style of Miami. UCF ran 46 times for 206 yards, throwing just 19 passes.
"This is a whole different animal that we're facing," Meyer said. "Miami, they're going to make their first downs throwing the ball. This team's going to run the power directly at you and get their first downs. So much different team and very talented team."