I sat and watched Big Ten football all weekend, sneering in disgust as the slew of Midwestern collegiate football teams did everything in their power to make their mommas not wish they'd had socially awkward nerd kids instead of hulking morons whose only legitimate skill is chasing a ball around a field while losing to MAC and SEC teams.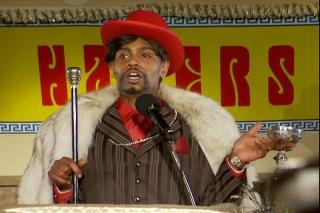 Mission accomplished, none of you! I hate you all, and hope that sometime when you're sitting on your toilet at home, you have the realization that your existence is ultimately a futile one and you'll amount to less than the sum total of Michigan students who have gone on to not be completely insufferable adults.
Alert to any and all SEC fans who are struggling in vain to read the written word contained within this post: the Big Ten is not the SEC. We do not bro out after games and slap each other on the posteriors and make plans to upload videos on Youtube of good ol' fashioned sexual assault on each other. There is no "BEE ONE GEE" chant. There is no mutual respect. There is only a dark and persistent hate that leads to glorious schadenfreude when other teams in the conference inevitably screw up in a sad and comically tragic fashion.
What this post will serve as is a reminder to Eleven Warrior readers of what our mangy, half dead and dumb Big Ten brothers from a different mother are up to on a weekly basis, as we marvel at their ineptitude and general awfulness as they take the sport of embarrassing themselves to truly Olympic heights. They're terrible, all of 'em.
So that's what's up, Big Ten. I hate you, I hate you, I don't even know you and I hate your guts! I hope all the bad things in life happen to you, and nobody else but you. HATE HATE HATE HATE HATE.
Minnesota 30, UNLV 27
The Golden Gophers needed three overtimes to beat an assorted collection of gambling addicts and mobsters, as MarQueis Gray threw for 269 yards and ran for another 68. Minnesota's heroic 3 point comeback in the 4th quarter was almost rendered moot by a late UNLV drive, but they proved to be just slightly worse than Minny and had to settle for a field goal, leading to three overtimes completely devoid of any drama or interest to anyone but the immediate family of Jerry Kill. Minnesota ended up winning thanks to UNLV's redshirt freshman throwing an interception, which made Gopher fans kind of angry because that's supposed to be their thing. How dare they.
Michigan State 17, Boise State 14
Le'Veon Bell continued his campaign to try and win my love and approval by rushing for 210 yards and catching 6 passes for another 55 yards in a Spartan win where he was basically the only functional part of the offense for either team. It's never going to happen, Le'Veon. You will never inherit the family peach orchards, no matter how many yards you rush for or how many 4th quarter comebacks you spark.
Anyway, speaking of empty, sad gestures, even though Sparty pulled out the late touchdown to barely take the game away from a Boise State team that had to replace the entire population of Idaho after they lost them to graduation, junior quarterback Andrew Maxwell's 248 yards passing was negated by his 3 interceptions. Kirk Cousins he is not, and that's got to be infuriating for Maxwell because Kirk Cousins was pretty "eh" 95% of the time.
Big Ten Standings
Legends
Iowa
0-0
1-0
Michigan State
0-0
1-0
Minnesota
0-0
1-0
Nebraska
0-0
1-0
Northwestern
0-0
1-0
Michigan
0-0
0-1
Leaders
Illinois
0-0
1-0
Indiana
0-0
1-0
Ohio State
0-0
1-0
Purdue
0-0
1-0
Wisconsin
0-0
1-0
Penn State
0-0
0-1
Purdue 48, Eastern Kentucky 6
Oh cool, great, you beat a team that I promise no one in your fan base knew existed until they saw the schedule for this year. Quiz time! Off the top of your head, what's EKU's mascot? I'll give you a hint: you don't know because it's Eastern Kentucky and no one cares.
Robert Marve threw for nearly 300 yards and Akeem Shavers added 74 on the ground against an EKU team made up of the best football players in all of Appalachian Kentucky not currently in jail or in hiding from the census bureau. Oh, did I mention that EKU is an FCS team? And that Danny Hope graduated from there and was their head coach from 2003 to 2007? And that they're not even a good FCS team?
But seriously, congrats to Purdue for beating the tar out of a FCS nonfactor looking for a paycheck. It will serve you well during Big Ten conference play.
Iowa 18, NIU 17
Kirk Ferentz continued to earn his $3.65 million dollar annual salary by pulling off a stunning upset of the Northern Illinois Huskies, the reigning champions of the prestigious GODADDY.com Bowl. The Hawkeyes were able to cobble together a running back out of bits of twine and silly putty, and the resulting football player (named "Damon Bullock" after Ferentz's favorite restaurant and fictional detective) somehow rushed for 150 yards, 23 of which came on a TD-scoring scamper with 2:15 left in the game that put Iowa ahead for good.
It was yet another B1G 4th quarter comeback in the final minutes, which would be very exciting if not for the fact that you might as well just lose if you're only gonna beat NIU by one. Kirk Ferentz could not be reached for comment, as he was busy rolling around naked in a giant pile of money and giggling to himself.
WISCONSIN 26, Northern Iowa 21
Northern Iowa was one Ali Farokhmanesh from pulling off a ridiculous upset of 12th ranked Wisconsin, as they scored two late touchdowns to make the game far closer than it had any right to be. Montee Ball got 120 yards, but it took him 32 carries to get them, and more or less looked the part of every overfed and undersped Wisconsin RB ever. New Wisconsin QB and Maryland transfer Danny O'Brien played well, and really it was the first and last time you'll ever root for him to do so because the longer he's a Badger, the more likely Bret Bielema's personal brand of skeeze is likely to rub off on him. Oh well.
Nebraska 49, Southern Mississippi 20
Taylor Martinez threw for 5 touchdowns and over 350 yards somehow, meaning that he's already met his passing quota for the season and will probably not manage to even complete another pass until late October. The most relevant quote from the game was this:
"I think for a while I was probably [Taylor's] only friend," offensive coordinator Tim Beck told reporters.
Guess what! You still are. You are also probably Bo Pelini's only friend. But, in a weird and ironic twist, they are your only friends, too. You lead a sad, sad existence, Tim Beck. Anyway, the Cornhuskers had over 630 yards of total offense, which will be pretty hilarious in retrospect like two months from now, in kind of a sick, sad way (especially since Rex Burkehead sprained his knee during the game).
Ohio (the actual "Ohio") 24, Penn State 14
Penn State spent an inordinate amount of time on pep rallies and other mostly empty gestures designed to convince their fan base that watching a team limp through losses to MAC teams (albeit a pretty good one in the form of the Ohio Bobcats) is totally cool and fine and worth it and will not get boring at all after the first 6 or 7 years of it. McGloin tried to McMoxie Penn State to a win by chucking it 48 times for 260 yards, but with no real running game and no points in the second half, Andy Dalton's slow younger brother couldn't pull off a victory, moral or otherwise.
Pretty much everyone in the world is rooting against Penn State right now, so, in a weird kind of way... I am too.
Illinois 24, Western Michigan 7
Tim Beckman's Fighting Illini were rolling right along, scoring 17 in the first half to WMU's zero, and then Nathan "Triple Word Score" Scheelhaase suffered an ankle injury in the third quarter. The Illini offense predictably stalled, and they went from a team that looked like a B1G challenger to a team that looked like they felt relieved to beat a Directional Michigan team that was 7-6 last season.
Tim Beckman can coach, and while I'm sure that he'll throw the full weight of whatever voodoo dolls or sacrificial lambs Ron Zook left in the basement of Memorial Stadium to make Illinois a good team, with Scheelhaase out they are basically nothing more than a middling team in a below average conference. Ilinois' leading rusher was a tight end lined up as an H-back, which kind of sounds like the beginning to a really weird and sad joke.
Northwestern 42, Syracuse 41
Oh Northwestern, you think because you guys have some fly new uniforms that you're all fancy now, huh? You couldn't POSSIBLY almost blow a second half lead to Syracuse, because you're too "cerebral," right? Well guess what, your big brains apparently aren't that much of a help when you're trying to defend 65 freaking passing attempts from a team that really just stopped giving any sort of crap. Syracuse outgained Northwestern 596-337 overall, and a dumber team might be able to shrug off that disparity by saying, "Hey we won the game, second place first loser push it to the limit USA NUMBER ONE!" But I know you better than that, Northwestern.
You're gonna lay in bed tonight, knowing that your secondary is a horrorshow on par with the most over the top Texas Chainsaw Massacre iteration, and think to yourself that maybe you'd have been better off just interning in your dad's law firm rather than doing this whole football thing. And then you'll realize you've got a mandatory 5 am workout and sob yourself to sleep.
Indiana 24, Indiana State 17
Indiana QB Tre Roberson went 26/36 for 280 yards yesterday in the win, and coach Kevin Wilson said that he thought he "...did real well. I think he's going to have a real good year, and I think he's a lot better than a lot of people think he is." Keeping in mind this was against Indiana State, here are some other things Kevin Wilson is impressed by:
Modern plumbing
Whenever someone at a fast food joint pokes down that bubble on the lid of his soft drink
Velcro
Perfectly timed high fives
The chemical process involved in making Jell-O
His crappy team beating an even crappier team by one freaking touchdown
His resume, once he omits the entirety of last season
ALABAMA 41, Michigan 14
I don't even know what to say about this one. Michigan WAS BACK, BABY before actually playing a non-awful team (read: a non-Big Ten team), as evidenced by them promptly giving up 31 points in the first half to Alabama as Nick Saban showed all the mercy of a Roman praetor sentencing some Huns to death. Denard's head (and back, and legs) were put on a pike and mounted in front of the rest of the Michigan offense, as a warning to the rest of the team not to try any funny business. Denard lost about three years of his life to to the punishment he took on the way to going just 11 for 26 and throwing two really, really dumb interceptions.
Not that it mattered. Bama ran all over an already suspect Michigan defensive line, a total of 232 yards with 111 coming from true freshman T.J. Yeldon. Nick Saban drank Brady Hoke's milkshake, he drank it right up. And of course, we all know how much Brady Hoke loves milkshakes.
...
So there you go, a thoroughly mediocre weekend of Big Ten football. Aside from Ohio State, even the wins that the conference pulled off were suspect, and the two losses were predictable as they were sad as hell. Will OSU continue to be the lone non-depressing team in the conference? Will Pat Fitzgerald finally have an epiphany and make a lateral move to managing a local Cracker Barrel? Will Denard Robinson hit his head so hard that he travels back in time like Cartman did in that one episode of South Park? Tune in next week and find out!