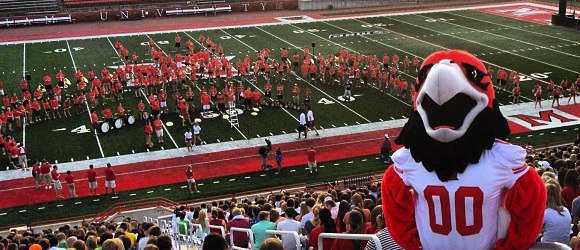 You've heard this a million times already today, I'm sure, but I can't believe football season is finally here. It's great there are some good games between now and Saturday, but Saturday afternoon when Urban Meyer and the 2012 Ohio State Buckeyes take the field will be a special, long-awaited moment.
The return of college football season also brings with it the return of "Across the Field" every Thursday, where I'll give you an inside look at each week's opponent through the eyes of their own writers. As the season progresses, feel free to let me know what kinds of questions you would like me to grill our "Across the Field" guests on.
The Miami RedHawks come to Columbus with a coach looking to improve on his 4-8 debut season last year and one of the most prolific QB and WR tandems in the country. Matt Sussman of Hustle Belt and Tom Downey of The Miami Student were kind enough to share their thoughts on the 2012 Miami RedHawks and Saturday's game.
Fans that aren't familiar with the RedHawks might remember Coach Don Treadwell from his stint as interim head coach at Michigan State when Mark Dantonio suffered his heart attack. Treadwell also happened to begin his coaching career as an assistant under Jim Tressel at Youngstown State. The RedHawks went 4-8 in Treadwell's debut season as head coach at Miami. What kind of changes do you expect to see with another year under his belt?
Matt Sussman: Better than 4-8, at least. They never stay down long, and with that passing game they have a puncher's chance to win the MAC East, maybe the whole conference. But that might be overshooting their goals just a tad.
Tom Downey: I wouldn't expect to see any major changes, but I would expect to see a lot more consistency from the team as a whole.  They've had a full off-season to figure out the new schemes and I think they are going to be a lot more comfortable and confident on the field this season. Urban Meyer's teams tend to win in year two because the players are more comfortable within the scheme. Miami's incredible 9 win turnaround under Coach Mike Haywood was in the second year of his regime as well.
QB Zac Dysert has worked with three head coaches and five quarterback coaches and/or offensive coordinators in his time at Miami. What effects do you think this has had on his development, and do you think this current staff is the best fit for him?
MS: Clearly it never stunted his growth as he's on pace to be the second most prolific passer in MAC history. The similarity is both coaches put a huge amount of trust in their quarterback to make plays and he has. And I have no issue with Treadwell, however there was always a whiff of uncertainty with John Klacik as the offensive coordinator.
TD: Having that many coaches and coordinators is always tough on a quarterback. Look at what it did to the 49ers' Alex Smith. Despite the turn-over, Dysert has performed very well during his time at Miami, a testament to his talent. I think that this staff is a great fit for Dysert. They do a very good job of putting him in position to make plays with his arm.
Ranked 14th in the country last year, the RedHawks had an impressive passing attack. Are there any key losses, additions, or general changes to the passing game we can expect to see in 2012?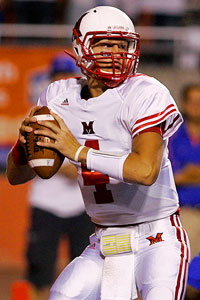 MS: One of the wrinkles that helped them in some games was getting the running backs involved, namely Dawan Scott, but he's actually on the depth chart at receiver. Other than a change in semantics, the only other loss is David Givens, but between Scott, Andy Cruse and Nick Harwell I'd say they're pretty well set on personnel.
TD: The 'Hawks should have another good year throwing the ball. They do lose Chris Givens, but more importantly they return Nick Harwell. Harwell is the nation's leading returning receiver in yards, and he and Dysert have a great connection. Even with teams doubling him, he will find ways to get open and the staff will find ways to get him the ball.
One guy to really watch out for is sophomore Dawan Scott. He came to Miami as a tailback, but has become a dangerous big play threat at wideout. He averaged over 20 yards per catch last season and is always a home-run threat, especially with Harwell opposite him. I don't know if statistically they'll be as highly ranked as they were last year, but I think the passing game is going to be more effective and dangerous. Ideally, a consistent running game would help this.
Conversely, Miami was ranked 120th in the country in rushing offense, and 103rd in scoring offense in 2011. Any reason to expect a more balanced offense in 2012, or at least more points on the board?
MS: It can only get better than two yards a carry. Justin Semmes was the only one who made any real progress on the ground last year for them, and he's the project starter this time around. That, plus the offensive line should be better. Again, they can't get much worse. They return four players with starting experience, but their one loss (Brandon Brooks) was a third round NFL draft pick.
TD: If the RedHawks want to challenge for the MAC title, they are going to have to run the ball better. They started five different guys last season and none of them had any sustained success. It appears that the team will continue to employ the running back-by-committee approach. As many as six different guys could get carries against OSU. The talent is there, it's just a matter of getting holes for the guys and then finding those holes. As far as scoring points goes, I think another year in the system will help the offense. A sustainable rushing attack as well as improvement in the kicking game will really help the team score.
Miami went 3-5 in conference last year, tied for fourth in the MAC East. How do you see this season playing out for them, and where do you see them finishing in the MAC? Are you predicting a bowl game?
MS: Something like, maybe, 6-6 with a 5-3 MAC record is entirely within reason. They'll likely finish second or third in the MAC East. Kent State and Bowling Green oughta contend for second place too. And with about 86 different teams under probation and bowl bans, 6-6 should be enough for them to go somewhere exotic in Decemeber.
TD: This team has an incredibly hard non-conference schedule, which Coach Don Treadwell said could "be one of the toughest we've had in the history of our program." Road games against OSU, UC and Boise are going to be very tough games. However, it should really prepare them for a MAC schedule that is very favorable. They avoid the top-tier MAC West opponents and get MAC East rival and favorite Ohio University at home.
I honestly think this team should win the MAC. The team got hit hard by the injury bug last year and as long as they avoid that I think they should, at the very least, be in contention and be in position for a bowl game.
What is Miami's biggest weakness that the Buckeyes should look to expose on Saturday?
MS: We pretty much hit all the soft spots already, but like any other MAC team, overall depth is what's going to cause them from not keeping up with a team like OSU for four quarters. If the score is close over 30 minutes, that's because the top Miami players are doing well, but they will wear down because the guys behind them aren't as effective.
TD: As mentioned before, it is the running game. The RedHawks struggled throughout the year last season and I'd be surprised if the Buckeyes don't dare the Red and White to run the ball by dropping guys back into coverage. In addition, the RedHawks gave up a lot of sacks last year and they'll need to protect Dysert better. On the defensive side of the ball, I'd expect the Buckeyes to use their superior speed to their advantage.
In addition to Zac Dysert, who are some key players, on both sides of the ball, that Ohio State fans should look out for?
MS: The obvious skill player is Nick Harwell. He'll get his 100 yards receiving. On the defensive side, the D-line has a couple of playmakers, Jason Semmes and Austin Brown, who combined for 18 TFL. Dayonne Nunley is also a well-known (to MAC fans, at least) cornerback, who had 5 INT and 8 TFL last year.
TD: Nick Harwell is the RedHawks best player by far. Dysert is a top-tier quarterback, but Harwell is truly special. He is my pick this year for "the best player you've never heard of." He can burn a corner on a fly route on one play and then turn a two-yard slant route into a touchdown. On defense, junior corner Dayonne Nunley is a shutdown corner. I'd expect the Buckeyes to throw away from him.
What needs to happen in order for the RedHawks to pull off the upset against the Buckeyes this Saturday?
MS: If MU plays an A+ game they still need "help" from the Buckeyes to play a C-minus game. I look at last year's Toledo game as the prime example. UT did almost everything right (except penalties) and just fell short. That's why the ball is shaped the way it is; maybe it'll bounce funny. But it's a tune-up game for OSU and the obligatory "chance to play in a big stadium" for the RedHawks before they get their actual season underway.
TD: A lot needs to go right in order for the 'Hawks to upset the Buckeyes but they can do it. I would load the box against Braxton Miller and dare him to throw the ball. Meyer is by no means in love with his passing game and I think the RedHawks can exploit that. With that said, the Buckeyes are going to score and if the RedHawks want to win, they'll have to do it in a shootout. The offense has the passing capability but they'll need to get the running game going. I think if they get 70 yards on the ground against this talented OSU defensive line the team will be happy. They'll need Nick Harwell to have another huge game, and he can definitely do that. This team can shock the Buckeyes, but they'll need just about everything to go right. I honestly think this game will be closer than most of the experts are prediciting.
---
Thanks again to both Matt Sussman and Tom Downey for sharing their insights with us. You can read more from both Matt and Tom by checking out the links below:
Matt Sussman
Hustle Belt: www.HustleBelt.com
Twitter: @suss2hyphens
Tom Downey
The Miami Student: www.miamistudent.net
Twitter: @WhatGoingDowney and @miamistudent
Facebook: The Miami Student