Around the Oval is our weekly look at the Ohio State sports that don't always get the coverage they deserve.
Although we're still a few days away from football, fall campaigns for several other Buckeye sports kicked off last weekend, with men's and women's soccer, women's volleyball and field hockey all in action.
After skidding out of the first round of the Big Ten Tournament against Penn State last season, the men's soccer team was looking to improve upon their 10-7-2 mark and hoped a hot start would set the tone for them to be able to do just that. Senior Chris Hegngi, who led the Big Ten in scoring last year, was named to the Hermann Trophy preseason watch list and the team returned nine starters and 13 letterwinners, so higher expectations were justified heading into the weekend.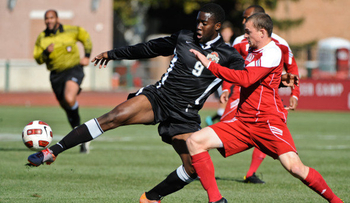 Unfortunately, plans rarely survive contact with the enemy.
Despite a furious second half rally, the team dropped a 3-2 decision at Dayton in Friday's opener. The Buckeyes found themselves down 0-2 in spite of a 13-5 shots advantage in the first 45, but quickly cut the deficit to one when senior Sebastian Rivas rocked a 20-yarder inside the far post just a minute into the second half. Unfortunately, Dayton answered 90 seconds later, restoring their lead at two.
In the 62nd minute, sophomore Alec Lowell scored again for the Buckeyes, but that would be it as Ohio State left Dayton with a defeat in a game that saw them lead on shots 27-14 and corners 7-4.
Saturday saw the Buckeyes welcome UIC to town for their home opener at Jesse Owens Memorial Stadium, but they'd fare no better, losing 2-0 to the Flames in a game in which UIC registered 14 corner kicks to Ohio State's four. Head coach John Bluem summed up his team's performance succinctly when he said, "We were thoroughly outplayed today."
The Buckeyes will host the seventh annual Bert & Iris Wolstein Classic at Jesse Owens this weekend, with Ohio State facing Coastal Carolina at approximately 7:30pm Friday and Davidson at 2:30pm on Sunday. As always, home admission is free.
Women's Soccer
After falling on the road to Hofstra and Rutgers to start the season, the women's soccer team bounced back with a pair of wins over Northeastern and Maryland, both played in Columbus.
On Friday against the Huskies, the Buckeyes saw goals from senior Tiffany Cameron (20'), senior Lauren Granberg (61'), and freshman Marisa Wolf (67'). For the game, Ohio State registered a 13-7 advantage in shots.
On Sunday, the women upset No. 17 Maryland 1-0 behind a 17th minute goal from Granberg. Maryland had several chances to equalize the game after that, but Ohio State's goalies, including freshman sub Jillian McVicker, who came on in the second half, helped to preserve the lead. The Terrapins ended the game with a 19-10 advantage in shots, including 4-2 on goal.
Following the pair of wins, senior Kendyl Reed and freshman Michela Paradiso earned Big Ten accolades when named Defensive Player of the Week and Freshman of the Week, respectively.
Next up for coach Lori Walker's team is a home tilt against Syracuse at 6pm on Sunday.
Women's Volleyball
The 24th-ranked women's volleyball team welcomed Houston, Toledo and No. 20 Oregon to town last weekend for the inaugural Sports Imports DC Koehl Classic. Koehl, you may remember, was a longtime Ohio State SID who passed away in late January from complications of a fall. Koehl spent 39 years with the Department of Athletics after joining the staff in July 1973 after graduating from Ohio State earlier that year. As a longtime volleyball fan and supporter, it's great to see Ohio State honoring Koehl with the event.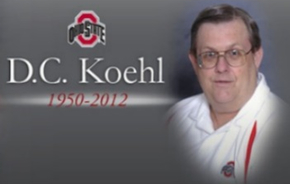 In the opener against Houston, the Buckeyes cruised to a 3-0 (25-21, 25-20, 25-21) win. Seniors Emily Danks and Mari Hole led the team with 11 and 10 kills, respectively.
Ohio State followed that win with a 3-0 (25-19, 25-20, 25-14) victory over Toledo before eventually falling to the Ducks 3-2 (17-25, 21-25, 25-14, 26-24, 15-10) in the finale. Losing a match after taking a 2-0 lead never sits easy, so head coach Geoff Carlston will have plenty to work with in practice this week.
Danks and Hole were each named to the all-tournament team, joining Oregon's Alaina Bergsma and Arianna Williams, Houston's Katie Norris and Toledo's Dakota Harkins.
The Buckeyes head to College Park, Md. for the Maryland Invitational this weekend, taking on Binghampton Friday at 5pm before playing Seton Hall and host Maryland on Saturday.
Field Hockey
The #15 Buckeyes returned nine starters from last year's NCAA Tournament squad, while welcoming nine newcomers, including eight freshmen, so head coach Anne Wilkinson has a team primed for greater things this season.
The opener wasn't kind to Ohio State as they dropped a 2-1 overtime decision to UMass in a neutral-site matchup at Memorial Field in Durham, N.H. Senior forward Danica Deckard neutralized the game at one in the 61st minute, but that would be it for the Buckeyes as the game moved into overtime. Two minutes in, UMass captured the win when Hannah Prince scored off a rebound to send the Buckeyes to an 0-1 start.
The Buckeyes bounced back on Sunday with a 1-0 shutout win over No. 18 UNH, handing Wilkinson her 200th career victory at Ohio State. Once again, Deckard had the team's sole goal, but this time, the tally was enough to count as Wilkinson's team limited UNH to just two shots in the game's final 35 minutes.
Ohio State travels to Washington, D.C. to face American on Friday before an anticipated matchup with top-ranked Maryland on Sunday in College Park.