There are a few things we know for certain about Urban Meyer the coach. One, he wins national championships, two, he's incredibly intense and three, he'll field the best players…period.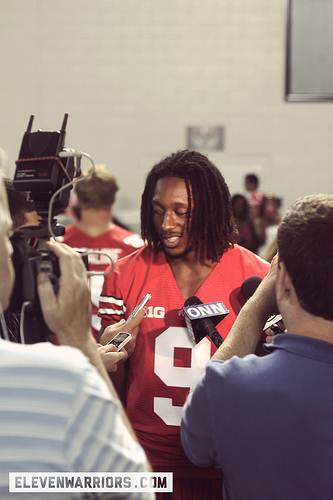 Make no mistake, that last certainty is a definite shift from the Tressel years. While the former coach would occasionally allow young exceptional talent to see the field, often he was incredibly loyal to upperclassmen. This mentality bled over into Fickell's 2011 tenure when the former head coach, now defensive coordinator, stuck (some all would say for far too long) with senior Joe Bauserman in place of the vastly more talented Braxton Miller during the early part of the season.
Meyer's promise to field the best players adds a layer of intrigue that may have been absent in years past. Certain positions are set, but doors to others are hanging wide open. With that said, here are four players I believe will benefit from Meyer's unapologetic coaching philosophy. Get your coffee ready because you won't want to sleep on these players in 2012.
Verlon Reed (WR)
Many forget Verlon Reed was a bright spot at receiver during the early part of last season. The redshirt freshman started the first five games of 2011 and racked up nine catches for 132 yards (good enough for second on the team in both categories) before an injury in the MSU game ended his season.
On the team's latest depth chart Reed is listed behind Evan Spencer, but during Sunday's media day Urban praised Reed, highlighting him as one of five receivers (Smith, Brown, Thomas, and Stoneburner) who were performing well through one week of practice.
Reed certainly has the athletic tools to excel. The former Rivals three star played QB, DB and receiver for his Marion-Franklin High School squad. According to Ohio State, Reed passed for 1,714 yards and 18 TDs and rushed for an additional 1,658 yards as a senior.
As part of a receiving corps that is improving but not yet "Ohio State caliber", Reed should push the starters for playing time.  If he stays healthy, don't be surprised to see him on the field often by season's end.
Nick Vannett (TE)
With Jake Stoneburner officially moving to WR, the road has been cleared for TEs Jeff Heuerman and Nick Vannett. Meyer has said the two will split playing time, but both players are inexperienced. Heuerman, a true sophomore, tallied only one catch last year in the team's final game of the season. Vannett (who was also a part of the 2011 recruiting class) redshirted all of last year.
Vannett hasn't played a down of actual college football, but that doesn't mean you shouldn't keep an eye on him. 
Here's why: Despite a lofty rivals four-star rating and offers from major programs including Michigan, Notre Dame, Oregon, Stanford, Wisconsin and West Virginia, Coach Meyer called Vannett "not functional" during spring practice.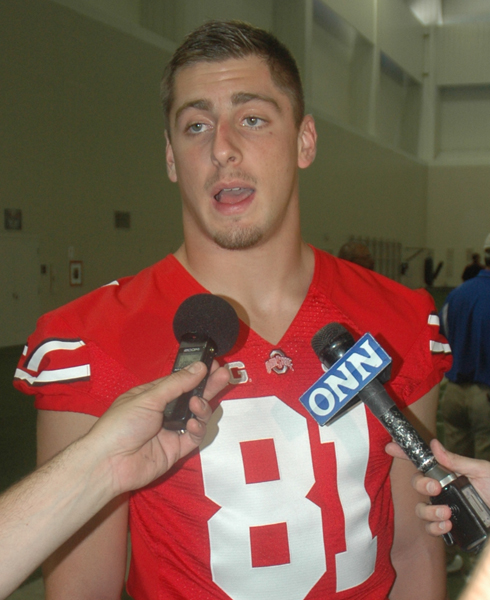 After the public shaming, Vannett apparently went to work. According to Meyer, the Westerville Central product put in ample time with tight ends coach Tim Hinton while meticulously studying the playbook during the offseason. The hard work seems to have paid off as Meyer called Vannett one of the team's most improved players during Sunday's media day. He also had this to say about the young TE:
"He's going to be right in the middle of this thing. I didn't see that at all in the spring. If you notice, I didn't even bring his name up because he wasn't a real functional guy for us. That guy got real busy about studying the playbook and learning the game."
Vannett was a stud in high school, and it looks like he's finally catching on at the next level. Meyer wants to throw to the tight end and I believe Vannett's offseason momentum will carry over into gamedays, ultimately allowing him to emerge as a playmaker in this suddenly wide-open position battle.
David Perkins (LB)
Catch up on everything you need to know ahead of the season kickoff.
Perkins, a four-star recruit out of South Bend, Indiana, was originally committed to the Fighting Irish but chose to reopen his college search during the middle of his final HS season. He visited Columbus this January and committed to the Buckeyes soon after. 
Many schools were recruiting Perkins at running back due to his freakish 4.4 speed, but Meyer and company felt the burner's talents were more suited to the defensive side of the ball.
Perkins' high school stats were absolutely off the charts. During his senior season, he recorded 103 tackles (26 for loss), 7 sacks, 2 interceptions (one for a TD), 8 forced fumbles, and 5 fumble recoveries. In addition, he tallied over 1,300 yards and 20 TDs while playing running back.
It seems the 6'2'', 215 lbs freshman has endless potential, and it sounds like he's doing everything he can to make a name for himself during fall camp. 
During media day Sunday, Meyer referred to Perkins as a "fly and hit someone guy" and said the freshman would play this fall. 
I believe the coaching staff will try to utilize Perkins' size and speed to rush the QB from the outside linebacker position. Don't be shocked if you see the freshman in the opposition's backfield a few times this fall.
Jamal Marcus (LB)
If you haven't watched Jamal Marcus' highlight tape, do yourself a favor and click here. Even with the bluest of blue chips, it's rare to see such dominating talent. The tape was so impressive that Meyer spotlighted the recruit's reel during his introductory press conference, calling it "ridiculous." Marcus is a heat-seeking missile on film and it sounds like he's continuing that trend during his first fall camp.
Recently Meyer had this to say about the impressive true freshman:
"There's a kid named Jamal Marcus; he doesn't know which way up is right now, but he knows how to get from Point A to Point B, and he'll run over anything in his way to get to Point B. There's a good chance we'll find a way to get him on the field."
Despite only receiving three stars from most recruiting agencies, Marcus garnered offers from the likes of Auburn, Florida, Notre Dame and USC, among others. Defensive coordinator and former UNC interim head coach Everett Withers was recruiting Marcus for the Tar Heels before heading to Columbus, and it's safe to say Withers continued his courtship of the Durham North Carolina product for the Buckeyes.
Along with Perkins, Marcus is one of the incoming freshmen Meyer and company have been high on, and it's easy to see why. The two bring a combination of size and quickness that Meyer loves in his defensive players. 
With a largely unproven group at LB, Marcus and Perkins should work themselves out of relative anonymity this upcoming season.
Meyer has constantly said he's looking for guys who can go four to six seconds with relentless effort. If a player gives that, Meyer gives playing time, regardless of length of tenure in the program. 
It's a definite shift from his predecessor, but you've got to imagine the young guys appreciate it. If you're a baller, you play ball. End of story.
The four guys listed above have demonstrated their playmaking ability in the past, so I think they'll be the emerging stars of the future.
Get your coffee ready and don't sleep on them.