Oh, how things have changed since Urban Meyer has come to town.
It's been a little more than eight months since the new Ohio State coach took the reins in Columbus and as we approach the new season, it's a good time to reminisce on how the 2012 recruiting class was saved and actually made out to be absolutely better than expected.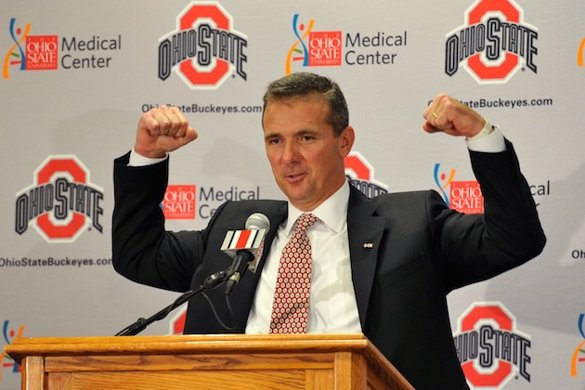 Before we deep dive into the stars, statistics and scenarios, let me point out something.
The Ohio State scandal will forever be an event that is a dark mark on the program's storied tradition, but one quote still stands out to me to this day.
A friend (actually alumnus and big fan of another B1G School) pointed out a few weeks after the Meyer hiring:
"It's kind of sickening that Ohio State can go through such a major scandal and make out better than they did before. Seriously, their all-world coach lied and got fired, then OSU went out and got an even bigger named coach. They didn't even 'go out' to get him, he came to them"
Tough luck, Big Ten fans.
It's true. How many other schools in the country can have a scandal and come out on top? Indiana basketball took nearly five seasons to recover from Kelvin Sampson lying to the NCAA, SMU football took decades to recover, and whatever happens with Penn State remains a question mark, but it'll certainly be a long recovery period.
When Jim Tressel resigned at the end of last spring, a lot of questions and doubt circled the Ohio State program. One of the first items of business that surrounds a football program after a coaching change is recruiting.
Interim coach Luke Fickell was able to secure a few of the commitments, leaving a solid core that Tressel left behind in Kyle Kalis, Bri'onte Dunn, Warren Ball, Jacoby Boren, Frank Epitropoulos, Blake Thomas, Luke Roberts, Josh Perry, De'van Bogard, Tyvis Powell, Pat Elfien, Najee Murray, Mike Thomas and Cardale Jones, but players quickly felt insecure about the Buckeyes' coaching situation. Of the few commits, Cleveland OL Kyle Kalis was the headline recruit and he eventually decided that the uncertainty was too much and changed his loyalty to coach Brady Hoke and Michigan.
Although dozens of players' interests remained high in Ohio State, it was the instability and unknown that kept them from building a respected 2012 class.
In order to play, you need players. In order to win, you need some good players. In order to win it all, you need the best players.
When Coach Meyer signed on in November, the Buckeyes would be on their way.
As soon as Coach Meyer signed on the dotted line and stated his goal to make the great state of Ohio proud, things changed.
Interest levels across the board spiked and the following months would be as eventful as they had ever been in Ohio State off-season history.
Negativity from the national media in regard to Tressel and Tat-gate quickly shifted to excitement and the realization that Ohio State will be back, sooner than expected. Top recruits expressed interest in Ohio State and Meyer. Meyer was instantly labeled one of the sport's rock stars and he used that reputation to help his new school.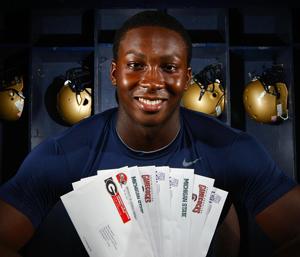 Before Meyer was official, there was much speculation around the community that the deal had been done.
It was an even larger tell-tale sign of what was to come when Cincinnati DE and former five star recruit Adolphus Washington had expressed interest to commit to Ohio State and hinted that Coach Meyer would be a great guy to be the coach. Washington committed a day before Meyer was official, increasing speculation from the outside.
Buckeye Nation was pretty positive what was to come the following day.
Soon, what is known as the domino effect, commenced in the 2012 recruiting class.
Florida WR Riquan Southward finalized his recruitment at the end of November, followed by a new theme of 2012: poaching from rival schools.
Tommy Schutt, a top DT committed to Penn State, decided that Meyer and Ohio State offered more and quickly changed his commitment. Then, a handful of other major prospects would be taken from other schools. Ohio DE Se'von Pittman, a Michigan State commit, became a Buckeye. Later, LB Camren Williams and CB Armani Reeves would later do the same, decommitting from PSU and opting to be Buckeyes. Taylor Decker, an OL from Ohio, was committed to Notre Dame and switched his pledge once Meyer and staff showed interest. The last poach came on National Signing Day in February when then-Wisconsin commit and Ohio native OL Kyle Dodson made the switch at the last minute in amazing fashion.
Catch up on everything you need to know ahead of the season kickoff.
Besides poaching recruits from other schools, Meyer was able to win them over naturally. LB and ATH David Perkins, who was thought to be a Notre Dame lock, fell in love with Ohio State and would also succumb to the Meyer persuasion. DE Noah Spence, arguably the top player in the 2012 class, chose Ohio State over favorite Penn State. Colorado OL Joey O' Connor would also choose Ohio State, helping to add to the thin Buckeye O-line.
Despite drawing in new commits, Meyer had to work hard to maintain those players who were loyal to Tressel and Fickell.
When the NCAA handed Ohio State a one-year bowl ban, much more uncertainty began to rise out of the now stellar recruiting class.
In particular, Bri'onte Dunn seemed to be becoming more and more tied to Michigan. Many thought Dunn would follow the Kyle Kalis path and end up at Michigan with his cousin and '13 commit Dymonte Thomas. His relationship was later squashed and he would reaffirm his commitment to Ohio State. De'van Bogard was rumored to be in favor ($) of switching his commitment to USC, which was halted.
When it was all said and done with the Letters of Intent all confirmed, Meyer and staff ended up with a top-5 class, a class the many thought would not crack the top-25 before the hiring. Meyer recruits with a purpose. He wants to recruit players that are ready to play at the next level and that's exactly what they'll do.
Unlike in past years when upperclassmen got playing time almost by default, under the Meyer system, the best players will play. That means that a freshman can easily beat out a three-year letter winner, if he's better.
This season, plenty of freshman will contribute significantly to Ohio State.
With Jordan Hall's injury, it can be expected that Bri'onte Dunn will get several carries per game, Noah Spence is slotted to play a significant amount of passing downs at the LEO position, and Taylor Decker will most likely see significant time at right tackle (unless the Reid Fragel experiment holds up well).
Adolphus Washington is learning from John Hankins on how to be a great DT and should see significant time; DB De'van Bogard was the first freshman to lose his "black stripe" and could help add depth to the thin slate of defensive backs (at the STAR); WR Mike Thomas was the star of the spring game and will immediately help a thin WR core; and the staff is in love with David Perkins and the athlete should be an immediate contributor wherever they play him.
In addition, LB Jamal Marcus could be that first guy off the bench to fill in at linebacker, while ATH Najee Murray could potentially be the slot wideout and compete for snaps at defensive back as well. Not to mention, Se'Von Pittman, Armani Reeves, Camren Williams, Tommy Schutt and others are pushing the current starters to be even better players.
As we all can tell, Meyer recruits guys that are ready to make an immediate impact and play. He didn't fail to bring in those players in the 2012 class.
Just wait until the 2013 class closes and the 2014 commitments start raining in. It'll be another domino effect, so get ready.