A couple of years ago I was on the sidelines for Ohio State's ridiculous game against Ron English's Eastern Michigan University Whatevers, where the Buckeyes would roll up over 70 points and basically make a mockery of the concept of restraint. But! Because the game was such a laugher, that meant one Kenny Guiton got a little time at quarterback towards the end of the game, and from my vantage point there wasn't a single person on the Ohio State sideline who wasn't thrilled for the dude.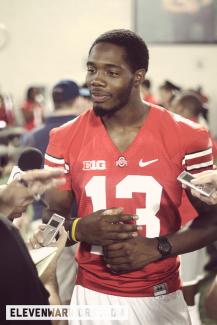 Kenny G actually had a pretty productive seven minutes against EMU; he didn't attempt a pass (and in fact has only attempted 2 in his entire career), but did have a 15-yard touchdown run that led to him getting mobbed by his teammates and a big ol' bear hug from noted violator of comparatively minor NCAA rules, Terrelle Pryor.
It was a sweet moment, because a) it's always nice when a backup, particularly a 3rd string backup, gets his due during a real game, b) Guiton has always seemed like a great dude who has never complained or given anyone any problems, and c) it gave OSU 72 points which was just hilarious at the time.
The problem for backups is that this is pretty much the most anybody ever wants from them. Cool, awesome, great, you got some garbage time reps. Now let's hope that you never end up having to do anything more than that because holy crap if you do we are screwed. Exceptions to that rule abound (see: Ohio State in 2011, 2008, 2004 hmmm this seems to be a trend), but in 2012, Ohio State has a pretty well-established starter who will cause mass panic if he goes down.
Which is why today it's important to learn about the venerable Ken Guiton and his fellow backup QB compatriots, our final line of defense against total chaos and the contenders for the Throne of Bauserman the Bad.
Guiton is a 6 foot 3 quarterback from Houston who was added mostly as an afterthought to the 2009 recruiting class; he had been ranked as a three-star QB, was listed at roughly 175 pounds, and gave a lot of unathletic Buckeye fans a small glimmer of hope that in some kind of theoretical throwdown, there was in fact a member of the Ohio State football team that they can beat up.
I already talked about the EMU game, and Guiton would have two more completely inconsequential appearances in 2010, against Purdue and Indiana. His profile on the official OSU website claims that he saw playing time against Nebraska last year, which I don't remember at all, but in any event he didn't accumulate any statistics of any kind in 2011. It's not really the kind of thing that instills hope that he can step in and lead Ohio State in a bowl ga—oh, right. Okay, so maybe the stakes aren't quite as high this year. That doesn't make Guiton's role any less important, and here's hoping a couple of early blowout wins will get him back in the flow of things.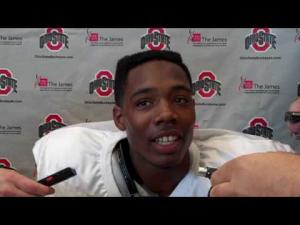 Guiton's game is interesting, although if you had asked Urban Meyer for his assessment of said game back in March he'd probably just give a thumbs down and go "phhhbbbbttt." Meyer was admittedly not a big fan of the relaxed Texan QB when he got to Ohio State; Guiton has never been the Type A, rassum frassum kind of guy that Meyer likes to see in his QBs. But, neither is Braxton Miller or John Simon, and I think ultimately what won Meyer over on Guiton was his work ethic.
In any event, though Tim May once called Guiton a reasonable "facsimile" of Braxton, the truth is that he is (and was recruited to be) more of a poor man's Terrelle Pryor rather than a potential replacement for Miller. It's an important distinction, because while Guiton is a relatively fast quarterback who can do well in the option game, he's a long, gangly loper who would not likely hold up well to some of the punishment that Braxton sustained last year.
Which is fine, because if Guiton ever did have to see significant playing time, the offense he would run would likely be a very stripped-down version of what Miller is being asked to handle. If the Spring Game is any indication (which, to be fair, it rarely is), the coaches aren't afraid to let Kenny G air it out a little. Most of the attention was understandably focused on Miller back in April, but Guiton acquitted himself fairly well by going 16 for 24 and 185 yards in the exhibition. It's not a lot to go on, but my guess is that if you ever see Guiton in a game he's going to have a steady diet of screens and dump offs to backs and tight ends, which he should be able to handle reasonably well.
Catch up on everything you need to know ahead of the season kickoff.
There are two other QBs on the 2012 OSU roster, but they're both approaching Kermit the Frog levels of greenness. Cleveland Glenville product Cardale Jones delayed his commitment to OSU and attended Fork Union for a year before enrolling this January, so despite being a name floating out in the ether for quite a while he's still a complete unknown on the football field. He is huge though, at 6 foot 5 and 225ish pounds, and it's interesting to wonder what Tressel had in mind for Cardale and what Urban Meyer plans to do with him. Honestly I feel bad for the kid; he waited a year to enroll in the hopes of gaining playing time, and now finds himself likely a #3 guy forever. I would not be surprised to see a transfer here. And Justin Siems! He's there too. Very happy guy, that Justin Siems.
So there you go; Ken Guiton is the clear backup at this point and heir to noted woodsman and naturalist Joe Bauserman. Can you expect a lot from him? Probably not, but "a lot" hopefully won't be what's needed to win games this year. What you see is what you get with Guiton, and what Meyer and the rest of the team are beginning to see is a collected, hardworking dude who will get you by in a pinch. In other words, exactly what you want from your backup quarterback.