Last year, Braxton Miller was thrust into one of the worst situations a true freshman Ohio State quarterback has ever had to deal with. His presumed head coach had been fired just two months before fall camp, the nominal starting quarterback and his supposed mentor was off the team, and his new head coach was the former linebackers coach. Also Jim Bollman was still a thing.
The only saving grace was that he was under the excellent tutelage of quarterbacks coach Nick Siciliano (whereabouts currently unknown).
And during the entire season, in which he was mismanaged, undercoached, and left directionless by a fired coach and a dismissed starter, Braxton Miller kept his head down and his chin up, so to speak. He didn't complain, whine, or make comments. He just went about his business in the best way he could, through ridiculous losses/gameplans where he was asked to throw all of 4 passes or run a QB sneak on 3rd and 24.
You could say that this outward levelheadedness is mainly because, as a freshman, he often wasn't allowed to express his internal feelings, but I prefer to think that Braxton is the heir to a noble school of thought that stretches far back in time, all the way to the ancient Greeks and the Stoic philosopher Zeno.
Believe it or not, this is actually the second time I've referenced Zeno on 11W, who I feel is a pretty handy example to use when throwing around larger concepts of futility, frustration, and in this case, good ol' fashioned Midwestern stoicism.
The Stoics believed that the path to true happiness lied within the ability to control their will at all times. In other words, external factors wouldn't influence their personal sense of right and wrong; their world was entirely shaped by their own actions.
In fact, Zeno and the Stoics were pretty insistent on the concept that a person's actions, not their words, formed the true basis for how to judge a person. This is not a foreign concept to any of us; "actions speak louder than words," "speak softly but carry a big stick," Calvin Coolidge in general, and your grumpy ol' grandpa are all pretty woven into the fabric of the United States, but especially the Midwest, and ESPECIALLY in the person of Braxton Miller.
A lot of big name recruits like Miller come from storied programs in Ohio with a long winning tradition and an extensive support system to sustain success. Huber Heights Wayne in 2010 was not one of those programs, at least in the short term. Barely making the playoffs as an 8-seed, Miller willed Wayne to the state championship through upset after upset, continuing a thread of putting his team on his back that had gone on throughout a season where he played injured through much of it. Make no mistake, Wayne was anything but a stacked team, and their success was largely due to the efforts of their stonefaced senior QB.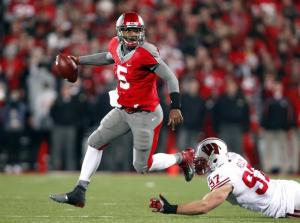 Then of course came his performance last year, a tour de force of Stoicism through the worst season of Ohio State football in many, many years. He improved, said little, and set himself up nicely for 2012. Now he seems looser and more relaxed, but I doubt the fundamental calm, levelheadedness of Braxton Miller will ever change.
The cool thing about this is that Stoicism seems to be en vogue for the 2012 Ohio State football team. Carlos Hyde, a Florida native who had made some wave-making comments last year about playing time, has been talking about leading through his actions, not words. John Simon seems like he'd be perfectly happy if no one would ever ask him to comment off the cuff about anything ever again. Even notoriously spunky Kerry Coombs has refrained from donning the metaphorical raccoon suit and P-meter dashing into the air (football season pending).
And frankly, I love this. I love that Urban Meyer is now left scratching his head with a team full of stoic leaders on offense and defense, because his paragon of leadership was anything but. But what he (if he doesn't already know it), and maybe college football fans/observers as a whole, are about to learn is that there are different ways to lead. You can be a leader and a force without beating your chest and sobbing at postgame interviews. You can be a winner without yelling and being demonstrative. You can be a champion through a calm, collected force of will.
The philosopher Epictetus once said that a Stoic could be "sick and yet happy, in peril and yet happy, dying and yet happy, in exile and happy, in disgrace and happy..." In essence, you are the shaper of your destiny, and given the right mindset, there is nothing that can change how you perceive yourself. For the 2012 Ohio State Buckeyes, who face change and punishment, maybe a team full of Stoics is exactly what is needed.