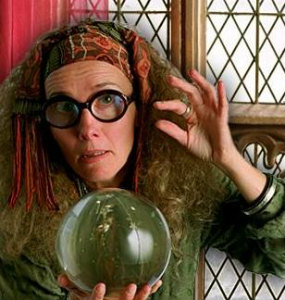 With Urban Meyer's first camp underway since Friday, it's high time that we put on our divination caps and make a few predictions about how things will shake out during camp.
So far we've broken down the position battles, had a convention of the Eleven Warriors of the Roundtable, and interrogated Braxton, Roby, and Hyde.
While some of you may adopt a Nietzschean "camp performances are meaningless; let's wait until the actual season" view, at least it's real, live football, so we're going to talk about it! 
Some things are all but certain to happen - Urban praising John Simon's work ethic and leadership - while other possibilities are just that - Doran Grant supplanting Travis Howard, for instance.
In order to get a handle on all of these possibilities, I'd like to introduce my Infinite Improbability Drive Likelihood Measurement ScoreTM (IIDLMS). 
The IIDLMS is measured in units of skulls that John Simon and the defensive line will crush this year. The more skulls crushed, the more likely the prediction is to happen.
For instance, there is no way that fewer than 100 skulls will be crushed this year. 
Without further ado, here are my predictions in order of decreasing likelihood: 
Almost definitely happening 
"This is the most high-energy, intense and best camp I've had at Ohio State" - repeated by every Ohio State upper classman. 
This will be repeated and quoted every possible chance, even though it is almost undoubtedly true. Players aren't saying Tress never had a tough camp, but I expect Urban to really raise the bar here. IIDLMS SCORE: >9000 crushed skulls. 
Simon, Boren, and Braxton are praised by everyone, all the time, as team leaders. 
This is so likely that Urban probably repeats "Simon..work ethic...Braxton really stepping up..dynamic athlete" in his sleep. Shelly Meyer has just gotten used to it by now. Also look for the alternate: "The biggest thing for Braxton during camp is his leadership." IIDLMS SCORE: 1000 crushed skulls. 
Besides Hyde, the depth chart at RB is fluid and by committee.
It seems pretty certain that Hyde is going to receive the majority of the carries this year, as Urban has stated that
It's been a while since I've had that guy (a 15-carry per game rusher or feature back). And the guy is Carlos Hyde. He's the guy with the talent, he's the guy with the body type to get those carries...He's been too long in that gray area. It's his..defining moment.
You all seem to agree. Behind Hyde, though, it's anybody's guess. Smith, Dunn and Ball all figure to get some carries, but it's not likely to be clear how those will be distributed during the regular season. IIDLMS SCORE: 500 crushed skulls (Dunn does have potential...). 
Could go either way: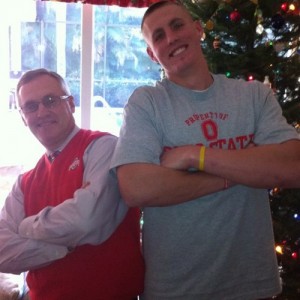 Heuerman makes us feel ok that Stoney has to leave next year. 
I agree with Johnny and Kyle that Heuerman is a star in the making. While he might not have Stoney's exact pass-catching abilities or speed, I think he and Vannett show us enough at camp and during the regular season to feel good about tight end. IIDLMS SCORE: 400 crushed skulls. 
Fragel holds on to the starting RT position. 
This one is really up in the air with how good Decker has looked so far. If this were Tress' team, I think we could put this prediction under the "Almost Definitely Happening" category, but it's harder to say with Urban.
As it stands now, I think the coaches reward Fragel's hard work in gaining the necessary weight to play OT and learning a new position by giving him the start. Decker becomes the 5th man on the OL and the first one to sub in. IIDLMS SCORE: 200 crushed skulls. 
Philly Brown and Devin Smith are the clear top-two receivers. 
After hearing Braxton say that these two made the biggest improvement at WR over the summer, it's probably a safe bet that these two will hold on to their starting positions. What makes this even a little uncertain is how Michael Thomas, Evan Spencer and Verlon Reed have come along so far. In general I expect quite a bit of parity at receiver, which may or may not be a good thing. IIDLMS SCORE: 250 crushed skulls. 
Curtis Grant looks (almost) as good as Shazier at middle linebacker. 
I'm generally in favor of tempering expectations for individual players (total wins is another story: 12-0 every year!), but we've heard nothing but positive things about Grant at middle linebacker. Some of you are still reluctant to jump on a linebacker Hype Train after the yearly cries that Sabino will be an All-American - I get it. 
However, it's fairly unlikely that any freshman challenges Grant for his starting position, and he's got a ton of potential now that he understands the defensive scheme better.
I'm really reluctant to make a definitive call on this one - Shazier and Grant could form the most fearsome linebacking duo we've seen in years or they might play with hesitancy. At least speed shouldn't be an issue. IIDLMS SCORE: 200 crushed skulls. 
out-there or unlikely predictions
Roby and Najee Murray both become really good two-way players. 
We've heard from Meyer that Murray has improved significantly over the summer and will get an audition at Hall's vacant spot, slot, and defensive back. Roby said after Friday's practice that he'd like to get a shot at playing some receiver this year - and with his speed, it makes sense for him to get a look. 
Is it too much to ask for these two to really get playing time at both positions? What if the admittedly talented (if inexperienced) receiving corps actually looks good in camp? However, I actually expect one or both of these guys to see some time on offense, especially in Meyer's first camp. IIDLMS SCORE: 150 crushed skulls. 
All of the freshmen defensive linemen challenge for starting spots.
While Urban's first defensive line haul was undoubtedly incredible, it's simply too much to ask for all of them - Spence, Washington, Pittman, and Schutt - to look like immediate starters in their first camp. I could see one of the four - Spence at rush end, maybe - in the two-deep, but that's it. 
The 2011 class was similarly dominant as a recruiting class, with Steve Miller, Bennett, Farris, and Hayes all rated as four-star DL recruits. However, of these four, only Bennett has really challenged for a starting spot so far. We need to temper our expectations even for these elite players. IIDLMS SCORE: 50 crushed skulls. 
Doran Grant supplants Travis Howard at cornerback. 
This isn't actually that far out there; the starting position was still up in the air following spring practice. Doran possesses the elite ball skills and athletic ability - great for man coverage - that Howard Island was a bit short on last year. 
However, I see Howard improving over his 2011 campaign in fall camp. Roby will remain the best corner on the roster, while Reeves, Murray, and Grant will fight for back-up spots. I expect Grant to be the first corner in when/if Howard struggles or needs a breather. IIDLMS SCORE: 125 crushed skulls. 
Well, those are the predictions that the Infinite Improbability Drive Likelihood Measurement Score machine spat out. What are your predictions for camp performances?