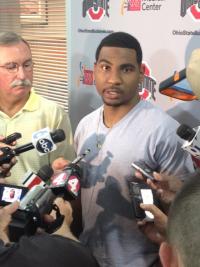 The 2012 Ohio State football season has officially begun. Veterans reported to the outdoor fields at the Woody Hayes Athletic Center at 6 a.m., with a freshmen-only practice slated for 5 p.m. 
There was no breaking news and all indications are the first day of practice was an "A." Most importantly, for the coaches and players, no one suffered a significant injury. 
We were able to speak with sophomore quarterback Braxton Miller, junior running back Carlos Hyde and sophomore cornerback Bradley Roby.
The trio offered great insight into the summer and what to expect when Sept. 1 rolls around. Among the intriguing notes, Miller revealed details of his offseason schedule that allowed him to become a more accurate passer, Hyde has been working on pass catching and believes he can help fill the role of Jordan Hall, and Roby has helped the wide receivers by letting them know how a defensive back thinks on the field. 
Braxton Miller
Miller said he and the wide receivers have worked together throughout the spring and summer, and he feels they're now on the same page together.
Miller said he is fine with attention and pressure being on him. He said he actually performs better when the spotlight is focused on him.
Miller said the team was "hyped" and energized for this morning's practice, even with the 6 a.m. starting time.
Miller said everything was different in a positive way. Much more energy and enthusiasm.
Miller said the goals don't change: the Buckeyes still want to win every game. He said the expectations are always high from fans.
Miller said he feels much more comfortable entering this season knowing it's his time and he will be the leader of the offense. He also said his body has changed for the better.
Miller said he sat down with the coaches to figure out ways he can take charge and be a leader.
Miller said he is much more confident in the huddle because he understands plays, protections, etc. much better after a year under center.
Miller said he believes everything is on him and when something goes awry on offense, it's his fault, because the ball starts in his hands.
Miller said he believes Michael Thomas will continue to progress. He said they developed a good relationship at the Under Armour All-American Game two years ago. Miller said Thomas has had to make a big transition coming from Los Angeles, but he has distinguished himself by being a hard worker.
Miller said working on accuracy and stepping into the ball – "simple things", he termed them – have made him a much better quarterback. He said Urban Meyer has talked to him about being a pass-first quarterback.
Miller said he talks to Jordan Hall on a daily basis and said Hall is extremely disappointed about being injured.
Miller said he woke up at 4:30 this morning and Tom Herman called him at 4:40 to make sure he was awake and got some breakfast in him.
On a side note, Miller said he is taking a biology class right now. He talked about dissecting worms and shrimp.
Miller said getting back to practice has rejuvenated him. Said he can't wait for the games to begin.
Miller said he soaks in the compliments Meyer sends his way. Miller said he hopes the sky is the limit, but he still has many areas to improve. He said he worked on his accuracy more than anything over the summer.
Miller said he watched film and noticed he gets very anxious and jittery with his feet at times.
Miller said the Nebraska game is the type of quarterback he can be when everything is going well. Said he felt totally comfortable and in control.
Miller said Herman has given him more knowledge than he can begin to describe. He said he helped him immensely on the defensive front and what to notice when he should audible.
Miller said at times he didn't feel comfortable being a vocal leader last season because there were so many seniors on offense and he was just a freshman.
Miller said, "I'm not going to lie" the offense was tough to pick up. But he added that everything is going well.
Miller said Carlos Hyde got his "jelly fat" out and now he's got more muscle tone to him. He said Hyde can be a great running back, he just has to put in the work at practice.
When told Bradley Roby compared him to Michael Vick, Miller said, "I'm going to have to talk to him about that." Miller doesn't know if his game stacks up.
Miller said Cam Newton is a quarterback he respects and emulates.
Miller thinks QBs are getting more pressure put on them and have to prove doubters wrong more frequently. 
Miller said Devin Smith and Philly Brown made the biggest improvement at WR over the summer.
Miller said Philly always works hard and is fast enough to fill Hall's role.
Miller said he feels the skill positions are fine now. He said they've played well against the OSU defense, so he thinks they can play against anyone. When asked if he was going to tell Simon that, Miller said no.
CARLOS HYDE
Hyde said he is down to 232 pounds from 240. But he added that he still runs a 4.45 40.
Hyde said Hall's injury is unfortunate, but he's looking forward to seizing the moment.
Hyde said Miller looked great completing passes on the first day of camp. He said Miller is a leader through his actions.
Hyde said the bowl ban doesn't take any sizzle off the season. He said the team will play with a chip on its shoulder all year long.
"Our goal is to go 12-0…We're going to let the world know who the Buckeyes are."
Hyde said last season was a roller coaster, but he was patient and never considered transferring. He said he tried to take advantage of every opportunity.
Hyde said he needs to prove he can be a physical runner and make defenders know he's tough to tackle.
Hyde said he worked on his pass catching ability "a lot" over the summer and said he feels he has the best hands on the team.
Hyde said he doesn't "want to sound cocky," but he feels he can fill Hall's role. He said he can learn it and execute.
Hyde said he's excited about the new offense because he'll be in the open in 1-on-1 coverage. Hyde said he feels he can make guys miss and "be off to the races."
Hyde said he was confused when he first got Meyer's playbook, especially after last season's offense. He said the only time the I-formation was used in the spring was at the goal line. Hyde said fans should expect a lot of points and more big plays.
Hyde said he feels more weight on his shoulders because of Hall's injury. But said he thinks Rod Smith, Bri'onte Dunn and Warren Ball can contribute as well.
Hyde said he has heard nothing about Dunn's possible punishment. "I think he'll be fine."
Bradley Roby
Roby said the first practice was high-paced and fun. He said he is looking forward to camp.
Roby said the team is hungry and ambitious. "We'll try to win every single game, simple as that."
Roby described this season as a redemption year. He said they'll "show everyone why they're Ohio State."
Roby called the offseason the hardest of his life, based on toughness. He said it was high intensity every day and the team grew together because of that.
Roby ran a 4.31 twice – fastest on the team. He laughed and said it wasn't a fluke. A 4.4 was his previous best.
Roby said he got faster simply from training. "Coach Mick is the best strength coach in America."
Roby actually gained five pounds but is still nearly a tenth of a second faster in the 40.
Roby said the wide receivers are getting better at running routes and learning what the defensive backs are thinking.
Roby said Miller has a game-changing ability and that you never know when he's going to break a long run. He said Miller might be the best scrambler in college football since Michael Vick.
Roby said Miller has gotten smarter, knows when to tuck it and run now and when to stay in the pocket.
Roby said he came to Ohio State to continue the history of great cornerbacks. He said his goal this season is to join that list.
Roby said Kerry Coombs and Everett Withers are very smart coaches and have made him much smarter on the field.
Roby said the first practice was crisper than in past years.
Roby said the intensity of Meyer's practices is much higher than Jim Tressel's. He said there is more urgency and competitiveness is stressed more.