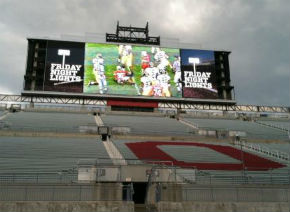 As Derek told you, the first ever Friday Night Lights camp in Ohio Stadium was a great success.
Players from all over the country came to Columbus to compete in The Horseshoe where they were greeted by music blaring from the speakers, highlights running across the new video board, high level and intense competition amongst participants, and positional instruction from Buckeye greats who came back to serve as "counselors" for the event.
The camp not only served as a great experience for all those who participated, but also for the fans who got to see a look inside one of Urban Meyer's biggest recruiting tools, thanks to FNL being open to the public and free of charge.
Now that a few days have passed since Friday Night Lights and weekend visits have wound down, it is time to look at some of the story lines that have emerged from the last big recruiting weekend before fall camp begins.
Join us after the jump to hear more about FNL, including Timothy Gardner's commitment, closing in on finishing the class of 2013, the battle between 2014 quarterbacks, and more about the star 2014 linebacker in attendance.
Gardner Makes The Call
Already known by most by now (unless you've been living under a rock the past week), Ohio State offered a scholarship to and received a commitment from Indianapolis (IN) Lawrence Central OL Timothy Gardner on Saturday, following his performance at Friday Night Lights.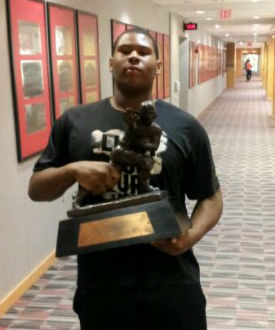 As the story goes, Gardner originally attended the Buckeyes' camp in late June, reporting in at around 6-5/340. The coaches, specifically Ed Warinner, liked we they saw out of the big lineman, but thought he was carrying a little to much weight to be comfortable offering him (and accepting a commitment from him) at the time and asked him to cut some weight before returning again for Friday Night Lights.
Gardner came back this past weekend at an estimated 20 pounds lighter and once again performed extremely well at camp, even being called the most impressive stand out by four star defensive lineman Donovan Munger. After deliberation by the staff they decided Gardner had the tools to be an outstanding player and showed the dedication to want to be a part of the program by shedding the weight,  leading to the offer and commitment just a day after FNL.
While I will be the first to admit I was very skeptical about taking Gardner in this class, there is something to be said about the staff evaluating him in person twice this summer. Of course he will have to continue to work himself into the shape the coaches want him to be in when he reports to campus next summer, but he has been a lifelong Buckeye fan and has shown the initial dedication needed to fulfill his dream thus far.
Gardner is the second offensive lineman in this class, joining Centerville OT Evan Lisle, but unlike Lisle I project him to end up on the inside at guard. He moves well for someone of his size and has manhandled prospects at both of Ohio State's camp, but will have to trim down a bit more to be in the type of shape Warinner and Meyer like their linemen to be in. 
From a recruiting stand point there are limited spots left in the class, which shows you the staff really liked what they saw out of this kid and are completely sold, as they wouldn't reach in July for the sake of filling a roster with limited spots. Yes, the rankings are Gardner from recruiting services are low, but now that he is a Buckeye you can bet more eyes will be on him during this season and I expect his rating to go up a bit with a strong performance.
Looking at the offensive line, it very well could mean the position is done for the class of 2013. I still think three is the magic number for the offensive line, with Munger being a player that could come on board and be a flex two-way lineman or Dennis Finley from Detroit (MI) Cass Tech being a good possibility as well. Gardner was the sixteenth verbal in a class expected to number around 20, so it will be very interesting to see how the numbers shake out, as well as if the latest pledge forces others to jump on a decision more quickly.
Closing in On Closing 2013
As mentioned above, spots are starting to get tight in the current class and Friday Night Lights was a great chance for the staff to evaluate some other 2013 prospects that remain as possibilities to fill the open slots.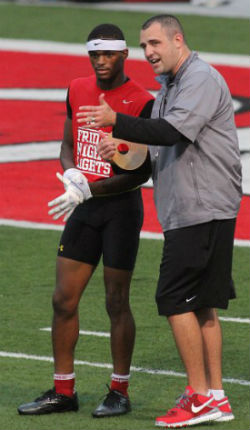 Wide receiver was a position paid great attention to as Cleveland (OH) Heights' Shelton Gibson and Phoenix (AZ) Brophy's Devon Allen both competed at Friday Night Lights.
Gibson showed great speed and consistently beat opposing defenders throughout the evening, but had some trouble holding onto some passes he should have caught. There are still questions regarding everything checking out off the field, but from what I have seen from him I would take him in this class in a heart beat if all checks out. As of today I think he will be in this class, but his situation is extremely fluid.
Allen came into camp and performed well, "wowing" people like Gibson and even showing better hands. The coaches told him after camp they liked the way he performed and said that he could be the deep threat they are looking for in their offense. Despite his father having played baseball at OSU, I am still having trouble on seeing Allen as a member of this class. Of course I could be wrong, but there is a long way to go in this one as he doesn't plan on announcing until after taking official visits.
In addition to the wide receivers, a couple of linemen were also in attendance at FNL, including the aforementioned Dennis Finley and Donovan Munger.
Like Allen, Finley is not expected to make a decision for some time, but the Buckeyes are in a good position if they have room for him, as they are in his top three along with Wisconsin and Michigan State. I see this one being a Sparty-OSU battle and the official visit could be key.
Munger is a player I would really like to see in this class as I think he could shine on either side of the ball. He worked out as a defensive lineman at FNL and was part of a group, along with Joey Bosa and Billy Price, that worked separately with Mike Vrabel at one point during the camp. There were rumors swirling he silently committed at the spring game and we should see if those were true in the next month as he wants to decide between OSU, Michigan State, and Tennessee before his season starts.
Finally, Tarboro (NC) LB Tyquan Lewis made it to town for the last part of Friday Night Lights before spending the rest of the weekend in Columbus with his mother, who didn't get to see the university with him on his first visit to campus. The trip reportedly went very well for both mom and son and the four star prospects currently lists OSU, UNC, and LSU as his three leaders. I think this one will be between the Tar Heels and Buckeyes and the consensus feeling is that he will be in the scarlet and gray next year.
2014 Quarterbacks Turn Up The Heat
As good as some of the talent was amongst the 2013 prospects, there was no group with more heated competition than the 2014 quarterbacks.
The staff has maintained that no quarterbacks in the class have been extended offers yet and that it will stay that way until each player can be evaluated during a high school game this fall. Despite knowing an offer wouldn't be on the table immediately following FNL, the camp did go a long way in building up the case for Drew Barker, Caleb Henderson, DeShone Kizer, and Joey Duckworth.
Barker, from Hebron (KY) Conner, made his fourth visit to Ohio State this spring. The 6-4/210 signal caller has continually shown great arm strength and pretty good accuracy, while also possessing the ability to make plays with his legs, a key component to be successful in Urban Meyer's offense. It has been no secret that Barker is very fond of the Buckeyes and he is definitely at the top of the list when it comes to candidates for an offer.
Henderson  is right up there with Barker on the big board and came back to Columbus for his second visit this summer after camping in June. The 6-4/225 Henderson of Burke (VA) Lake Braddock doesn't move as well as Barker, but does have a strong arm and probably slightly better accuracy than his counterpart. He grew up an Ohio State fan and has admitted the Buckeyes would be tough to say no to, so if an offer comes his way, you can certainly be on commit watch.
Kizer is the most raw of the group when it comes to his passing skills, but has great size at 6-5/210 and is the fastest amongst the quarterbacks, winning the smokehouse race at the position. The Toledo Central Catholic product is said to be favoring Michigan and Ohio State, but neither school has offered and his development as a passer this season will be key.
Finally, Duckworth is the dark horse in this group and has had an amazing summer on the camp circuit. The Louisville (OH) product wasn't even a starter last season, but has cemented himself as one of the top three quarterbacks in Ohio for the class and is a sure-fire BCS level recruit. Duckworth's downfall when it comes to Ohio State is that he isn't the ideal fit for the system, but he can certainly sling it and if not OSU, some school is going to be lucky in landing him.
The Big Four and One More
When it comes to linebackers in the class of 2014, many refer to Raekwon McMillan, Clifton Garrett, Dante Booker Jr., and Davonte James as "The Big Four".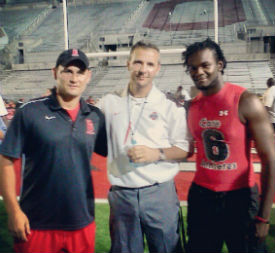 All four prospects were in the Horseshoe on Friday, but were joined by another talented linebacker in Oak Park (IL) River Forest's Nile Sykes, who could be pushing to soon make it a "Big Five" if his summer camp performances progress into success during the upcoming season.
While not all of the five performed in any or all of the events, having players of that caliber at Friday Night Lights was huge for the coaching staff. Not only did an opportunity to build better relationships arise from the camp, but the event gave the prospects at hand a chance to hang out together and see if they could envision themselves as future teammates at Ohio State.
McMillan, of Hinesville (GA) Liberty County, made his second unofficial visit to Ohio State this summer. It is no secret the Buckeyes are one of the star junior's top schools and following FNL he said that as of now OSU has a slight lead over home state Georgia. McMillan is the player I want most in the class, as he already has an NFL body to go along with his athleticism and tremendous work ethic. There are some other players, like Alabama, in this one, but at the end of the day I see a UGA-OSU battle continuing over the next year.
If McMillan is number one on my list, Garrett is 1A. The Plainfield (IL) South star has been a Buckeye fan for a while and made his second visit to Columbus in a month. Despite an NCAA rule requiring him to pay to be on the field despite no participation being a bump in the road, Garrett had a great time at FNL with his Core6 group and bonding with players like McMillan. Coming off of trips to OSU and Michigan State, Garrett says the Spartans have a slight lead over the Buckeyes, followed by Notre Dame in a distant third, but I continue to believe Ohio State is the team to beat. Mark Dantonio is doing great work with this one, but I eventually expect to see Urban get his man.
Booker Jr. wasn't expected to be at FNL, but made the trip down from Akron to take in the event. The St. Vincent-St. Mary's product is the top player in Ohio and is rated as the top outside linebacker in the nation by 247 Sports. He is a must get for OSU being in their backyard and would also give them a tremendous talent on defense. From what I hear the Bucks are the favorite in this one and there are some who think he could be the first to drop in the 2014 class.
James is right behind Booker in Ohio and is rated as the state's second best prospect and nation's fourth best inside linebacker according to 247. He is good friends and teammates with WR Thaddeus Snodgrass, which could bode well for the Buckeyes if they choose to offer James, as they have already offered Snodgrass. It will be interesting to see what happens with James, as he is currently fourth on the big board behind McMillan, Garrett, and Booker, but if it were up to me I would offer and take all four.
Finally, there were a few other players ahead of Sykes on the board before this weekend, but the Illinois native is quickly soaring up Luke Fickell's list. At 6-2/220 Sykes is projected as an outside linebacker, mainly because of his speed, which he showed at FNL by winning the smokehouse event for linebackers. Sykes was the rave of analysts and fans alike on Friday evening and is certainly a player to watch moving forward.