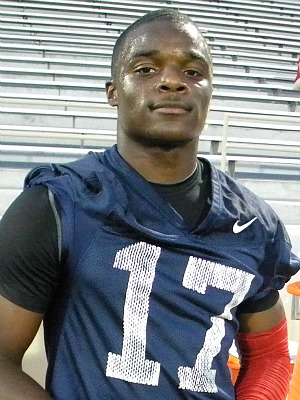 Urban Meyer and the Ohio State coaching staff locked up their sixteenth commitment for the class of 2013 this weekend in Tim Gardner, but a lot of their time was invested in evaluating many prospects for the class of 2014, as well as building relationships with those rising high school juniors.
At the inaugural Ohio State Friday Night Lights camp, Lima (OH) Central Catholic CB Darius West stuck out as one of the top performers.  West showcased what separates him from other talented secondary prospects in the state by claiming the defensive back smokehouse award, given to the athlete that ran the fastest 40 yard sprint. A 2014 recruit, West will be in the discussion for a possible offer from the Buckeyes and did everything he could and more at the event to make that happen sooner rather than later.
Even though his recruitment is still in the early stages, the Lima product already boasts offers from Illinois, Cincinnati, Toledo, Bowling Green, and Akron. With his continued impressive camp performances, expect West's offer list to grow substantially throughout the next year, as his speed alone will entice many of the premiere college programs across the nation.
The Buckeye coaches have already secured a commitment from three elite athletes for their 2013 secondary class in Cam Burrows, Eli Woodard, and Jayme Thompson, with Darron Lee also being a candidate to play in the defensive backfield. Despite having such talent already on board, Everett Withers and Kerry Coombs will look to keep the position strong with the class of 2014, in order to continue a long line of traditionally strong secondary units in Columbus.
Could Darius West follow in the footsteps of the previously mentioned group and be the next great defensive back to put on the scarlet and gray? Keep reading to find out.
What did you think of your experience at the first ever Ohio State Friday Night Lights camp?
It was amazing.  It was very competitive and there was a nice group of receivers that made me work.  I loved it how they let the former Buckeyes and NFL players come back to work with us.  I won't forget how they had the fans out there cheering for us.  It was definitely the best camp I've been to.
What did you think about your overall performance at the camp?
I thought I did pretty good.  It was tough competition but I felt that I held my own.  For the defensive back sprints, I was the fastest guy out there.
For the one on one competition at the end of camp, who were the toughest wide receivers you had to compete against?
Shelton Gibson and Artavis Scott were consistently the toughest to contain.  Their speed was on another level.  I'd give Gibson the edge though.
What coaches did you talk to while at Ohio State, and what did they have to say?
I talked to Coach Hinton and Coach Meyer.  Coach Hinton is my contact from Ohio State and he just wants to stay in touch with me, so that will be the plan moving forward.  He said he'd be at some of my games to watch me perform.  Coach Meyer complimented me on how I played Friday.  He said that he also liked my film and wants me to just continue to keep my grades up and to maintain my work ethic.  Mike Doss was also there and he taught me a lot about my game.  
Were there any other recruits at FNL that you were able to build a relationship with?
I got to know another corner there in CJ Reavis.  He's a real cool dude.  We talked about possibly playing together in college.  We're going to stay in contact with one another.  We've been texting back and forth a little bit.  
What's next in your recruitment?
I have already been to Cincinnati, Louisville, Michigan, Michigan State, and I've been to Ohio State now twice.  Camp season is over and I'm done taking visits until the fall.  I am going to Illinois to watch them play Penn State, and to Cincinnati to watch them play Pittsburgh.  I'll also be going to Ohio State to watch them play Michigan.
Is there a timetable in which you are planning on deciding which college to attend?
I want to go ahead and make a choice on where to go soon after my football season.  I'd like to be one of those guys that commits early and gets the ball rolling to get other elite players on board.  I like Ohio State, Michigan, Cincinnati, Louisville, Illinois, and West Virginia right now.  
HIGHLIGHTS: