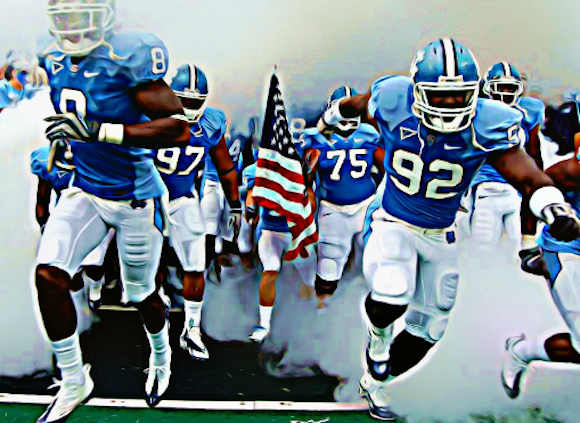 In the spirit of the Summer Olympics: It's bewildering to think that Tatgate wouldn't have even medaled in the recent collegiate scandals competition.
The figurative gold medal hangs in a space where Joe Paterno's bronze bust pointed its finger skyward until very recently. The highest perch on this medal stand belongs to the Nittany Lions.
It's the least controversial aspect of that entire tragedy: Penn State's scandal is without peer.
Silver and bronze are not quite as defined, but one thing is certain: Ohio State didn't do nearly enough to merit consideration.
Miami, the crafty veteran in this competition, was thought to be the clear favorite before the details of Jerry Sandusky and the systemic enablement and decade-plus sheltering of his crimes emerged.
The U was Yahoo! Sports investigator savant Charles Robinson's promised "10 out of 10" on the scandal scale, and it did not disappoint - until the world record-shattering context arrived in State College.
So Miami quietly slipped into the background; assisted by a combination of Penn State, ESPN's consistent apprehension toward acknowledging non-ESPN investigations and the return of live football just days after the story broke a year ago.
Its day of reckoning arrives soon, but it seems as though Miami's ceiling in this unfortunate competition is bronze.
Oregon's scandal, which also slipped into the shadows, is still in contention for recognition. The school admitted to Failure to Monitor months ago, but it's hard to know where the Nike-funded accoutrements begin and the recruiting violations end in Eugene. Apparently that case is still being investigated, but it's got a shot at medaling.
Central Florida was the dark horse. Its Notice of Allegations was one of the most impressive collections of violations in NCAA history.
UCF's athletic director basically oversaw illegal recruitment practices and improper benefits for athletes in both football and basketball. Think Tatgate in two sports, but with much more money, players and recruits and Gene Smith actively running the whole thing.
It would have been the odds-on favorite had anyone ever given a passing thought to UCF. But its punishment practically mirrored Ohio State's (basketball got an identical minor slap too) when UCF very easily could have faced sanctions closer to what Penn State is now swallowing.
Yet last year at this time we were still being subjected to the Endless Summer of Tressel, Dennis Talbott and Terrelle Pryor, not because of the depth of scandal (obligatory fixed raffles LOL) but for the same reason that Tim Tebow and the New York Jets are clumsily occupying the space where at least 30 other NFL teams' preseasons could also be: Interest.
Tatgate wasn't all hype: Covering up any violation no matter how small or stupid that directly resulted in six players staying eligible when they shouldn't have been is an Olympic-qualifying feat. Tatgate is the swimmer in the eighth lane: It's yet to breach the television screen when the winner is already tapping the pool's edge.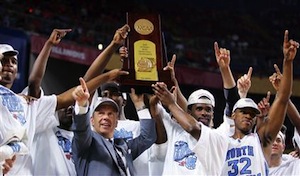 ESPN funded an entire OTL investigation piece on Talbott. He was never questioned by the NCAA. He doesn't appear in Ohio State's final infractions report.
Now ESPN is coming back to Columbus, but to do a decidedly different program clearly demonstrating that its only bias is toward the accumulation of large audiences and high ratings.
That leaves the University of North Carolina in Penn State's shadow on the medal stand.
The Tarheel football program already received penalties similar to Ohio State's, and both its football coach and athletic director were shown the door.
But as with Penn State's troubles, UNC's have the potential to inflict damage outside of the athletic department. Fifty-four essentially fake courses with very little or no teaching at all mostly filled by athletes can impact far more than what the NCAA is able to impose.
Also raising eyebrows in Chapel Hill: It wasn't just football players. Basketball players were enrolled in these charades too. North Carolina basketball players. And yet this two-sport scandal is getting about the same miniscule attention as the UCF one. 
Had the ACC not basically sold itself to ESPN recently, this would be the part where it gets interesting - but don't wait for the Worldwide Leader in Selective Reporting to do anything that could lend unnecessary damage to one of its most prized television properties until it's absolutely forced to. 
UNC is home to the biggest scandal in college athletics that nobody seems to be talking about at all (which is what happens whenever ESPN bites its own tongue). This was where the investigation into the football program began two years ago, and it has only grown exponentially ever since.
Not a single name that's been ensnared by its reach has been spared, which is why its slow creep into basketball is ominous. Oh hi there, Roy Williams.
UNC's new athletic director concedes this is a full-blown academic fraud case, and to make matters worse the university seems to have taken an obstructionist role in the investigation.
Eligibility cocktails are definitely commonplace in collegiate athletics, but it's generally understood that those less rigorous courses are still real courses - with actual teachers and a curriculum for study. And this is Chapel Hill, not one of those diploma mills in Alabama.
The Afro-American Studies department being the center of the sham courses electrifies a third rail in this story: Black athletes being tucked into that academic track where they're denied any kind of meaningful instruction or enrichment in exchange for eligibility in what appears to be a corrupt and routine organizational process.
I don't believe the American media is equipped to tackle that angle, and even if it is, it has no idea how to process it for its audience which has long grown accustomed to being talked down to in between servings of soft, milquetoast news bytes.
The media's hand was recently forced to shine a light on the gruesome subject of child rape. It had to talk about a beloved dead man who would be facing criminal charges if he were still living.
The angle of race in the UNC scandal likely won't be crossed, but the investigation will eventually conclude and it looks increasingly bleak for one of America's most highly-regarded universities. That just happened in Pennsylvania. Schools like these don't go down in a vacuum - their troubles have ripples.
The media was just forced to tear apart the facade of Penn State's institutional integrity, which it had literally spent decades lauding. It was an unpleasant exercise all-around. Chewing up a sweater-vested coach who was notoriously obtuse with journalists is far more palatable. Alas, the bar has been raised too high.
In any other year the Tarheels could take the gold. But this year barely anyone is paying attention to their medal-worthy performance.