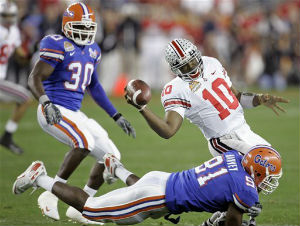 S-E-C! S-E-C!
It's no secret that the Southeastern Conference is the superior force in college football. When you win six straight national championships, bragging comes easy. So, too, does venom from the rest of the country.
A major sticking point for not only Big Ten fans, but fans of teams from every other conference is the SEC speed conversation. Some say speed is a factor when Big Ten and SEC schools play, other vehemently deny it. Urban Meyer believes it all starts with the defensive front seven.
"I think that, and I also think just overall team speed right now," Meyer said "We're addressing that.  I notice it on special teams. So I just think overall athleticism right now we're a little bit behind.  But we're recruiting with that motive, with that intention and I'm real proud to say it's going very well. 
"But I think without question I'm not the only one that says that. The defensive front seven in that conference, in the SEC, is the difference-maker right now. But it's a little bit deeper than that."
It was noticeable in both national championship games Ohio State lost against SEC schools. Florida's Derrick Harvey and LSU's Glenn Dorsey and Ricky Jean-Francois made mincemeat out of the Ohio State offensive line, greatly contributing to humbling defeats.
The shift toward the importance of speed has since contributed to wide-ranging offensive changes across the conference.
"I watched a lot of Big Ten as we got ready to play in bowl games in recent years," Meyer said. "I've seen the Big Ten change dramatically. Eight of the 12 teams are running some sort of spread offense right now. And then there are two option offenses and two traditional pro-set offenses. That's obviously a dramatic change."
Still, in the national championship department and on the national respect meter, the Big Ten lags far behind the SEC.
"The one thing about college football is that it's very cyclical," Meyer said. "The Big Ten, for many, many years, was the number one conference in America. Right now, we're not. But there are a lot of coaches and players intent on making it the best conference in America.
"(The Big Ten has) to win. They have to go win some bowl games. The bottom line is go win. However, how far are we from doing that? Coaches that have been in the conference for a while will know better than I do. When you ask me at this time next year, I'll know a lot better. I know one thing, I know there are some very, very good teams in this conference, and so I anticipate winning is not that far off."
KNOWING YOUR NEIGHBOR
It took less than a minute for Meyer to talk about Ohio State's intensity and passion. And it came with a wide smile across his face.
"I like our players," Meyer said. "I like our team. We had a conditioning test that our players are telling me about. And the energy level is real high right now in Columbus with our football team. So I'm anxious to get going."
The one problem, however, is the foreign nature of the opponents. Meyer's only stint as Big Ten coach came when he was a graduate assistant at Ohio State in the 1980s. He faced Big Ten teams in bowl games while he coached at Florida, but Meyer is still venturing into the land of the unknown, much like Bo Pelini and Nebraska did a season ago.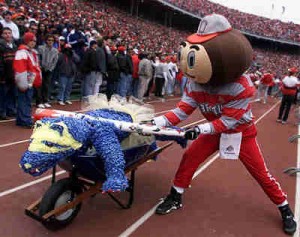 "The thing I don't understand and really have a complete grasp of is our opposition, of our opponents, because I don't know the conference very well," Meyer said. "So the job is to see who plays a big part of it. As far as our football team, I like where we're at and anxious to get going."
Fall camp commences a week from Friday.
THE GAME
The Ohio State-Michigan rivalry, arguably the biggest in all of sports, has hit a snag since the epic No. 1 vs. No. 2 matchup in 2006.
The Rich Rodriguez era never got off the ground, resulting in three consecutive blowouts in favor of Ohio State. Then, the Buckeyes had their troubles last season, leading to Michigan being a clear favorite. "The Game" looks to be back and better than ever now.
Brady Hoke and Urban Meyer both understand the rivalry and have injected a much-needed dose of adrenaline. With both teams back among the elite in the Big Ten and Ohio State's bowl ban in effect, the 2012 edition is already highly anticipated by fans on both sides.
"I don't know if you can add any more to it," Meyer said. "And the big reason is hopefully by the end of the season there's going to be two really good football teams that are going to go play each other.
"But I think that will be, I certainly imagine in our home stadium there will be a buzz about that. I've already heard it, and I haven't made that decision on how we're going to attack that game other than it's the biggest game of the year and we will get ready for it."
Fear not, Ohio State and Michigan kickoff in 121 days.
Personnel changes in the Nickel Defense
Sabino mentioned that it's possible that he will slide over to Mike linebacker when the defense goes to nickel, though these defensive schemes will be decided further in fall camp.
This will be important to watch in fall camp - whether Sabino or Grant comes off the field when the defense adds a fifth defensive back.
Shazier will likely stay on the field at all times no matter the scheme, as his speed is necessary on the edge and in space. 
Michael Thomas, big expectations 
A we mentioned earlier, Urban compared Michael Thomas' work ethic to John Simon's. This has been a consistent theme since the spring.
The B1G released an updated depth chart today with the media guides, though Meyer was insistent that this two-deep "did not have my signature." However, this depth chart still has Michael Thomas behind Devin Smith.
Thomas has been one of the hardest working players on the team regardless of class. There's plenty of evidence of his hard work thanks to twitter. 
Meyer in the Broadcast Booth 
I'd like to point out that Meyer was a definite #swaggernaut today with the scarlet and gray-striped tie and scarlet pocket square. He must have picked up some style points from the ESPN broadcast guys. 
In regards to Urban's time in the broadcast booth, he has great respect for what the media does, but previously he was "paranoid about letting anyone in or out" at Florida.
He also noted that "I feel like I'm a better coach now" after visiting other programs. In particular, he felt like he learned a lot from Bob Stoops and Mack Brown.