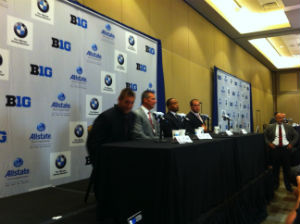 As you know, Zach Boren, John Simon, and Etienne Sabino represented Ohio State today at the Big Ten Media Days. 
"Oh Captain, My Captain" Meyer was the subject of the majority of the questions at the Big Ten Media Days, but the players received a few questions here and there about the adjustment to Meyer's regime, off-season work outs, bonding as a team, and which players to look out for next year.
A couple of things in particular stood out to me: 
First, these three hulking members of Meyer's "Leadership Club" all struck me by their honed "coach speak" abilities.
Sabino and Simon answered questions directly, though there were obvious signs of the Senator's influence. Zach Boren, on the other hand, provided a bit of welcome color. 
When asked about how the team was bonding this offseason, he responded by saying that this is probably the first year that there haven't been cliques and everyone has been hanging out more as a team. 
He elaborated that they've been having more cookouts and poker nights as a team, to which Simon interjected that he usually wins. I don't think anyone would dare say otherwise. 
While it's good to hear that the team is bonding more this year, what sticks out to me is that there were locker room "cliques" in previous years. Ohio State teams have never been known for having locker room chemistry issues (that we know about), but the prospect of more team unity is cause for excitement. 
Second, in terms of leadership, it's safe to say that John Simon is Meyer's new Tebow. And there is nothing more important to Urban than a good leader. 
Everytime that Simon opened his mouth, Urban watched him with a father's pride. It was clear that Urban respects Simon on a personal level, off and on the field. 
When Simon was asked about fun things he did over the summer, literally his first response was about 6am workouts. 
Third, the players at least are impressed with the development of offensive players. Boren noted that Braxton has come a long way since last year, and that Braxton has "one or two Heisman" potential.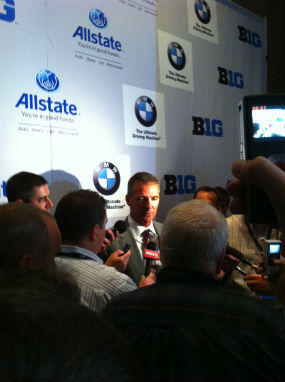 I spoke one on one with Etienne Sabino, and he emphasized how deep the running back stable is. He reiterated reports that Hyde is far faster and shiftier than a guy his size should be, seemingly confirming Hyde's ~4.4 40 time. 
Fourth, losing Jordan Hall for any amount of time really hurts. Etienne mentioned that
Jordan Hall, he's actually very elusive. I don't know if you guys know this, but he's probably one of the hardest people to tackle in open space. 
Well, we had some idea of Hall's abilities in space, but it's always nice to hear about it from our own defensive players. 
Fifth, look for Noah Spence and Bri'onte Dunn to really make an impact out of all of the incoming freshmen. 
Those seem like safe picks (and they are), but both Meyer and Simon mentioned Noah Spence as a guy who has been competitive in the weight room over the summer. Simon mentioned that Spence has accompanied has accompanied him to 6am workouts. Meyer then said off camera that Noah has been impressing and coming along nicely. 
Further, Sabino mentioned Dunn as a guy who has impressed, even among guys like Hyde and Hall, as each back brings something new to the table - "It's hard to pinpoint just one guy, even though the freshman, Bri'onte Dunn, did a good job." 
Sixth, Curtis Grant is impressing. 
Sabino mentioned that it's safe to say that Curtis Grant has turned the corner after his freshman year, with Sabino saying:
From last year to this year, I feel like it's night and day. He's a real student of the game and I'm excited to see him play because he really works hard.  
Keep checking back to 11W, as we'll have more updates here and on twitter as the Media Days continue.