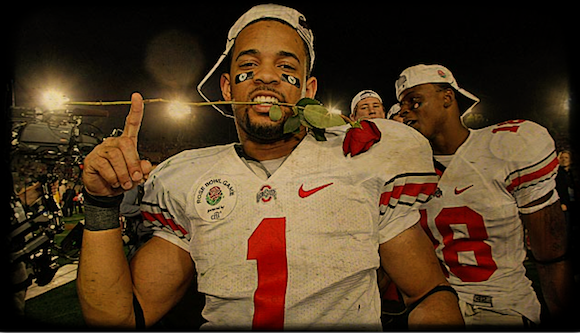 It's the very first penalty recited every time Ohio State's current NCAA punishments are brought up - even though it was the fourth one listed in the infractions report.
It's the penalty that you were always promised would be avoided when the Tatgate nightmare finally concluded - and it would have been - until the NCAA kicked up Bobby DiGeronimo at the investigation's eleventh hour.
Accordingly, it was also one of the very first questions Urban Meyer was asked at his very first B1G media day last week.
How do motivate your team with nothing to play for?
Bowl games have steadily grown into a watered-down, corrupt relic of a bygone era when college football had to promote itself far and wide to gain exposure. On top of that abuse, achieving bowl eligibility is now anything but a landmark feat (if last year's Buckeyes could make it to New Year's Day then they're not exactly bolting the back entrance into the club).
But then you're told your team doesn't get to have a bowl game. Suddenly, they seem more important than ever.
Thanks to DiGeronimo, Tatgate and the respective enablement and cover-up that transformed them from violations to scandals, we have known for months that the Buckeyes' wins and losses this season will sum 12 instead of 13.
Even if the losses total zero - a highly-optimistic, mathematical but extremely remote possibility each year - Ohio State football for 2012 will conclude in November.
A resounding triumph over Michigan in that final game will certainly be tinged with varying degrees of regret over what could have been in January. At the same time, a loss in Columbus will stain our offseason palates like no other non-Florida loss this century. There hasn't been a more important Michigan game in five seasons.
All of that said: Bowl games aren't everything. Until a team convinces itself that they are.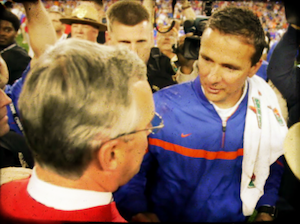 And that bowl ban is the invisible 13th opponent on the 2012 schedule Meyer will have to scheme for all season.
It's the single wound from the lost year of 2011 that still throbs. The previously-scheduled breeze to a championship was abruptly scuttled last May in exchange for that forgettable 6-7 disaster, but that's long over.
Unfortunately, its triumphant follow-up has also been neutered before its pair even had a chance to descend. The Buckeyes are going to have to get over that very quickly if they want to avoid smudging Meyer's debut.
So what's going to happen? How do motivate your team with nothing to play for, Coach Meyer?
You've been answering that question yourself since last December, and if you're like most fans you've landed on the bright idea of the 2012 Buckeyes playing MAD. They're going to play ANGRY. Michigan is going to be SO SCREWED. And even better, Meyer himself AGREES WITH YOU.
That all sounds nice. And just a little too familiar.
The Buckeyes' rallying scorn heading into the lost season of 2011 was scheduled to harness the necessary 1.21 jigawatts required to get the Buckeyes back to their previously scheduled future atop the B1G and most of college football.
Unfortunately, victories aren't fueled by anger or perceived disrespect alone. You may recall Ohio State playing LSU for the BCS title not too long ago. The angry, disrespected team was on the receiving end of a 31-0 run. HOWEVER: The Buckeyes played angry; so very angry.
But the difference this year will be competent offensive coaching that's delightfully paired with that anger. A real quarterback coach instead of last year's pretend one, and a sound offensive line coach instead of that walrus who still believes big fat guys should play interchangeably along the line of scrimmage.
And a nutritionist! And a reinvigorated strength and conditioning program! And the fact that Meyer always kills it in Year One and kills everything in Year Two!
Which brings us back to that invisible 13th foe on the schedule; the ultimate wild card - the opponent that isn't supposed to exist or permitted to be scheduled. The apparition that Meyer was asked about barely a minute into his first Big Ten media day.
He was questioned on the effect that those sanctions had on the program. Though the journalist didn't list all of the penalties, he, Meyer and everyone in attendance understood that the inquiry was specifically about the bowl ban.
How do motivate your team with nothing to play for?
Meyer answered it by bridging the still-fresh postseason ban that Penn State had just received which mirrors Ohio State's, only in quadruplicate. He said that he has had to face the challenges of the Buckeyes' bowl ban twice already with one more meeting - the longest one - left to go.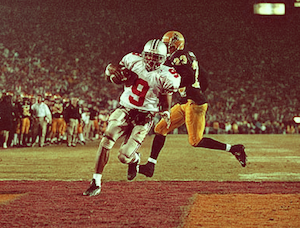 He first dealt with Ohio State's postseason banishment in December during recruiting season when it was negatively used against him by rival schools. (In case your memory has been bleached by the sun, the bowl-ban-negative-recruiting pitch against Ohio State didn't take. At all.)
The second challenge he faced hinged on keeping veteran players - now deemed free agents in part because of the NCAA easing its usual transfer penalties - from defecting to programs where bowl eligibility was on the table.
There were no regrettable losses in that endeavor. Meyer then closed his answer by admitting that the third bridge across the postseason penalty was still on the horizon.
He referred to it as the so-called nothing at the end of the season. He doesn't appear to be conceding anything to that 13th opponent.
It's not only the bowl game; it's the lost December practice time. After the Michigan game there's nothing left to play for, which gives the football team nothing they're allowed to do. It's a double-nothing.
Meyer will try and use the so-called nothing to his advantage, just as you expect him to. The Xs and Os that will define Ohio State's offensive transformation will be paired with motivational countermeasures that specifically address the so-called nothing.
He used the perception of disrespect to his advantage in 2006 to produce a BCS title game so destructive to you personally there is no chance you'll never be able to reconcile that night regardless of what he delivers at Ohio State.
Meyer has never had to scheme against this opponent before; not at Bowling Green or anywhere else. He successfully fought it through the recruiting season, he battled it in keeping his roster intact and now he'll face it for the final time as its cloud hangs over all 12 tangible opponents on the schedule.
With each win this season the Buckeyes will methodically progress in their creep toward the so-called nothing. Ohio State will get closer and closer to the vacated end of its rainbow.
The only logical conclusion is that there will be that much more emphasis on the journey, since this team is forbidden from having a destination.
So you, the media and that inquisitive journalist at B1G media day were all, unfortunately, correct. In 2012, Ohio State is playing for nothing.
The so-called upside is that those dozen Saturdays now get to mean everything.