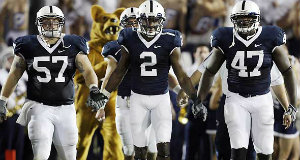 Though Penn State was decimated by the NCAA this morning, it's difficult to talk about the impact on football or the Big Ten. 
In case you were with hiding under a rock this morning, Kyle wrote earlier that 
On Monday, the NCAA hit the Penn State football program with a $60 million fine, four-year postseason ban and the vacation of all wins dating to 1998, effectively removing Joe Paterno from the top of the all-time wins list...Penn State also must slash 10 initial scholarships and 20 total each year over a four-year period. Players will also be allowed to transfer immediately to another school. All combined, the penalties are akin to a living death penalty. Penn State will be afforded the opportunity to play in games, but any hope of being competitive is all but lost.
There are clearly more important matters here - namely, respect for the victims and ensuring that this type of negligant culture never happens again. Derek got it right: 
Do not just look at this in a way of how your school may benefit. Also, remember the victims.

— Derek Young(@Derek11W) July 23, 2012
There are meaningful considerations for the remaining innocent coaches, players, and future recruits at Penn State, like where transfers will end up, how Penn State can recover, future recruits, and the competitive balance in the Big Ten. 
So how does Penn State manage? And I don't mean their football team alone - it's clear that winning football games should be the least important thing right now for Penn State. 
That doesn't mean sports should be abandoned, Penn State should withdraw from the Big Ten, or that it should stop playing football. 
It's important to remember that there can be Jerry Sanduskys at any school - any school can have coverups and scandals. However, if I'm Penn State right now, what do I do? 
1. Accept punishment and all penalties 
Penn State has done this part right so far. Agree to all penalties and remain deeply sorry for what has happend. Do not fight for any strategic advantage - the PR fallout will be far worse than any potential gain. 
As Dodd writes, 
For the next several years ...PSU can focus on rebuilding its athletic culture. Not worry about whether it is going to a bowl game. Emmert

— Dennis Dodd (@dennisdoddcbs) July 23, 2012
2. Ensure non-revenue sports aren't damaged 
As Penn State works on changing its culture and rebuilding, sports can nonetheless rally the community together. Sports themselves are good, and can act as a centripetal force for the community.
The NCAA's $60 million fine is intended to penalize one entire year's worth of football revenue, though it equates to around 85% of a year's revenue in actuality. This money will instead go towards an endowment for children's groups.
Crucial here is that this money and - even more importantly - the money that Penn State will lose form lost ticket sales, t-shirts, and other merchandise is an important source of income for other sports as well. 
And Penn State's program was an extremely valuable one - Forbes estimated that it was the third most valuable program in the country, worth about $100 million.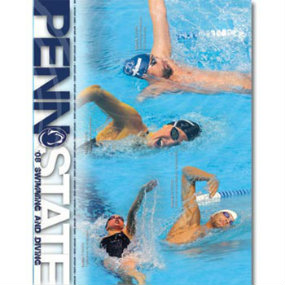 The loss of this money might affect more than just the football program: 
That money raised through the football program funds nearly every non-revenue sport on campus, including tennis, swimming and track.
It's important for the university to not let completely innocent student-athletes in other sports to remain unaffected by the football program's penalties. 
It's a great time to be a Penn State hockey fan - and if I'm AD, I'd increase advertistments and incentives for students to attend these non-revenue sports. 
In addition to other sports, local business will likely take a hit, as Thoma understands: 
Blah blah football, blah blah. Children were hurt forever. No punishment should be celebrated. Hope State College businesses can survive.

— Jonathan Thoma (@JonThoma) July 23, 2012
3. Give opportunities to walk-ons
The almost uniform opinion is that the scholarships reductions were easily the worst punishment for Penn State. As many have said, Penn State is essentially reduced to an FCS team with only 65 possible scholarship players. 
I don't think as many current scholarship players will leave as many think - school loyalties are fierce, often outweighing things like bowl games or winning.
Head coach Bill O'Brien will undoubtedly be recruiting 2- and no-star kids who likely otherwise wouldn't be playing college football at the Division-One level.
This should give ample opportunities for walk-on football players. Penn State may not be competitive for the next 8-10 years, so why not give tons of opportunities to walk-ons too? 
Travel squads are generally capped at 70 players, so now many more walk-on players will have the opportunity to travel with the team to away games.
This is a good thing - allow walk-on student atheltes the once-in-a-lifetime opportunity to play for a storied program, even if it is a hurting one.
These kids can form the new face of Penn State football - one built on a foundation of honor, transparency, and respect.