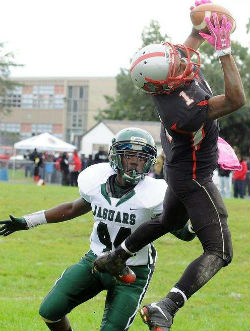 As reported yesterday, Forestville (MD) Suitland ATH Taivon Jacobs became the fifteenth member in Ohio State's recruiting class of 2013.
The verbal pledge came as somewhat of a surprise to Buckeye fans, who hadn't heard much about the 5-10/165 athlete, as many expected him to pick the hometown Maryland, where his older brother, Levern, is a freshman defensive back
Urban Meyer and Zach Smith were two people that weren't surprised with the news, as they had long been recruiting Jacobs after hosting him twice on campus in three months and identifying him as a prospect who could shine on the offensive side of the ball in the new Ohio State system.
Jacobs became the second wide receiver in the class, joining Jalin Marshall and likely leaving just one spot left in the position group. Many questioned accepting the commitment as Jacobs is rated lower than some other players on the board (Robert Foster, James Quick, Devon Allen, Shelton Gibson, etc.), but word has it that is due to a lack of participation at national combines/camps, and regardless fans should be excited that the staff, the most important evaluator, wanted Jacobs in the fold after seeing him camp in Columbus in late June.
We caught up with Taivon to hear how his courtship with OSU lead to a commitment, how he will be used when he arrives on campus, what his goals are for his Buckeye career, and more. Join us after the jump to hear more on the latest member of Buckeye Nation, Taivon Jacobs.
Many Buckeye fans hadn't heard about you before this week. Can you fill us in on how your recruitment started with Ohio State?
Zach Smith had been recruiting my brother for a couple of years and got to know me while doing that. We built a good relationship and he believed in me early and told me I had the potential to be a good Division I player. Ohio State was always a dream school of mine growing up, but once Coach Smith got hired there, I liked them even more. I went up to see a spring practice in April and then went to their one day camp in June and really loved it there.
With your brother at Maryland and West Virginia also recruiting you hard, what made you decide to pick OSU over your other two finalists?
I just felt it was the best place for me. I got a feeling that this is where I should be and I really liked the way the program is one big family at Ohio State. The people and the tradition there are great and the fan base is unbelievable. As soon as I committed I immediately got so much love on Twitter and got like hundreds of new followers. I've never seen anything like that before it was crazy.
When you committed to Ohio State, what did the coaches say?
I talked to both Coach Meyer and Coach Smith when I called OSU to tell them the good news. They were both really excited. Coach Smith said he was pumped up and that lifted me up a bit when I heard how excited he was. Coach Meyer was very excited as well and said he couldn't wait to get me up there. I told them thank you for the opportunity and now let's go get that crystal ball.
How did the coaches say they plan to use you?
I will be primarily playing wide receiver there, but they said they may use me like Chris Rainey in that I could be coming out of the backfield, or playing in the slot. I also will definitely be contributing on special teams and can return both kicks and punts. I am ready to play anywhere the team needs me to play in order to help us win games.
What were your final stats during your junior season?
I had 35 catches for 922 yards and 13 touchdowns. I also had seven return touchdowns on special teams.
Do you know when your next visit to Ohio State will be?
As I mentioned, I was there in April for a practice and then again in June for camp. I am not sure when my next trip will be, but I will definitely be there for at least one game this season.
Have you spoken to any of the other commits in the class yet?
Yes I have. Darron Lee, JT Barrett, Cam Burrows, and Ezekiel Elliott have all reached out and it's been cool starting to talk to those guys.
Now that you're committed are you 100% done with your recruitment?
Yes, I am 100% committed to Ohio State. They'll be my only official visit and that is where I will be playing my college football.
HIGHLIGHTS: