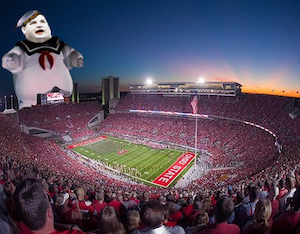 Ed. Note: This was written well before the tragedies of last night that occurred at a screening of a film mentioned in this piece. Our thoughts are with the victims and their families.
A few weeks ago, the Internet was in an uproar over an erroneous report that a sequel to the venerated film The Big Lebowski had been given the green light. And while the notion of "The Big Lebowski 2: The Dude Goes To Washington" is as ludicrous as it seems1, people still panicked because sequels and remakes are all the rage in Hollywood. Even a second Raging Bull movie has recently been filmed, so you know nothing is sacred.
However, not every reboot is automatically a terrible idea. It's all in the execution. As everyone is aware, a little flick called The Dark Knight Rises opens today, and Christopher Nolan certainly hasn't made anyone, except maybe lovers of Batsuit nipples, long for the days of Joel Schumacher. 
This fall, the Ohio State football team will be looking to follow up their own Batman & Robin season with a Batman Begins-type of palate cleanser2. With Urban Meyer, a new man is at the helm. There are some additions to the cast, but most of the characters are the same, just as better, more fleshed-out players.
Since we have over a month until we can watch the reimagining of Ohio State, it's time for the sneak previews. So, let's check out what would happen if members of the football program starred in upcoming, or at least rumored, remakes or sequels.
Ghostbusters III: A New Era
Actual Remake/Sequel: The possibility of a third film has been discussed for years, and just last week, Sony hired a new screenwriter to tackle the script. Although it would conceivably reunite the original stars, Dan Aykroyd has previously mentioned the idea of bringing younger Ghostbusters on board, too. 
Plot Summary: Not since the 1970s and '80s have ghosts been a problem at Ohio State, but when spirits start popping up around campus again, who you gonna call? Taking the torch from their fathers, second generation Buckeyes Frank Epitropoulos, Adam Griffin, and Evan Spencer, along with Earle Bruce's grandson Zach Smith, make it their mission to eradicate all phantoms3, including former president Edward Orton in Orton Hall, Mrs. Clark at Mirror Lake, and the notorious killer Jeffrey Dahmer in Morrill Tower.
While the Ghostbusters are met with fanfare from the student body, the NCAA tries to find ways to hamstring their efforts due to possible student-athlete violations. That is, until it becomes clear that a sinister, Maize and Blue demon is behind the spectral occurrences. Soon, an epic battle is brewing when The Horseshoe is threatened by this malevolent force and it's up to the three players and wide receivers coach to save the day.
Urban Adventures in Babysitting
Actual Remake/Sequel: Raven-Symoné was once attached to a remake, and even though that fell through, apparently the film is still considered in development4.
Plot Summary: Urban Meyer insists he's too old for babysitting, but he finds himself doing just that over the course of one action-filled night. When their scholarships were revoked for the summer, the parents of Jack Mewhort and Jake Stoneburner would not allow them to spend their weekends unsupervised, so they coerce Urban into watching after the two while they attend a benefit in downtown Columbus. Urban's favorite player, Braxton Miller, tags along in what was supposed to be a quiet evening studying game film in the suburbs.
However, an urgent call from the injured and stranded Jordan Hall changes their plan. On the way to city to pick him up, Urban and company are waylaid by a flat tire, which leads to the discovery of a car theft ring run by Terry Glenn. As they try to escape criminals, the four experience a series of mishaps, and with the help of a Thor-like John Simon, they have to get home safely before their parents ever find out.
TWINS: A reproduction
Actual Remake/Sequel: At Comic-Con last week, Arnold Schwarzenegger was excited at the prospect of reprising his role in Twins alongside Danny DeVito. In Triplets, Eddie Murphy would perhaps sign on as the third brother. 
Plot Summary: The result of a genetic experiment, Drew Basil and Johnathan "Big Hank" Hankins are twins who couldn't look more different from one another. As babies, the two were taken from their mother and placed in separate homes. The smaller, slyer Drew grew up in southern Ohio, where he learned the art of place kicking. Big Hank, on the other hand, was raised in Detroit, where his size and athleticism produced a havoc-wreaking monster on the football field but a gentle giant off the field.
After Drew commits to play for the Buckeyes, the high schooler discovers that he has a twin, and when he tracks him down and finds an agile defensive tackle, he tries to convince Big Hank to join him at Ohio State. But Nick Saban is also recruiting him, and Drew has to fight to keep his sibling out of the Alabama coach's clutches as he attempts to drive a wedge between the two brothers using their very much alive mother. 
MAGIC MIKE 2
Actual Remake/Sequel: With Magic Mike nearing the $100 million mark at the box office, Channing Tatum claims he's planning a follow up.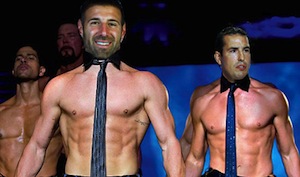 Plot Summary: After accidentally injuring beloved linebacker Ryan Shazier with a friendly Granby roll gone wrong, Luke Fickell finds himself out of a job. Thanks to an unwise real estate investment deal with John L. Smith, a broke Fickell moves to Miami to live with his sister. 
A chance encounter at a bar with bro Mike Vrabel introduces Fickell to the world of male stripping. On stage, Mike is a star, whose signature dance is based on Herbie Husker in the B1G mascots' "Call Me Maybe" video5.
"Magic Mike" takes Fickell under his wing and shows him an easy way to make money, meet women, and have fun. Beneath the surface, though, is a darker and seedier life that can be difficult to escape.
Chase Farris' Day Off
Actual Remake/Sequel: Ferris Bueller's Day Off became a short-lived TV show in 1990, and this past winter, Matthew Broderick paid homage to the role in a Honda ad during the Super Bowl. Supposedly, the screenplay for a sequel has been written, but it doesn't seem likely to go anywhere.  
Plot Summary: Chase Farris takes a devil-may-care approach to life and wanting a break from the grind of the football field, he decides to fake being sick for the day. He involves his reluctant pal, linebacker Camren Williams, and his girlfriend on his plan for the three of them to play hooky and enjoy the sights and sounds of Columbus, all while trying to avoid detection from offensive line coach Ed Warinner, who's on to his scheme. Also skeptical is his teammate Kenny Guiton, bitter from Farris intercepting him in practice. 
When Chase gets a table at Mitchell's Steakhouse by pretending to be the Carpet King of Columbus, the unsuspecting Everett Withers almost catches the trio in the act. What follows is an eventful day of trips to the Columbus Museum of Art, the zoo, a Clippers game, and other places around the city as they elude their coaches.
...You're still here? It's over! 
1 Sounds faker than Walter's TV censored line, "do you see what happens when you find a stranger in the Alps?" And as if the child of Jeff Bridges and Julianne Moore would look like Jesse Eisenberg. 
2 I guess that would mean Urban's year two = The Dark Knight. 
3 Ohio State's purported ghost stories can be read about here.
4The Sitter wasn't an official remake, but it did have almost exactly the same premise.
5 I apologize profusely if I got this song stuck in your head.