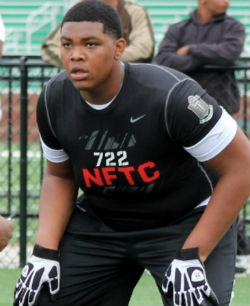 Shortly after 2014 OL Orlando Brown Jr. was offered by Ohio State, we caught up with the 6-9/360 left tackle and he told us he would likely be coming to Columbus for one of the Buckeyes' summer camps in June.
That visit didn't happen, but Brown finally did make it to campus with his mother last Friday, July 13 and the visit could not have gone any better despite most of the coaching staff being out of town during the only time of the year they can take vacation.
Brown played for DeMatha Catholic High School in Hyattsville, Maryland the last two seasons, but his family moved to Georgia this year and he will play for Peachtree Ridge in Suwanee, where both Bradley Roby and Cameron Heyward starred. 
His mother's side of the family is originally from Cleveland, so the Ohio roots are there, while his father, the late Orlando Brown, played for the  Browns during his pro career. Orlando Jr. not only gets his size from his father, who was 6-7/360, but also uses the same nickname, "Zeus".
We caught up with Orlando to hear how his Ohio State visit went, what Bradley Roby is telling him about playing for the Buckeyes, when he may come back for his next visit, and more. Join us after the jump to hear more about one of the top offensive line prospects in the class of 2014, Orlando Brown Jr.
How was your Ohio State visit?
The visit went great. It was definitely a great trip, even though we were only up there for one day.
I know a lot of the coaches are on vacation right now while they can be. Who was there when you made the trip and what coaches do you normally speak to?
I spent most of the day with Coach Withers, who is my main recruiter and Coach Barton, the assistant offensive line coach. I talk to Coach Withers all of the time since he is my main recruiter and I didn't get to meet Coach Meyer because he was on vacation, but I definitely plan on talking to him soon.
What did you get to do while on campus?
We got to check out the entire campus, go on the field in the stadium, see the facilities, and talk to the assistant strength coach, which was great. I also got to talk to Bradley Roby again which was nice. I loved it at Ohio State.
You've met Bradley Roby a couple times now. What does he say to you about OSU?
He says it is a great program. He came in there as a 160 pound defensive back and now he's up to 185, so they're doing great things for him both on the field and in the weight room. He let me know why it was such a good place to come to school and after my visit I can now tell why so many people like it up there and why they get such great players to commit to play for the Buckeyes every year.
Following your return home with time to digest everything, what are your first impressions of Ohio State?
My first impression is that they are one of top schools, definitely one of the favorites right now. I will definitely be coming back to Columbus for a game in the fall to see what that atmosphere is like.
Your mom was with you on your visit and is from Cleveland. What did she think of the trip?
My mom loved it. It was her favorite team growing up, but she had never been to campus before. It was her first time there and she definitely enjoyed it.
What other schools have you visited so far? Do you have any other visits planned?
This summer I have been to Florida, Alabama, and Auburn in addition to Ohio State. I had good visits to all of them and they are all definitely schools I like and will consider highly. Right now I don't have any other visits planned until my season starts.
Many of the 2014 recruits such as Raekwon McMillan, Clifton Garrett, Nick Glass, Demetrious Knox, and some others have been talking about pulling a Miami Heat and all committing to the same school to win championships. Have they contacted you about that?
They have spoken to me about it on Twitter a few times. I told them that it would be cool for all of us to go to the same school and help win championships for a program, but at the end of the day I have to pick the school that is going to be the best fit for me. If it turns out the school I choose ends up being a school they all want to go to as well, that'd be great, but I am going to make the best choice for me.