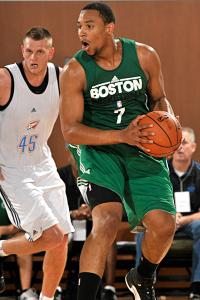 One game into his NBA career (OK, it's only the summer league) and Jared Sullinger already has general managers kicking themselves. Seventeen teams passed over the two-time All-American in June's NBA Draft, including three that had two picks before Sullinger was taken 21st overall by the Boston Celtics.
In his debut against Oklahoma City in Orlando, Sullinger, wearing his newly minted No. 7 jersey, finished with a team-high 20 points and six rebounds as Boston won 73-65. He was 6-of-12 from the field with a three-pointer and finished a perfect 7-of-7 from the free throw line – all while coming off the bench and playing 24 minutes.
For Sullinger, not being in the starting lineup was an unfamiliar proposition. It didn't appear to bother the 6-foot-9 power forward, though.
"I didn't want to come into the game thinking like, 'It's all about me, it's all about me,'" Sullinger said. "Playing all my life, where everything goes through you, I didn't want to be like that today because I got some teammates that can really play. So I was just trying to feel it out in the first half and the second half, we were falling behind, so I decided to step up and try to score the basketball."
Since he was in middle school, Sullinger has dealt with detractors. And at each level he has swiped them away with a level of play that, if it could speak, would do so in a baritone voice. The criticism had never reached a level like the past few months, though. Ever since doctors red-flagged Sullinger's back the NBA Scouting Combine, it's been like bullies on the playground – one insult after the next.
His performance Monday helped quiet the chorus from the peanut gallery.
"He's just a gamer," Tyronn Lue, the Celtics summer league coach, told the media following the game. "He knows how to play the game. Guys can be taller and more athletic, but he just knows how to play. He's very skilled and he knows how to play the game. We wouldn't have won the game without him today."
Sullinger started slowly, making just two of his first seven attempts from the field, and then he went off in the second half, scoring 14 of his 20 points. And he did it with a smorgasbord of moves and locations.
He converted down low, he made mid-range jumpers, he added a hook shot to his repertoire and swished a three-pointer. Sullinger also put his high basketball IQ on display. About the only thing he didn't do was run the point.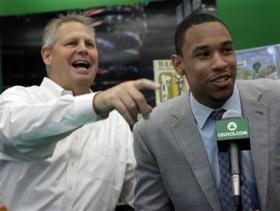 "That's the kind of IQ you've got to have to play on this team with (head coach Doc Rivers) and the veteran guys that we have, so he'll fit in good," Lue said.
His back was the main health concern for teams, but Sullinger's below-the-rim game was the chief on-court concern. Many executives and coaches didn't know how his game would translate to the pros. While it was only a summer league game, he certainly displayed a skill set that will translate to the regular season.
"I can play," Sullinger said on NBA TV. "I can handle the ball. I can pass the ball. I can shoot the ball. A lot of people don't understand that. Everybody thinks I'm overweight, so I'm just trying to prove everybody wrong."
Sullinger said he and OSU assistant Chris Jent worked on the running hook.  
"We've been working on that forever," Sullinger said. "He told me just to elevate and put some air under it. I put a little bit too much air under it and it went off the glass."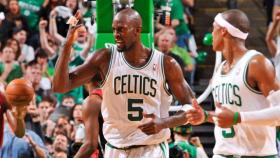 Ironically, the game featured the two biggest draft day snubs – Sullinger and the Thunder's Perry Jones III. Jones fell all the way to 28th. He, too, was dominant in his debut, finishing with 16 points and eight rebounds. It should be the first of many matchups between the two college phenoms, with the NBA Finals being a possible destination for both Boston and Oklahoma City.
If that is the case, Sullinger already knows what the outcome must be.
"Second place means nothing in that city," Sullinger said about Boston. "You've got to win. The fans are great, but you have to win. If you come in second, that doesn't mean (anything)."
Since the moment he was picked, Sullinger has called his fall down the draft board "a blessing in disguise." He and Jones each used that phrase Monday. Sullinger cited head coach Doc Rivers and Kevin Garnett as two of the benefits to landing with the Celtics.
"At the time it was Coach Rivers," Sullinger responded when asked his first impressions of the organization. "(He's a) great coach. Then we signed back Kevin Garnett and it was a blessing because I get to learn under one of the best. I'm ready to learn and compete."
Despite his weight loss prior to last season – 15 pounds to be exact – Sullinger is still on a health kick. Ask current Buckeye Evan Ravenel and he'll tell you Sullinger stole all of his dieting secrets.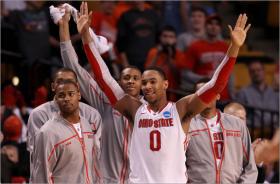 "I've been working out and changing my diet," Sullinger said. "I hired a personal chef, and I'm just trying to get my body weight down so I can play at this level at a high pace."
Still, Sullinger more than held his own down low going against Cole Aldrich. The Big Ten is the most physical conference in the country, but it is nothing compared to the level of banging in the NBA.  Celtics G.M. Danny Ainge, however, talked up Sullinger's defensive skills in the paint and pointed to a possibility of him matching up against some centers.
"That's fun," Sullinger said after the game about defending down low. "That's always fun. Get to bang around in the post, back to the basket. You get to guard someone taller than you, it's a challenge. It's always fun doing that. At the same time, it's always fun guarding quicker basketball players. It was fun today."
Sullinger reminisced about pickup games with his older brothers Julian (Kent State) and J.J. (Arkansas and Ohio State) when the topic of bumping and grinding down low was broached. Growing up with that pair prepared the youngest Sullinger for every level he played at.
During his sophomore season at Ohio State, Sullinger was uncharacteristically critical of referees, often complaining about calls during play. As a rookie it's something that Sullinger will have to get out of his system quickly because he likely won't be getting the benefit of the doubt.
"When you have two brothers like Julian and J.J. Sullinger that, when you go through the air on concrete and they throw you to the ground and you've got scrapes all over your arms, you learn to concentrate on making the shots instead of just scraping your arm," Sullinger said. "Every time I'd cry, they'd yell at me because I was always worried about the scab or something, instead of worrying about making the shot. When you've got two brothers like that, there's no choice but to make the shots.
"Hey, they trained me well. I owe them a lot."