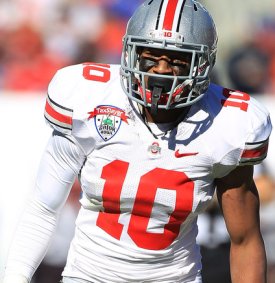 Often lost amidst the deserved hype bestowed on what should be a deep and dominant defensive line is the fact that Urban Meyer's inaugural Ohio State squad is mighty thin on proven talent at linebacker. 
The second level took another hit yesterday as Meyer was forced to boot his backup middle linebacker, Storm Klein, after the senior was charged with assault and domestic violence. Klein wasn't exactly impressive on the field as he typically looked too slow sideline to sideline but he at least had a grasp of the defense thanks to 10 starts in 2011. 
More importantly, he was the only backup linebacker with any game experience whatsoever and was the lone listed backup to the extremely green Curtis Grant at the Mike. 
Sure, Fickell's defensive schemes often call for just two LB's on the field but I have to believe I'm not the only one nervous about the state of things at what is typically a position of strength in Columbus. 
At this moment, there's really only one proven stud with OLB Ryan Shazier poised to blow up as a likely all-conference performer following flashes of brilliance as a freshman. Etienne Sabino will man the other OLB spot and while it seems many are starting to drink the kool-aid, the fact remains the senior has largely been a disappointment save for what was definitely a nice mini-breakout toward the end of last season. Throw in having a completely untested, yet highly touted and talented guy like Grant in the mix and two-thirds of the starting unit don't personally give me that warm and fuzzy feeling. 
Still, though the collective starting unit hasn't proven much, they could be more than serviceable in 2012. That's not what causes me worry. What scares me is what happens if any of these three miss significant time with injury? 
With Klein now history, there isn't a known backup at the Mike spot while the backups to Sabino and Shazier are currently listed as true freshman Luke Roberts, RS freshman Conner Crowell, senior Stewart Smith and true freshman Josh Perry. 
If there were to be an unfortunate early season injury to a starter, someone from that foursome would have to emerge as it's hard to figure any of the guys who didn't enroll early will be able to pick up the defense in just one month of fall camp. That said, there are three linebackers set to make their respective practice debuts come August in Camren Williams, David Perkins and Jamal Marcus.
Looking at the guys that have been around at least since January, there is promise but unfortunately only Roberts has much experience the middle. Rated the 28th best ILB prospect by Scout, Roberts is still growing at 6'1", 226 lbs and while the Lancaster product is just a three-star across the major recruiting services you never know when a sleeper could be lurking.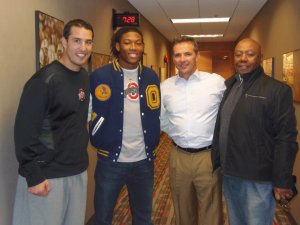 Potentially a better fit to backup Grant is the 6'4", 231 lb. Perry. The local kid from Olentangy is a four-star and was ranked as the 9th and 11th best OLB by Scout and Rivals, respectively. Though he was brought in as an OLB, he's noted as a very versatile athlete and has the size you want in your Mike. The first commit of the 2012 class, Perry is also touted as a very cerebral player (3.8 HS GPA) which should hopefully translate in his ability to pick up the system. It can't be understated just how important and challenging it can be for a kid to grasp the increased complexity of a big time defense - just ask Sabino.
Crowell is a unique story in that the RS frosh just tasted his first bit of contact this spring after surgery last summer wiped out his true freshman season. He's got size at 6'1", 233 lb. so he could find himself in the mix. Smith seems like a real longshot at this point. 
If none of the candidates with a headstart lay claim to the position, it will be up to Williams, Perkins or Marcus to make a move. 
From this group, it seems most likely that Williams would be the guy to step up. Bound for State College before the walls came crumbling down, the Massachusetts product was the #8 ILB prospect according to Rivals. The four-star landed by Vrabel also comes with NFL pedigree as his father Brent enjoyed a 13 year NFL career. 
Perkins is another versatile player and sports a 6'3", 230 lb. frame. The four-star from South Bend was a demon on both offense and defense in high school, checking in as the 13th ranked athlete and 22nd ranked OLB by Rivals. 
A potential sleeper in the group is Marcus though it likely won't be as a true Mike. Just a three-star, he was a late add to the class with Urban raving about the kid's film and at 6'2", 225 lb., many believe his emergence is more likely to occur in Viper sets, having played defensive end during his prep career. 
On paper, it certainly looks like the cupboard has plenty of ripening fruit but the maturation curve is always difficult to predict as kids attempt to make the jump to big time college football. As such, it's critical that the starting trio of Shazier, Grant and Sabino stay healthy and get the job done. 
Last season was an absolute disaster as the LB's collectively struggled with over pursuit and open field tackling in addition to being exploited in coverage. As noted, Sabino didn't come on until very late, Grant is wholly untested and Shazier, while showing amazing promise, had a penchant for getting dinged up even though he typically played through it. This year, a 100% Shazier could easilly be the team's star defender as the defensive line gives him plenty of space to make plays. It will be up to Sabino and Grant to carry their weight and if that occurs, this unit will be much improved over the 2012 version. 
However, ff even one of the starters is derailed for any reason, that will put even more pressure on the defensive line to dominate and we could witness another season of way too many third down conversions. 
Should the worst case scenario unfold, the good news is the staff has a wealth of eager young pups and a throw-away year of sorts to examine and develop kids dying to prove they belong on the field.
Hopefully the ride isn't as bumpy as last year.