Welcome to another wonderful Friday folks and the first official Friday that Jared Sullinger can call himself an NBA player. You've got to feel good for Sullinger who was drafted 21st overall by the Boston Celtics. The boys from bean town got a steal at No. 21 and it's great to see Sully's roller-coaster draft process come to a comfortable halt. Sullinger is stepping into a great program with a proven coach. Here's hoping Jared can look back in five years and laugh at those doctors who called him an injury risk. Prove 'em all wrong Sullinger, Buckeye Nation couldn't be happier for you. 
As for William Buford, unfortunately he was not selected last night, leaving questions for him moving forward. Hopefully he'll be able to work his way onto a squad in some capacity.
 WHO SAID BUST? Staying in the Sullinger vein, the Ozone's Brandon Castel had a great write up yesterday on why Jared Sullinger wont be a bust in the NBA. A few of Castel's points include Sullinger's perceived "injury risk" despite missing only three games in two years, his ability to knock down the 15-20 footer, and improving his three point shooting by 15% from his freshman to sophomore season (25%-40%).
Castel compares Sullinger to a number of currently successful players in the NBA including Kevin Love, Carlos Boozer, Paul Millsap and David West: all players 6' 10'' and below (Sullinger was measured at 6' 9'' in shoes at the combine). His collegiate season stats do compare favorably to the previously mentioned players. Take a look:
Freshman Season
|   | Pts | Reb | Ast | Fg% | Double-Doubles |
| --- | --- | --- | --- | --- | --- |
| Sullinger | 17.2 | 10.2 | 1.2 | .541 | 18 |
| LOve | 17.5 | 10.6 | 1.9 | .559 | 23 |
Last College Season
|   | Pts | Reb | FG% | FT% |
| --- | --- | --- | --- | --- |
| Sullinger | 17.5 | 9.2 | .519 | .768 |
| Boozer | 13 | 6.3 | .614 | .754 |
| Millsap | 19.6 | 13.3 | .571 | .623 |
| West | 20.1 | 11.8 | .513 | .816 |
These comparisons don't guarantee success, but add in Doc Rivers, a high basketball IQ and a gigantic shoulder-chip via NBA red-flags and Sullinger has an excellent chance to do something special in the league.
COMIN' UP ROSES. The Big Ten network reported yesterday the Rose Bowl agreed to a 12-year broadcast extension with ESPN, keeping the game on the network through 2026. (Warning to clickers, brace yourself for awkwardly outdated Rose Bowl Ron Zook video). ESPN's current deal was set to expire after the 2014 BCS title game in Pasadena.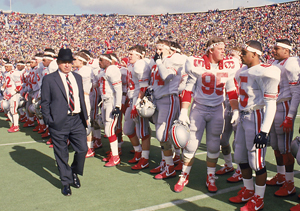 I know I'll probably catch a lot of flack for this, but knowing Brent Musburger's voice of velvet will be serenading me during Rose Bowls in the foreseeable future (barring a retirement) just felt right. Regardless of your thoughts on the guy, hearing him say "You're looking live at the Rose Bowl in Pasadena" just oozes pageantry, and that's what I'm looking for from The Grandaddy of Them All.
While I can't say I'm pleased with much the world-wide leader does, this made me happy. Let's be honest, who wants to watch the Rose Bowl on FOX?
 TALKIN' PLAYOFF. If you missed this, you might want to take a quick look. Buckeyextra filmed a number of former Buckeye big-wigs including Chris Spielman, John Cooper and Earle Bruce reacting to the four-team playoff news.
This from Spielman:
"It's a testimony to college football fans"
And Cooper:
"I've been for that for a long time…We need to have the national championship decided on the field"
And Bruce:
"That's what football should be all about, four football teams fighting for the championship or more, not a BCS championship. It's about time that all of the money of college football went back to the schools and the football programs, not to other groups."
Seriously though guys…Earle Bruce, amirite? It's about time that guy had a t-shirt made in his image, I'm looking at you Homage. You should probably just start with this. T-shirt gold.
IN CASE YOU FORGOT. This is what it's all about. Congratulations again Sully.
 ABRAHAM (LINK)OLN VAMPIRE HUNTER. Live in NYC and need a boxing gym? This might be your place (you should probably click that link). Zombie squid y'all. Everyone could use a shower. Hey, Pass Me a Beer. EPIC.