Things have changed when it comes to the offensive line under the new regime at Ohio State.
While the style and system the line under Ed Warinner will play with is different than under Jim Bollman, recruiting will also be vastly different as well.
During the Jim Tressel era the offensive line was the unit that faced the most scrutiny and at times it was well deserved. While the on field play yielded great results and lots of wins, fans rightfully felt the performance of the group could have been better, especially in big games where the Bucks flat out got beat in the trenches.
There is nothing to prove that recruiting was necessarily the cause of these big game flops, but in looking at the differing styles in recruiting of the two staffs, it's safe to say the Bucks could have done better when it came to the hog mollies up front. Urban Meyer and Ed Warinner recognized this and immediately went to work in finishing out the class of 2012, bringing in three players at the position out of ten total prospects that committed after Meyer took over.
The Bucks added Taylor Decker, Joey O'Connor, and Kyle Dodson to an already formidable duo in Pat Elflein and Jacoby Boren, and it's not out of the question that all of those players could have a heavy impact during their careers in Scarlet and Gray. While the 2012 haul was great, the staff isn't stopping in trying to pursue the country's top linemen in 2013 in order to set the unit up for success moving forward.
Today we take a look at the prospects on the staff's big board for the recruiting class of 2013 on the offensive line. There are a lot of good players at the position across the country and it's time to take a look at where Ohio State sits when it comes to "who's in", "who's out", and "who's left".
Who's In?
Recruiting on the offensive line has been slow for Ohio State in 2013 and it's a bit puzzling to fans as to why. With a new offense lead by it's energized head coach many would figure that recruits would be jumping at the chance to play for the Buckeyes and what is considered to still be a relatively thin offensive line unit.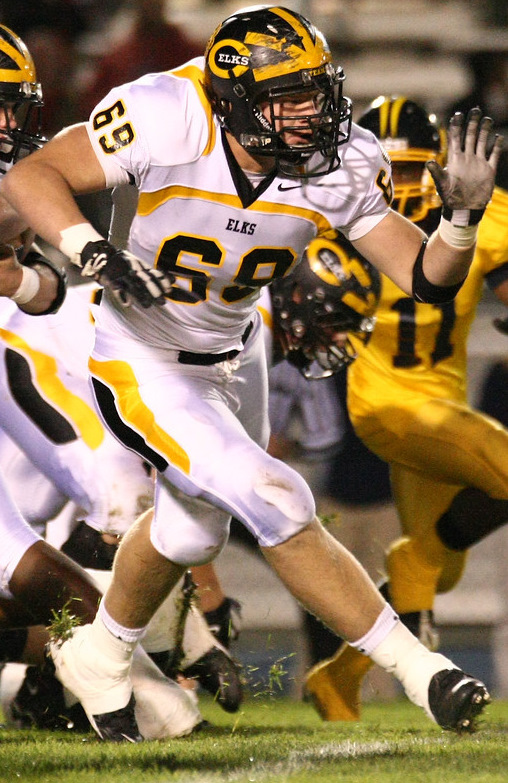 Part of the reason for the slow start may have to do with the fact that recruits are scared away by last year's large and talented offensive line class, but that hasn't been an issue for programs like the team up north. Another theory lies in the fact that the offensive line class in the state of Ohio is relatively weak, especially at tackle where Meyer and Warinner are focusing their efforts. 
That may be the case overall, but it's not the situation when it comes to OSU's lone commit along the offensive line, Centerville's Evan Lisle.
Lisle, 6-6/275, committed to the Buckeyes back in February and while he may be the only player at the position on board, he is certainly a good one. Lisle is ranked as a four star prospect across the board and given a ranking of the seventh best tackle by Scout, ninth best tackle by Rivals, eleventh best tackle by ESPN/Scout's Inc., and the fifteenth best tackle by 247 Sports.
While he needs to put on some weight and get stronger before getting to Columbus, Lisle has great feet for a player his size and will likely be able to play both tackle and guard in Warinner's system. Before committing to the Buckeyes he had offers from the likes of Miami (FL), Alabama, Michigan, Nebraska, Notre Dame, Oklahoma, and other national powers, showing just how good he really is.
Lisle is an excellent addition to the class of 2013 and is a great start in the foundation of building this offensive line class. That being said the staff if looking to add a couple more players in this group to compliment the Centerville star and it has been a challenge in accomplishing that thus far.
Who's Out?
As mentioned before, the Buckeyes have not had the bets success early in the recruiting season when it comes to the offensive line. The staff has not only not been able to secure commitments from top targets, but also has missed on a good number of players who have committed to different schools. While there is still a lot of time until National Signing Day to try and flip some players, the group that currently spurned the Bucks is a talented one.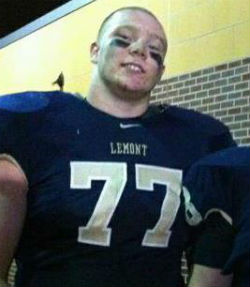 Players that held committable offers from Ohio State's new staff include Ethan Pocic (LSU), Dorian Johnson (Penn State), Hunter Bivin (Notre Dame), Colin McGovern (Notre Dame), John Montelus (Notre Dame), Jake Raulerson (Texas), JP Vonashek (South Carolina), Logan Tuley-Tillman (Michigan), Chris Fox (Michigan), and Darius James (Texas).
Other players that either held offers from the former staff or non-committable offers from the staff that are now off the board include Marcell Lazard (West Virginia), Pat Kugler (Michigan), and Kyle Bosch (Michigan), while targets on the radar that were not offered by the Bucks are Sean Welsh (Iowa), Sam Coverdale (Northwestern), Dylan Wiesman (Cincinnati) and Alex Gall (Miami-FL).
Out of all these players the ones that hurt most were Pocic, Johnson, and Bivin. Not only were the Buckeyes finalists on each of these players' lists, but these are the most talented out of the first group and are all prospects that Meyer and Warinner wanted in the program badly.
As mentioned there is still a ton of time until Signing Day in early February so things aren't totally over, but right now the situation regarding the offensive line isn't looking ideal right now for the Buckeyes.
Who's Left?
There aren't many realistic elite talents left on Ohio State's board, but the staff will do the best they can to add the best players reachable in this class.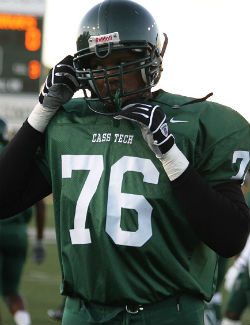 Three players with offers that are in heavy consideration to be Buckeyes are Khaliel Rodgers, Dennis Finley, and Donovan Munger.
Rodgers, from Elkton (MD) Eastern Christian Academy, is rated as a four star prospect and the top center in the nation according to Rivals. There are rumors swirling his offer may not be committable which would explain his multiple trip cancelations to Columbus, but either way he still holds OSU on his final list of schools. A decision is supposed to come soon, but as of right now it looks like the Auburn Tigers will be landing the services of this future Army All-American.
Finley is a late bloomer on the recruiting scene and this situation can benefit Ohio State. After seeing the 6-6/275 Detroit Cass Tech product perform at Sound Mind Sound Body camp, the OSU staff decided to offer Finley, who also has scholarships from Michigan State, Wisconsin, Illinois, Purdue, and others. It is looking like a Sparty-Buckeye battle for Finley and while his sister is currently a student at MSU, his visit to Columbus went better than expected last weekend and the Bucks are right there in the mix.
Munger is a four-star rated defensive lineman, but he is just as good on the offensive side of the ball and still remains an option at interior line for the Buckeyes. Ohio State would take Munger on either side of the ball, but with the slow start on the offensive line, it could very well be his home. I still expect Munger to start as a defensive tackle if he commits to the home state school, but don't be surprised if he or current commit Billy Price get moved to offensive guard down the road.
Outside of those three, Christian Morris of Memphis (TN) East, Kyle Meadows of Lakota West, and Lovell Peterson of Huber Heights Wayne are the in the next group to likely get attention from the staff. If recent signs are an indication though, don't expect a guard to get an offer anytime soon, likely eliminating Peterson for now, while Meadows and Morris both camped in front of the staff and came away empty handed, showing you where they stand.
In sum, the staff may be struggling, but it is clear they won't reach when it comes to adding offensive linemen in this class. They are content with Lisle and would be fine adding just one other player to the group, but the key is finding that one player. Right now it seems a lot of the eggs are in the Dennis Finley basket, but as we've seen before in recruiting new names pop up, players decommit from schools, and late bloomers float to the top as we inch closer to Signing Day, meaning anything can happen before February.