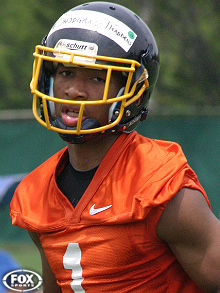 Before the camp season started, Ohio State had only one offer out to an in-state player on the offensive side of the ball for the class of 2014 in Cleveland St. Ignatius OT Jimmy Byrne.  
That all changed after a stunning camp performance last Thursday when Springfield WR Thaddeus Snodgrass was able to lay claim to an offer of his own from the Buckeyes' staff.
At the camp Snodgrass, a high school teammate of another 2014 target in LB Davonte James, posted a 40-yard dash time of 4.35 seconds.  That time is lightning fast for anyone, let along an athlete that just finished his sophomore year of high school. It is well known that Urban Meyer is a huge fan of speed at the skill positions, so the offer to Snodgrass came as no surprise after the way he tested while in Columbus.
With a talented crop of 2014 receivers participating at the camp and with Snodgrass being the only one to walk away with an offer, it appears that this is a player high on the coaches' want list. The stand out prospect will be receiving a ton of recruiting attention from the Buckeyes moving forward and it will be needed as Meyer will have to fend off some other Midwest powers vying for his services. 
We got the chance to talk with Thaddeus to see how he performed at camp, what his relationship with the OSU coaches is like, if him being a Michigan State fan growing up has an impact on his decision, and more.  Keep reading to find out more on one of the Buckeye state's best prospects in the class of 2014, Thaddeus Snodgrass.
How would you assess your camp performance at Ohio State?
I thought I performed very well for the coaching staff.  Coach Meyer even grabbed me and pulled me aside during the camp and told me how well I was doing.  He then directed me inside where a smaller group was gathered so they could focus their attention on a few players.  I really stepped it up at that time. 
How did your Ohio State offer come about?
I actually had to leave the campus pretty quickly for a 7-on-7 competition so I was not able to have a meeting with the coaching staff or anything like that.  I was told to call Coach Smith and I did a few hours later, which is when he notified me that I had the offer.  He said to be ready for him and the rest of the staff to come at me hard.
Who are you in touch with on the Ohio State staff? How are those relationships?
My area recruiter is Coach Hinton and we talk on the phone a bit.  Coach Smith wants to stay in communication now too so I'll be keeping in touch with him as well.  I have a real good relationship with Coach Hinton and my relationship with Coach Smith is probably going to pick up as well.
You grew up as a fan of Michigan State, who has offered now as well.  Is that going to play a role in your decision?
That is true, I was a Michigan State fan, but all the schools that offered me are even.  It's still early and I want to weigh my options and see what the best fit for me is.
You have offers from Michigan State and Ohio State.  Are their any other schools that you can see offering?
With a good performance at the Notre Dame camp tomorrow I could get one from them [Snodgrass received his Notre Dame offer at their camp].  Purdue seems like they want to offer me real soon as well. Akron has also already offered me.  
Are you done with visits and camps for the summer after the Notre Dame camp?
After the Notre Dame camp I will be done with visits until the end of July.  At the end of July I will be back in Columbus for Ohio State's Friday Night Lights camp.
HIGHLIGHTS: