The second time was the charm.
For Clevelanders and way too many Ohioans, last year's third-party success of the Dallas Mavaliers gave way to last week's failure of OKCLE. On the surface, the proud state of Ohio had taken yet another one on the chin all because...Miami had beaten Oklahoma City in the NBA Finals?
Were it not for Urban Meyer's hiring and Ohio State's Final Four run, ESPN may have unleashed another Ohio-trolling graphic like this one. LeBron James inevitably became an NBA champion in a city other than Cleveland, which really made Cleveland the big loser, rather than Oklahoma City.
A recent survey of this year's NBA Finals found that only 12% of respondents were rooting for the Heat. That's less than half of those (27%) who were rooting for the Thunder, both of whom were dwarfed by the 61% who were rooting for "don't care."
This is despite the fact that only about 600,000 people live in Oklahoma City, whereas over five million people call Miami metro their home. Not that we needed census statistics to substantiate the widespread hatred for the Heat, but regional bias can be quickly ruled out of this exercise.
Last year it was understandable why - most notably, scorned Clevelanders - rooted for Dallas to beat Miami: The Mavericks were basically a Texas version of the Cavs franchise prior to Mark Cuban committing the organization to 1) staying in Dallas 2) competing for championships, and 3) embracing and relentlessly catering to the fan experience.
But pulling for Oklahoma City in this year's Finals was an outright embarrassment to Cleveland, with less self-awareness and more humiliation than was seen in The Decision.
It's fine to resent the way James pulled out of northeast Ohio for the only time in his life. The manner in which he discarded Cleveland at the expense of a manufactured mini-drama immediately transformed him into a convenient persona non grata for the masses.
Instead of hating James, it just made me love Cleveland more. When I woke up the following morning (coincidentally I was in Miami on business) and drove my rental car to my client, nearly all of the callers into the radio station I was listening to were mourning that their beloved Knicks hadn't landed King James.
That's South Florida in a nutshell: A terrific sports town - just not necessarily for the local teams. In a way it's the opposite of Cleveland. Or say, Seattle, which used to be an NBA city not too long ago.
For the better part of four decades, the Sonics were Seattle's team. They won a title and finished in the bridesmaid position two other times. Fans showed up for games. They wore the colors. They collectively gave a giant damn.
In 1995 the Sonics received a $100MM public subsidy that helped keep the team in Seattle. This occurred right around the time the Seattle Coliseum was rebranded as KeyArena.
As is often the case with professional sports teams owned by multi-millionaires and billionaires, the Sonics leadership wanted Washington taxpayers to pay to update KeyArena with more enhancements and accoutrements that would in turn help make the leadership more money and make the Sonics more profitable.
That didn't happen, so the mega-wealthy Sonics leadership sold the pride of Seattle to an Oklahoma City businessman named Clay Bennett, and if you didn't already know how the Sonics died and were reborn as the Thunder, you do now.
A beloved team with a championship heritage in a city teeming with fan passion and loyalty - despite being atrocious by way of criminal mismanagement for most of their final decade - decides to smite civic pride and defects to another town where it quickly reaches title contention: HEY CLEVELAND PEOPLE OLD ENOUGH TO VOTE, DOES ANY OF THIS SOUND EVEN VAGUELY FAMILIAR TO YOU?
James shouldered the burden of winning for the Cavs franchise and wanted relief; relief that would lend his career both longevity and gaudy jewelry. Sure, he was a homegrown guy, and Cavs owner Dan Gilbert openly exploited his genesis against him when he made his decision.
It is unique to have such a talent grow up and play for only in-state teams all the way to the highest level. But it isn't unprecedented - it's happened before. It actually happened in Cleveland.
The Cavs used a lottery pick to take Ron Harper in the 1986 draft. Harper was from Dayton and played at Miami (the glitzier one, in Oxford). In Cleveland he was a star and a fan favorite, averaging 23 ppg and racking up more of the good kind of statistics as a rookie.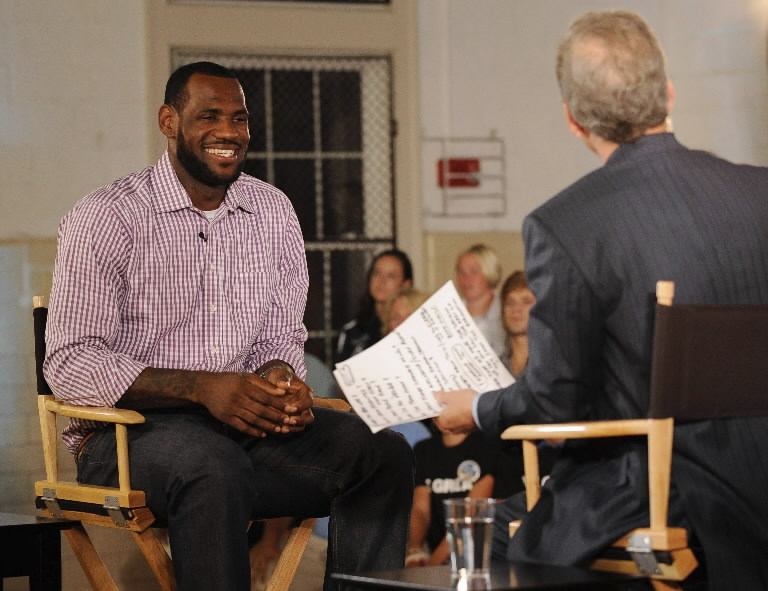 He played for Cleveland through his rookie contract and wanted to stay home. It figured to be a no-brainer for the Cavaliers to extend the contract of a star player from Ohio.
But instead they traded him to the Clippers for Danny Ferry. To my knowledge, Harper did not publish a childish public letter admonishing that business decision.
Granted, this happened 15 years before Gilbert owned the Cavs, but rarely is there any degree of loyalty between organizations and players. They're contractual adversaries and necessary but reluctant partners in professional sports.
Players are shopped around every offseason as disposable assets, and once they become free agents like James they shop themselves around. Harper was a product of the former while James took his talents away from Cleveland by way of the latter.
The Cavs are a franchise with a management track record that rivals the Mavericks' pre-Cuban. Their history of management failure doesn't even start with taking Vitaly Potapenko over Kobe Bryant, Peja Stojakavich, Steve Nash and Jermaine O'Neal. Miami is run by title collector Pat Riley and already had two superstars waiting for him. James had leverage and wanted to extend his career.
Had he graciously left Cleveland he might still have a more significant fanbase in Ohio, but there's no way a graceful exit would have generated the same kind of knee-jerk psychosis that resulted in the greater part of Ohio desperately and ironically rooting for what's basically the NBA reincarnation of the Baltimore Ravens.
You had two unfortunate choices to hitch your emotions to: The Miami Heat, deliberately constructed to be title-contending villains, or the Oklahoma City Thunder - a wildly entertaining and exiting young team that only exists because a coffee billionaire couldn't get the people of Seattle to pay for his team's stuff.
So perhaps those 61% in that survey who were rooting for "don't care" had it right, regardless of their intent.
Team owners in the American professional sports monopsony freely leverage the marketability of city names for profit. The players try to get as much payoff as possible until time inevitably transforms them into former players.
Had James stayed in Cleveland and won a title his legacy would have been unparalleled in American basketball history. But instead he took the path of least resistance to a championship ring, which was his own choosing.
That makes him just another exceptional player with a ring, just as the Heat are just another professional sports champion.
You know, like the Baltimore Ravens.