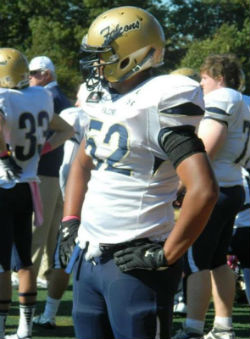 Good Counsel High School located in Olney, Maryland has recently become one of the top high school football teams in the country.
The Falcons' program has sent some elite talent to top level college football programs, including names such as Jelani Jenkins (Florida), Blake Countess (Michigan), Stefon Diggs (Maryland), Wes Brown (Maryland), and also has a couple of 2013 stars in Dorian O'Daniel (Clemson commit), and Kendall Fuller (Undecided star CB).
The top 2014 player at Good Counsel High comes in the form of OL/DL Sam Mustipher. Mustipher already holds an impressive offer list early in the process, including scholarships from Illinois, Maryland, North Carolina State, Ohio State, Rutgers, and West Virginia, while also receiving heavy interest from Michigan, Penn State, as well as other top programs.
Standing at 6'4" and roughly 275 pounds, Mustipher will more than likely end up playing offensive guard or center at the next level, with the possibility of defensive tackle always being on the table if the school of his choice needs more help there.
The Ohio State staff under Luke Fickell realized Mustipher's talents very early in the recruiting process, and he received an offer from the Buckeyes way back in September of last year. A new staff coming aboard has not affected OSU's interest in the two way prospect one bit and the coaches got an up close and personal look at the Maryland product this past weekend at their summer camp.
We caught up with Mustipher to find out about his camp experience at Ohio State, what it means to him that OSU offered early, what the Buckeye coaches are telling him, and more. Keep reading to learn the latest on the first Good Counsel prospect that could head to Columbus, rising junior star lineman Sam Mustipher.
How was Ohio State camp this past weekend?
It went very well. I got to go up against some of the top juniors in the country, while learning from one of the best coaching staffs in the country. The visit definitely went well.
Did any other campers stand out to you?
All of the defensive linemen I went up against in the elite group had talent equal to mine. Some were big, some were fast, and some were strong. I had to work hard, and I think I performed very well.
What position(s) did you play at camp?
I worked at guard and center during the camp. I'm pretty sure I'll be playing on the offensive side of the ball at the next level. I'll be playing both ways this year, but I definitely prefer playing on offense in college and I feel it will be best for my future.
Did you have the chance to look around campus while in Columbus?
I didn't take the tour of campus, but I did drive around with my family. I will definitely be coming back for another visit, but I'm not sure when that will take place.
Did you have the chance to speak to any coaches? What did they tell you?
I spoke to Coach Vrabel, Coach Fickell, who is my recruiter, Coach Warriner, and Coach Meyer. They told me they would be keeping in touch with me,  especially after September 1 because that is when they can start calling me.
Does the early offer from Ohio State increases the chances they land you?
Yes it does, because they offered early and are a prestigious program. I will always hold them very high on my list.
Do any schools stand out right now?
No, not right now, as I'm keeping all of my options open. I'll be making my decision around this time next year. I've really enjoyed all of my visits, especially my visit to Ohio State.
What will be the biggest factors in your decision?
Academics, coaching staff, and campus lifestyle. Also I want to go to a place where if football ended, I could still get a good education and the coaches would still want me to be part of the program.
Do you have any other visits planned?
I will be at Maryland's camp on Wednesday, then after that I may visit Clemson and Stanford. I also plan on making it out to Michigan sometime in July.
How does going to Good Counsel help in improving your game?
It definitely helps me a lot. We all push each other to get better every day in practice. We also workout together during the off-season and hang out together in our free time.
What goals do you have for your junior season?
I definitely want to win the division title again. I also would like to finish in the top five nationally. The ultimate goal though is to win a championship.
HIGHLIGHTS: