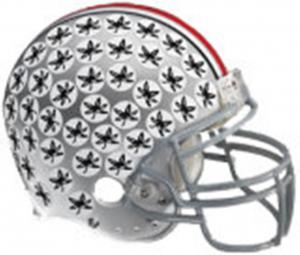 The state of Ohio has been a bustling football metropolis nearly since the days of the Northwest Territory. The word "Ohio" is Iroquois for "great river," though some could interpret instead for "football royalty."
From Massillon to Ohio State to Mount Union to the Cleveland Browns, the Buckeye State knows success on the gridiron, much like the state of Idaho knows potatoes. The objective when it comes to intercollegiate athletics, contrary to some, is not to make money but to put a quality product on the playing field.
For Ohio State and director of athletics Gene Smith, excelling at 36 varsity sports is not small potatoes. The Buckeyes have proven their worth across the board with Directors' Cup finishes of second and fourth the past two years. But it's still the football program that garners most of the attention. In the world of Division I sports, you're either pegged as a football school or a basketball school – Ohio State is the former.
The football team isn't in danger of having 20,000 fans at its games – to paraphrase Sam Wyche, "You don't live in Bloomington!" -  but Thad Matta's basketball Buckeyes have turned the winter and spring into basketball season, not a timeframe known as football recruiting and spring practice. Former men's basketball coach Jim O'Brien began the newfound accomplishments on the hardwood, but it's Matta who's branded the program as his own. In eight seasons in Columbus, Matta's win percentage is approaching that of his neighbor across the street, and he's led the Buckeyes to multiple Final Fours and a fistful of Big Ten titles. For his exploits, Matta has earned a lifetime of free dinners and drinks in Columbus.
"Sustaining it is the critical thing," Smith recently told Eleven Warriors. "It's easier to build because you're fighting and building. You see the growth. Growth and building is quantifiable from year to year. But when you reach the point of sustaining, it's the hardest thing."
To put Matta's eye-popping numbers in perspective, the school record for wins in a season before he arrived was 27. Matta has averaged more wins than that per season – 27.6 – and won more than 27 games four times. The school record for wins in a single season now stands at 31, almost untouchable.
"For eight years now that Thad has been here, he's elevated our program to a point where people recognize you can do both (football and basketball)," Smith said. "You can have an institutional platform like ours, a brand like ours and a city like ours where you can do both. It's exciting that we have a coach like this and are able to get kids like we get. When you look at all the kids that have gone pro in the NBA or Europe in the past seven years, it's phenomenal."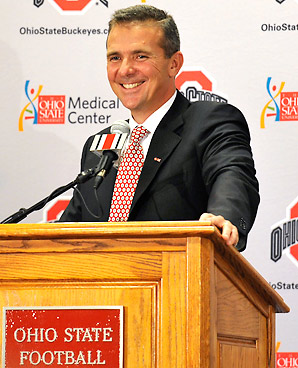 Shining in one major sport is difficult enough, evidenced by the number of BCS programs who struggle on a yearly basis to keep their heads above water in an ever increasing landscape of competition. Ohio State, though, has been able to find the secret. No, there isn't a magic potion or complex algorithm. The key is hiring top-level coaches to build and orchestrate a construction project akin to building a skyscraper – or new facility.
Since the inception of the Bowl Championship Series in 1998, no school has appeared in more BCS games (nine) and Final Fours (three) than Ohio State. The only school who has achieved similar success is Florida, who's won multiple national championships in each sport, including a sweep in 2006-07. To the horror of Buckeye Nation, the Gators beat Ohio State in both national title games that year. With a never-ending list of victories comes a happier balance sheet. Ohio State had revenues exceeding $79 million in 2009 it football ($63 million) and basketball ($16 million) alone.
Forty-one percent of schools that have appeared in a BCS game have also gone one to make the NCAA Tournament that same year. Ohio State has accomplished that feat six of the nine years it's advanced to a BCS bowl, well over the average of 41 percent.
"There are only a handful of schools that have the resources and the tradition to do it," head football coach Urban Meyer said during spring practice. "(Ohio State) is one of them and Florida is one of them. Can you imagine being a student and being a part of all that?"
It's a dream scenario for them, especially with the new seating arrangement in Value City Arena. Gone are the days of students being treated like strangers in a strange land. Sitting courtside, the students have provided an all-new home-court advantage. Not since St. John Arena was rocking in the early 90s has the Ohio State basketball team experienced such a raucous home environment. Since the Buckeye Nuthouse moved behind the home and visiting benches in November 2010, Ohio State has lost just two home games.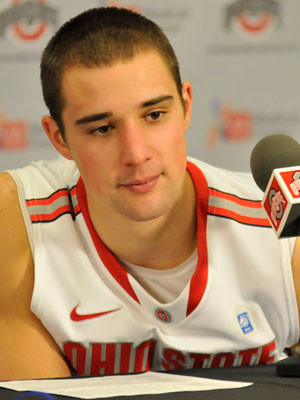 "When we moved the students down two years ago, that was a hard call for me because of the people who were sitting there and the promises that were made when they built the Schott," Smith said. "I had some hard conversations in this office. Thank goodness it worked."
What started out as a cable car for Ohio State has morphed into a steam engine. The tremendous machine has been moved off course, but so far, it's done nothing to slow down the momentum. Making the two-sport success all the more impressive is the amount of head coaches who have undertaken the programs.
When John Cooper was fired following the 2000 football season and lightly-regarded and little-known Jim Tressel was hired, many believed the Buckeyes were in store for down years. Instead, Ohio State experienced arguably its greatest 10-year run in program history. Not since the days of Woody Hayes and his short-sleeve dress shirts had the Buckeyes achieved so much in the same time period. The Vest's 9-1 record against Michigan served as the ultimate exclamation point.
But just like that, he was gone. Forced out after a scandal no one ever foresaw. Luke Fickell, born and bred as a Buckeye and a former player, took the reins for a year under unimaginable circumstances. When the rest of the country thought a horrific crash was on the horizon, the complete opposite occurred: the Buckeyes summoned Urban Meyer out of retirement.
At the tail end – or tailspin – of the Randy Ayers era, the men's basketball program plummeted to depths not seen before. O'Brien's hiring didn't reverberate much in Columbus, and after Ohio State won one conference game in his first season, there wasn't much hope for a sudden resurgence. But Year 2 featured a magical run to the Final Four – and all the help one could ask for on term papers and rent. Major violations were eventually uncovered in 2004 and, like Tressel seven years later, O'Brien was dismissed.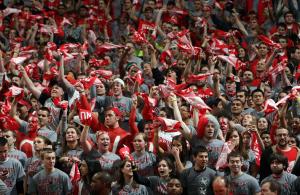 Down I-71, someone named Thad Matta was in the process of building Xavier into a national power, similar to what Tressel did at the smaller Youngstown State. History repeated itself. Matta came to Ohio State and a program was heightened.
The ability to snag Meyer showed that the football program has the luxury of getting the pick of the litter when it comes to coaches. The basketball coaching job hasn't always been deemed as a destination job, however, making Matta's jaunt north all the more surprising – and relieving.
It used to be Ohio State that found itself in Xavier's shows – losing the proven head coach to a better school a la Gary Williams in the late-80s when he packed up and headed to Maryland, where he would win a national championship.
"I've always felt we could have the best of both worlds at Ohio State," Matta said at the Final Four. "Over the last couple years I really think the basketball program has identified itself. And I've always said there is no greater feeling than being on the field when 105,000 people are cheering for the Buckeyes to come out and you have a couple recruits with you. That is the ultimate. Hopefully we can continue to do our part because I know football will do their part."
Said Smith, "We've always been blessed to attract good people. I think now our opportunities are unlimited to some degree. Thad loves Columbus, he loves Ohio State and he can accomplish his goals at Ohio State. It's a great place where we can attract top talent and retain it, which is the critical piece.
"It takes great leadership. Thad and Urban are good leaders and good CEOs. They know their business. It also comes down to recruiting. You have to have talent. I work with them constantly asking, 'What is the other thing we can do to help you sustain this?'"
For Matta, it's building a state-of-the-art practice facility. With Big Ten heavyweights Indiana, Michigan State and Michigan opening brand new facilities in recent years, Ohio State began to lag behind, especially in a multipurpose facility like Value City Arena. When Taylor Swift or Justin Bieber come to town, it's not just teenage girls who go insane; the basketball team is relegated to St. John Arena.
"There were a lot of things Thad did to build his program, but one of the things he did a great job of was bringing former players back," Smith said. "Michael Redd comes back, Scoonie Penn lives here, Michael Conley has a condo here, Greg Oden is back going to school. It was important that they have the same culture at basketball that they have at football; whenever you want to work out, you can go work out.
"That's one of the challenges we have with the Schott because it's an entertainment facility. Evan Turner used to go in at 1 in the morning and shoot. You want them to have the ability whenever they want. So now if Michael Redd wants to do that, he can. And if our other guys are in there with Michael Redd shooting hoops and he's around to give them advice, that's pretty strong. We've always had that with football."
With both houses in order, Buckeye Nation has a full year of athletic prowess to look forward to. As fall becomes winter and the snow gives way to budding trees, rest assured an Ohio State team is on the prowl for a national championship – after all, they live in Columbus.